'WWE 2K Battlegrounds' Preview Wants You to Brawl Without Limits
WWE 2K Battlegrounds slams onto consoles September 18 ! It brings with it an all-new gaming experience, with over the top action arcade combat that's perfect to pick-up-and-play for rookies and long-standing vets. Enjoy single player options as well as making your next social gathering a brawling good time with multiplayer mayhem.
Newsweek was able to preview the game's modes in a video stream on Tuesday, September 8 hosted by 2K Executive Producer, Sean O'Connor.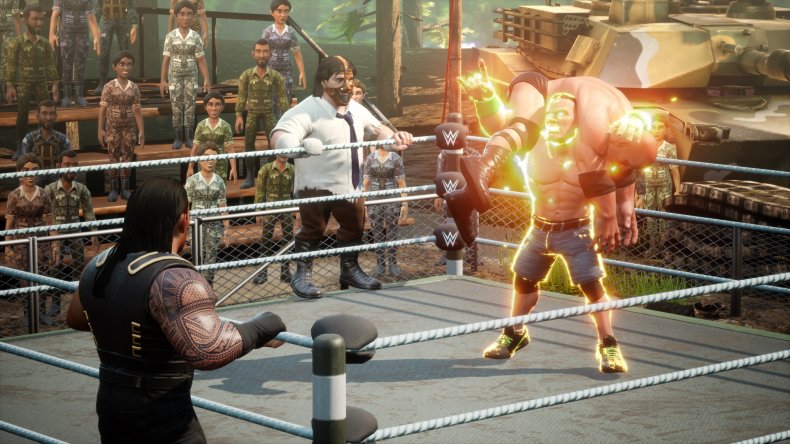 "It's got a great single player campaign with other modes as well, but where this really shines is multiplayer," O'Connor points out. "It's a party brawler that's great to get in, beat up your friends, family, and even strangers online."
The game comes with a control system made for anyone of any skill level to be able to use from the get go. But for the more experienced gamer, there will be plenty of combos and other options available to take your combat to a deeper level. Throws will heavily affect your combat strategy, with some characters having up to eight different throws.
Picking the Class of your Superstar will influence your game play with different strengths and weaknesses. The classes will consist of five main types; Brawler, High-Flyer, Technician, Powerhouse, and All Rounder. A few examples of their differences are displayed when selecting. Powerhouses have weak kicks and are super slow, but have a lot of health with strong punches. High-Flyers don't have a lot of health, but they are super-fast.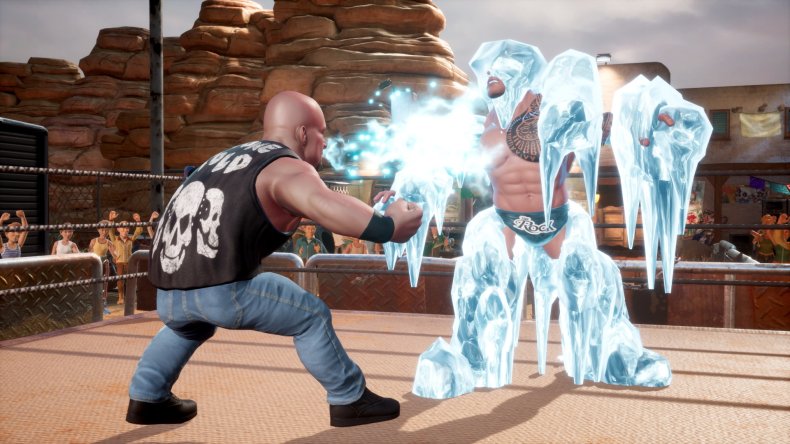 Combos come easy by hitting either the X or Y button three times in a row. Bust based on your class, you can execute more complicated combos that other characters may not have access to.
Power-Ups are here to give you the upper hand, with a fist full of fire! Your character starts with 3 power ups for each match. There are 18 power-ups in total spread throughout three different tiers, where you can pick one from each tier. Bring down lightning in the ring to cause more chaos to your opponents, or call on the power of another over-the-top power-up.
If these attacks are not enough, you can also look under the ring or pull a weapon right out of the crowd. Smash a honky tonk guitar or even swing a whole motorcycle into action.
Right from the launch, the roster will consist of 70 superstars and past legends. You can expect 60 more to be released over time, and they will all be unlockable by playing through the game to earn in-game currency.
There will be nine different Battlegrounds to brawl in inspired by locations such as a boot camp, a workshop, or even the Wrestlemania stage. Battlegrounds will also have interactive destruction to send your opponent into. Try throwing them into the mouth of a crocodile, or you can even remote control a ram and bash them out of the ring. All the action will be voiced by Mauro Ranallo and Jerry Lawler, which really adds to the energy of the game.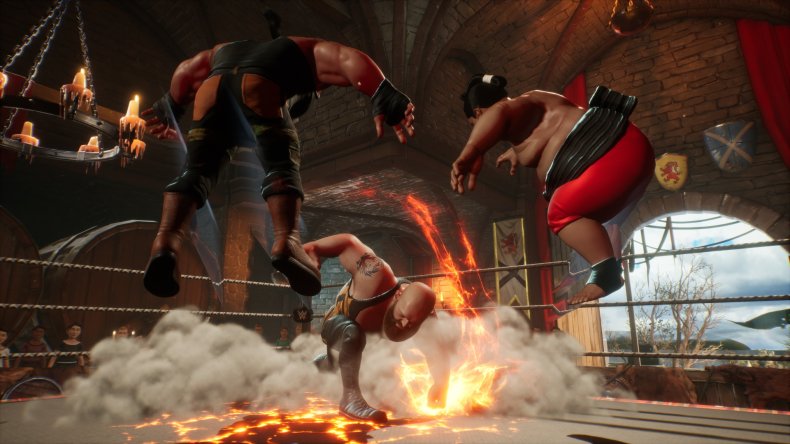 WWE 2K Battlegrounds will support a variety of different match types; One-on-One, Tag Team, Tornado Tag, Triple Threat, Electrified Steel Cage, Royal Rumble, Gauntlet, and a new mode called Battleground Challenge. Create your own Superstar to play events to earn big rewards. There's a campaign mode where you try to get seven different superstars ready for their Wrestlemania moments, or you can join Paul Heyman and "Stone Cold" Steve Austin to search the world over for the next big WWE talent in hopes of impressing Mr. McMahon. There's a lot to offer here in this game for one that's hitting shelves at $39.99 SRP for the basic edition, and $49.99 for the Deluxe edition. Multiplayer matches are gearing up to be the focal point of this title.
In addition to all these match types, the 2K team has created some new modes that are exclusive to Battlegrounds only. King of the Battle ground is a new mode that will pit you against 3 other friends to see who can stay in the ring the longest. Throw one opponent out, and another enters continuously to rack up points and set new stats in this never-ending Royal Rumble. Stay alive as long as you can with this new way to play.
Tournaments will also offer a rewarding way to play online. Enter at different durations and requirements with the goal in mind to win matches while leveling up along the way. Continue to earn different rewards each round as you try to take them all and win that final, large reward. This mode aims to offer plenty of replay value with all the different match types you can set.
Beyond all this, we can't forget about the customization this game will present. You can create your own Superstar and customize with various outfits, moves, and accessories that can all be unlocked through in-game play and currency. You don't have to purchase them, unless you want to. A skill tree will let you decide what direction to level up your character. Three main categories offer you to level up in either offense, defense, or charisma. You will also be able to create your own arenas, as well as taking them online to show off to your friends.
WWE 2K Battlegrounds is available September 18, and if you pre-order, you will get the Edge Totally Awesome Pack. Edge will also be included in the Digital Deluxe Bonus Pack along with the Rock, "Stone Cold" Steve Austin, Ronda Rousey, and $1,100 bucks. Which Superstar are you looking forward to dominating with? What type of Tournaments would you like to create? Let us know in the comments below.