'WWE 2K19' DLC: Pre-order Bonuses Now Available As Separate Purchase
The WWE 2K19 roster grows even larger today with the release of two DLC bundles. If you pre-ordered or bought a special edition of WWE 2K19, you might already own this DLC. That said, all those exclusive wrestlers that were once pre-order bonuses are now available for all.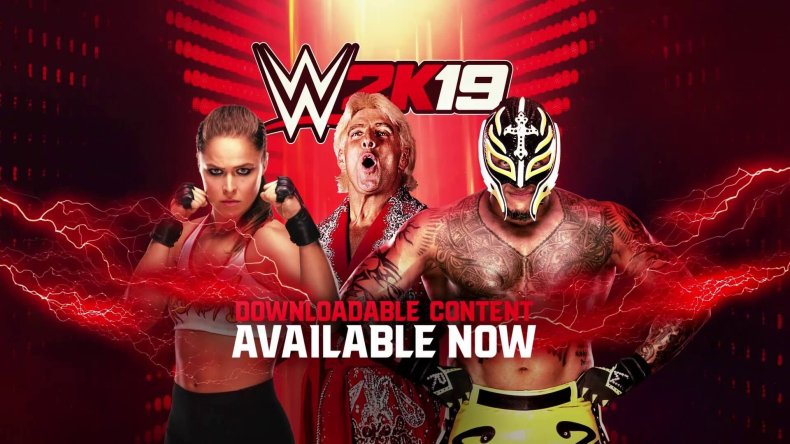 The first WWE 2K19 DLC pack is the Ronda Rousey and Rey Mysterio pack. This one only includes those two wrestlers, but each has his or her own exclusive challenges. In 'Ronda Has Arrived,' players control the MMA star as she faces off against five opponents. In 'Rey Returns,' Mysterio also faces off against five opponents, including Batista. Completing either challenge earns in-game currency to buy new moves and gear.
The second DLC pack is the 'Wooooo! Edition Pack' which includes a number of wrestlers, a new arena and more. The full contents of this DLC pack are as follows:
Playable WWE Hall of Famers ('80s-inspired): "Rowdy" Roddy Piper, Dusty Rhodes and Ricky "The Dragon" Steamboat.
Playable characters: "Macho Man" Randy Savage (WrestleMania VIII) and Undertaker (2002).
Playable Starrcade 1983 arena.
Ric Flair attire (WrestleMania 24 robe) and Charlotte Flair attire (WrestleMania 32 robe).
Access to 'The Nature Boy' challenge, where players control Flair as he faces off against the five other wrestlers included in the DLC.
Both DLC packs are $7.99 each and available now for PS4, Xbox One and PC gamers. More DLC, including the 'Rising Stars' pack and 'Titans' pack, will release later this year and early in 2019. The Rising Stars pack includes Candice LeRae, Dakota Kai, Lacey Evans, Lio Rush, Maria Kanellis, Mike Kanellis and Ricochet. The Titans pack features Bobby Lashley, EC3 and War Raiders (Rowe and Hanson). No release dates for the Rising Stars or Titans packs have been revealed yet.
So what do you think? Are you interested in purchasing either the Ronda and Rey pack or the Wooooo! Edition pack for WWE 2K19? What other WWE Superstars from the past and present would you like to see included in the future? Let us know your thoughts in the comments section below.