'WWE 2K19' Face Scan: How to Upload High-Quality Images
Like past WWE 2K games, WWE 2K19 allows players to scan their faces into the game to create their own custom wrestlers.
While 2K Games has used this technology for a few years now, players may have a little trouble getting their faces just right in WWE 2K19. There is no perfect formula to get the face scan done correctly, but if you follow these steps you may get your mug on your virtual wrestler just right.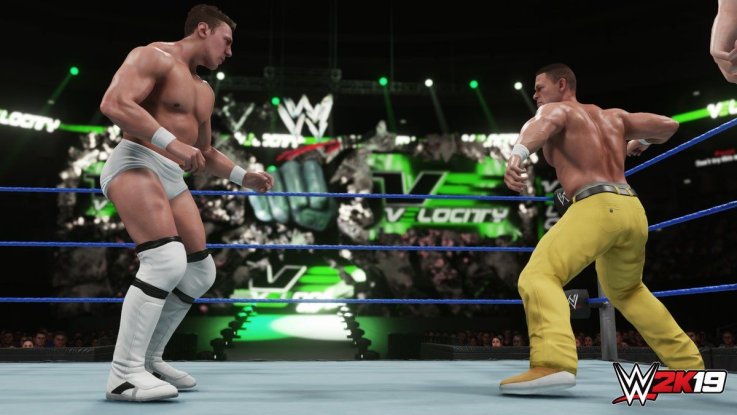 HOW TO TAKE AND UPLOAD IMAGE INTO WWE 2K19
There is no special app like NBA 2K has, but if you have a good enough camera on your smartphone, you can get a high-quality photo uploaded into the game. Follow these steps and tips to get it right.
Take your photo in a well-lit room. If you can take the photo outside in natural light in the morning, you may have a more evenly lit picture. The most important thing to avoid are shadows on your face.
Take the photo from shoulders up. Your hair is not necessary.
Go to the WWE 2K19 Image Uploader, select your gaming platform and upload your photo
In WWE 2K19 , go to the create a superstar feature and when you get to the face portion choose the desired downloaded image.
HOW TO MAKE YOUR FACE SCAN IN WWE 2K19 BETTER
Now that your face has been downloaded into WWE 2K19, it's time to polish it up. After the download, your face photo will appear on a body and head model, which is where you can customize it even further. Here are some tips to getting the scan just right.
Match your features (ears, nose, mouth) with the model's features. This is very important and can ruin your wrestler's face if not done correctly.
WWE 2K19 allows players to adjust the specific features of the face in the "Face Deformation" function. Select "Facial Region" to go to the eyes, nose, mouth and other parts of the face and scale it to match the model or to your liking using the sliders. It may take some time to get your desired look but it'll be worth it.
To get the right skin tone, select "Skin Color Pickup" and it allows players to pick which color from your photo to use for your body.
If you need a visual aid, check out President Q's video below. Let us know what you think and if there are any other tips to get the right face in WWE 2K19 please share in the comments section.
'WWE 2K19' Face Scan: How to Upload High-Quality Images | Tech & Science