'WWE 2K19' New Game Mode Announced for Million Dollar Challenge
2K Games revealed there would be a new game mode for WWE 2K19 last month, when it announced AJ Styles would be this year's cover star. This game mode ties directly into the Million Dollar Challenge, where players compete to take on Styles himself for some big prizes. In an announcement Tuesday, 2K provided further details about this new game mode.
The Towers mode pits players against a series of matches that share a common theme. Players pick either a WWE Superstar or a created character. There are two main Tower types: Gauntlet and Steps. A Gauntlet Tower must be completed in one sitting, with no option quit early or lose a match without resetting progress. On the flip side, Steps Towers can be completed one match at a time at any pace.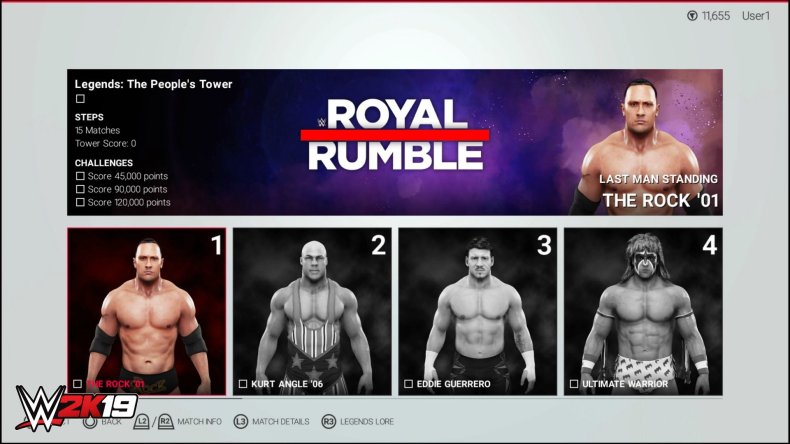 Some Towers will feature specific goals, and matches can have many different stipulations, like starting a match with low health or with a finisher already saved up. Towers also feature several different match types, including steel cage matches, submission matches, iron man matches and more.
Limited-time, special event Towers will revolve around the WWE's schedule, as will daily and weekly challenge Towers. PPV Towers require earning from daily and weekly challenges to compete.
The ultimate challenge on offer is the AJ Styles Million Dollar Tower. This Gauntlet-type Tower features 15 matches against some of the biggest names on the roster, capped off by a one-on-one faceoff against Styles. Player health doesn't regenerate between matches and the difficulty is jacked up higher than normal.
If you manage to complete the AJ Styles Million Dollar Tower on Xbox One or PS4, get your camera ready. If you cut a promo, and visually include the completion screen from the Million Dollar Tower challenge, you can upload it to wwe.2k.com/milliondollarchallenge for one of four finalist slots. The finalists will be flown to WrestleMania 35 to compete against each other in a mini-tournament to find the ultimate WWE 2K19 player. The victor then faces off against the real AJ Styles in the grand finals for a shot at the big prize.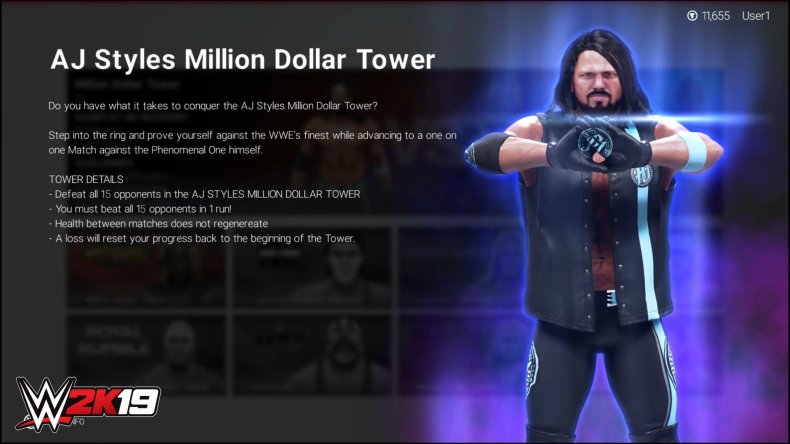 For more information on Towers and the AJ Styles Million Dollar Challenge, be sure to check out the post on the official WWE 2K19 site.
So what do you think? Are you excited to tackle Towers in WWE 2K19? What other game modes would you like to see in this year's WWE game? Let us know your thoughts in the comments section below.