'WWE 2K Battlegrounds' Announced, 2K Games Confirms 'WWE 2K' Future
Following the less-than stellar launch of WWE 2K20, the annual wrestling sim is taking a break, with publisher 2K Games announcing a brand new wrestling game called WWE 2K Battlegrounds.
During its quarterly fiscal report, WWE revealed that there wouldn't be a WWE 2K title this year. 2K Games confirmed this news in a blog post on its site stating, "We are applying what we've learned to the next WWE 2K simulation game with a renewed focus on quality and fun. As part of that commitment, we are extending the production timeline and will not be releasing a WWE 2K simulation game in 2020 (T2 fiscal year 2021). We want to ensure the development team at Visual Concepts can create a great game that will entertain grizzled WWE 2K veterans, as well as newcomers who want to climb through the ropes and step into the ring for the very first time."
2K also announced Patrick Gilmore as the new executive producer for the WWE 2K games and will oversee the title's development. Gilmore's resume includes the Aladdin game for the Sega Genesis, Killer Instinct, Medal of Honor and, most recently, Amazon's New World.
The publisher states that it will continue to update WWE 2K20 to improve its playability and that the servers for WWE 2K19 will continue to run for now.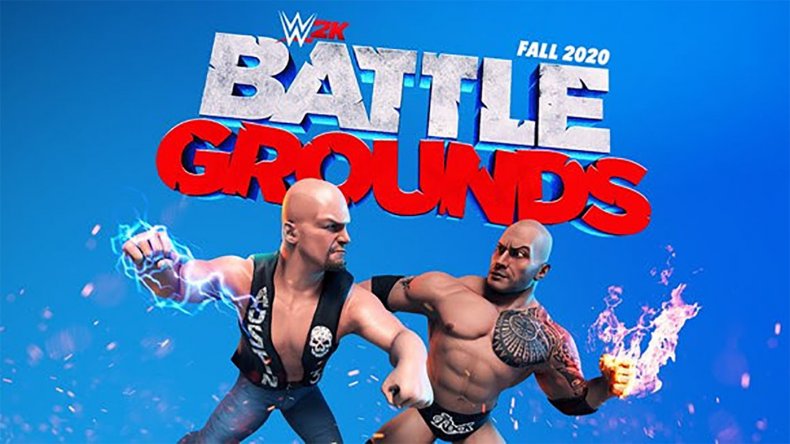 And now for the new game, WWE 2K Battlegrounds. 2K Games describes it as "a completely new WWE gaming experience that will feature arcade-style action and over-the-top Superstar designs, environments and moves. We're focusing on social pick-up-and-play fun, but with plenty of depth for those who want to get way into it."
Check out the first trailer for WWE 2K Battlegrounds below.
WWE 2K Battlegrounds is developed by Saber Interactive, the studio behind NBA 2K Playgrounds. This new title is scheduled to release in the fall.
Not much is known about the game, but from the looks of the trailer players can expect that "arcade-style action" that 2K Games promised. The character models are more akin to NBA Jam with the wrestlers getting power ups while performing their signature moves.
So far, the only confirmed wrestlers in WWE 2K Battlegrounds are:
The Rock
"Stone Cold" Steve Austin
John Cena
Becky Lynch
Charlotte Flair
What do you think of WWE 2K Battlegrounds? Do you have hopes for the next WWE 2K game to be better than last year's? Let us know in the comments section.