Florida Government Asked to Shut Down WWE Television Tapings
An anonymous person claiming to be a WWE employee pleaded with the Orange County Board of County Commissioners Tuesday morning to have the promotion's weekly shows shut down amid the coronavirus pandemic.
Jon Alba of Spectrum Sports 360 tweeted a video of the public board reading where a person identified only as "John" had their complaint read.
"My employer, World Wrestling Entertainment, aka WWE, is forcing me to work the TV tapings for its weekly shows despite home orders for coronavirus," the statement read. "I am unable to speak out as I need this job and I know I will be fired if I approach my higher-ups. Despite sanitary precautions, we cannot maintain social distancing and have to touch other people.
"I request the government to shut down these tapings and enforce the stay-at-home order so my colleagues and I may follow social distancing rules without fear or repercussion of losing our jobs," John added.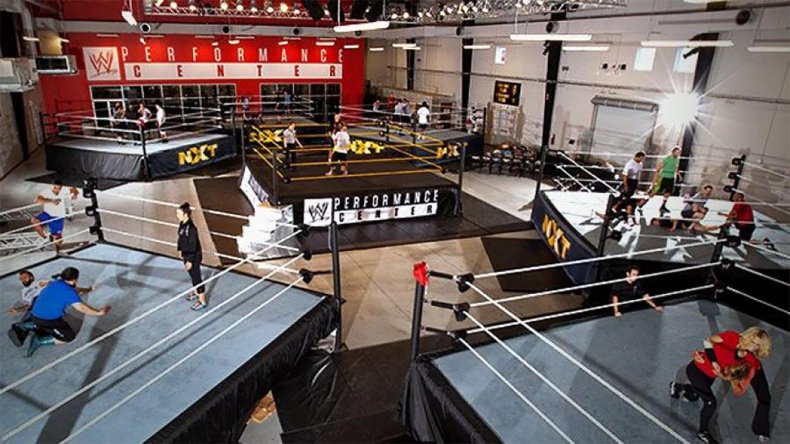 Alba points out that it's virtually impossible to confirm the identity of this "John" and if they do indeed work for the WWE. However, there have been several within the company who have expressed their concerns-many privately-over tapings continuing.
WWE denied the claims in a statement to Stephanie Coueignoux of My News 13 in Orlando.
"These accusations aren't true. Employees know they can confidentially go to human resources, not the public. Notwithstanding the appropriate protocol, no one would be fired if they were uncomfortable with their surroundings. We've made accommodations for individuals upon request," a WWE spokesperson said.
When Coueignoux followed-up about the social distancing concerns brought up by "John" during shows, the WWE responded by stating that those practices are done outside the performances as well. The promotion also pointed out its adjusted production schedule.
This latest wrinkle in WWE's continued efforts to put on its weekly television shows comes a week after it was revealed that the WWE—as well as other sports/media entities—was deemed an "essential business" by Florida Governor Ron DeSantis on April 9.
The WWE was filming episodes in bulk prior to WrestleMania 36, but changed course to shoot episodes live when they became an essential business. The company would then change again to the aforementioned adjusted production schedule.
"We believe it is now more important than ever to provide people with a diversion from these hard times," the WWE said in a statement at the time to Newsweek. "We are producing content on a closed set with only essential personnel in attendance following appropriate guidelines while taking additional precautions to ensure the health and wellness of our performers and staff. As a brand that has been woven into the fabric of society, WWE and its Superstars bring families together and deliver a sense of hope, determination and perseverance."
Almost a week ago, the WWE laid off or furloughed some of its employees and on-air talent due to company restructuring caused by the coronavirus. In a press release, the WWE stated that it evaluated its business over several weeks and determined that cutting talent expenses and reducing executive/board member compensation would be some of the ways to improve cash flow.