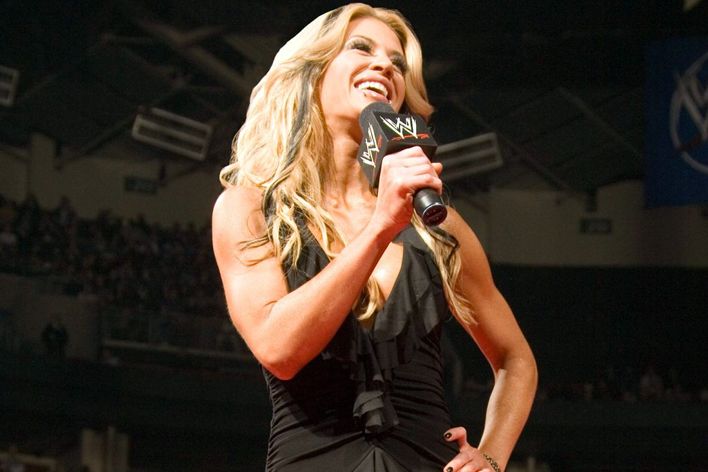 Former WWE superstar Ashley Massaro's death last week had a ripple effect across the wrestling world when her attorney published details from the wrestler's lawsuit against the WWE following her tragic death.
The account painted, in gruesome detail, an encounter between Massaro and an unknown soldier during a WWE trip to visit the troops in Kuwait. The affidavit details how the man drugged and sexually abused her on the tour, and claims that WWE management, including CEO Vince McMahon, told her to keep the incident confidential because it would "ruin the relationship between the WWE and the U.S. Military."
WWE has released this statement in regards to the accusations.
"WWE is saddened by the death of Ashley Massaro, and we reiterate our condolences to her family. However, we regret that her attorney Konstantine Kyros, who filed multiple cases against WWE, lost all of them, and was sanctioned multiple times by the Court for repeated misconduct and false allegations, is using Ashley's death to further his malicious campaign against WWE by releasing an affidavit that she submitted to the Court and later apologized to WWE for being involved with, so we wish to make certain things crystal clear.
At no time was Vince McMahon or the management of WWE ever informed by Ashley Massaro or anybody else that she had been sexually assaulted, drugged, raped or sodomized by a military doctor with a nurse standing guard while on a goodwill tour in 2007 to U.S. military bases in Kuwait. In fact, if she ever articulated such a claim to WWE, we would have reported it immediately to the Base Commander.
At no time was there ever a meeting with Vince McMahon, Kevin Dunn, John Laurinaitis or other company executives in which she told them of such a claim and was instructed to keep it quiet."
Massaro was part of a 2016 class action lawsuit against the WWE that claimed the promotion was negligent and responsible for neurological injuries that happened in the ring.
Here's an excerpt from Massaro in the affidavit detailing her battle with depression.
"To this day, I suffer from depression, for which I take medication; migraine headaches; and severe short-term memory loss. I attribute these issues to my work-related injuries sustained while working for the WWE, and specifically to the routine repetitive blows to the head I received in the ring over the course of my care which were not properly diagnosed or treated."
The class action lawsuit Massaro was a part of was dropped by a Connecticut judge in September, but is currently being appealed.
Massaro was found last Thursday in her home in Suffolk County, NY after police responded to a call of a sick or injured person. The police released a statement the following day that confirmed Massaro's death was "non criminal."
TMZ Sports reports Massaro was found hanging in an apparent suicide. The winner of the 2005 RAW Divas Search was found unconscious inside her Suffolk County, NY home early Thursday morning before being transported to a nearby hospital where she was pronounced dead.
Massaro is survived by her 18-year-old daughter. A Go Fund Me campaign has been created to help her pay for a higher education.
If you have thoughts of suicide, confidential help is available for free at the National Suicide Prevention Lifeline. Call 1-800-273-8255. The line is available 24 hours, every day.
Uncommon Knowledge
Newsweek is committed to challenging conventional wisdom and finding connections in the search for common ground.
Newsweek is committed to challenging conventional wisdom and finding connections in the search for common ground.
About the writer
Phillip Martinez is a game and culture reporter for Newsweek. Prior to joining Newsweek in 2018, he was a reporter and editor for iDigitalTimes and Player.One. A Bronx native, he graduated with his Bachelor's degree in Journalism from St. John's University in 2010. An avid Nintendo fan and wrestling mark, he's always looking to become a Pokémon Master while fantasy booking this year's WrestleMania. You can contact him at p.martinez@newsweek.com