Braun Strowman Talks Returning for WWE Mixed Match Challenge Season 2
WWE is bringing back the Mixed Match Challenge for a second season on Facebook Watch with more episodes and new teams.
One holdover from the first season is Team Little Big, the unlikely duo of Braun Strowman and Alexa Bliss whose work in and out of the ring made them clear standouts from the first Mixed Match Challenge.
However, Strowman and Bliss fell to the eventual winners of the tournament, The Miz and Asuka, in the semifinals. With the loss in their rearview, Little Miss Bliss and The Monster Among Men see season 2 of the Mixed Match Challenge as an opportunity to remind the WWE who the dominant team is.
Newsweek caught up with Braun Strowman before his and Bliss' first match with Kevin Owens and Natalya, where he discusses what Team Little Big will bring this season.
Mixed Match Challenge, will stream live exclusively on Facebook Watch on Tuesday nights beginning tonight at 10 p.m. ET.
Editor's Note: This interview was lightly edited for clarity and length. It was also conducted before Alexa Bliss was replaced by Ember Moon due to injury.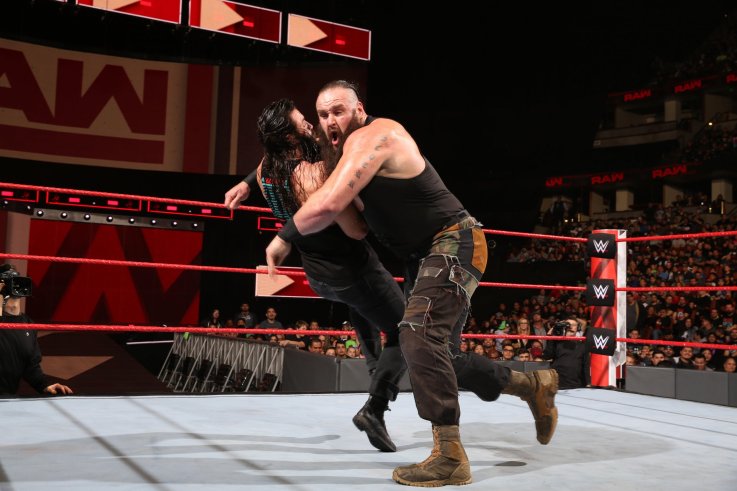 You and Alexa almost went all the way last season, what do you hope to bring this time around?
Team Little Big is going all the way this season. We came up a bit short last time, it's a little disheartening but we got back on the grindstone and sharpened the steel and we are going to come out swinging and our opponents will get these hands.
Your first matchup is against Kevin Owens and Natalya. What's it like working with KO?
It's been fun using him as a human punching bag and piñata, beating him around the arena. I thoroughly enjoy it. But I can't give Kevin enough credit, he's an unbelievable athlete with the things he's capable of doing. He's given me a run for my money a few times before, so you can never count him out.
He's a prize fighter like they say, but for the most part I believe the Monster has got his number.
Alexa and you have great chemistry in the ring. What is it about her that makes you guys click?
She's enjoyable to be around. She's fun, and her work ethic is second to none. She busts her ass in the gym and her dieting and her in-ring stuff. That's my sentimentality and why we work so well together.
It also doesn't hurt that she's not too hard on the eyes.
How different is the Mixed Match Challenge platform from regular television, and what are the benefits?
I think it's really cool that we stepped over to Facebook Watch, it gives the WWE Universe the opportunity to interact with the superstars, chime in on the comments section. I think it's another great social media platform that allows the fans to interact with us.
Have you been able to watch some of your matches after the fact?
I'll scroll through some of them. It's tough because we stay pretty busy traveling all around the world and I try not to talk too much on social media. Everyone's a critic, and I don't care for their opinions because I know I give it my all every night. You either like it or you don't [Laughs].
The rise of social media has changed wrestling. How do you feel about it?
It has its good and its bad. Allowing everyone to be critics and dictate what happens on the shows and blabbity blah blah. But at the same time, it's an awesome opportunity for us to promote our shows and let the WWE Universe know what's going on in the WWE world, where we are going to be, who is wrestling on the shows.
The charities that we do. It's another platform to show the world that we are the best in entertainment.
Is there any matchup that you hope to come across? AJ Styles is on this year.
Not really. You can put anyone in front of us and we're going to knock them down, plain and simple. We're not playing any games. We fell short last season and we're here to make a statement and to let everyone know that Team Little Big is the best mixed match team in the world.
Braun Strowman Talks Returning for WWE Mixed Match Challenge Season 2 | Gaming