Seth Rollins Invades Bray Wyatt's Firefly Fun House on WWE Monday Night RAW
The final segment of the October 14 episode of Monday Night RAW was the latest installment of Bray Wyatt's Firefly Fun House, but this week there was an unexpected visitor.
At the start of the night, Universal Champion Seth Rollins was interviewed and asked about his upcoming title match against Wyatt at this month's Crown Jewel pay-per-view. Rollins said that he will find Wyatt before the end of the night, which led to this week's episode.
Before we dive into what happend, watch the latest episode of the Firefly Fun House below.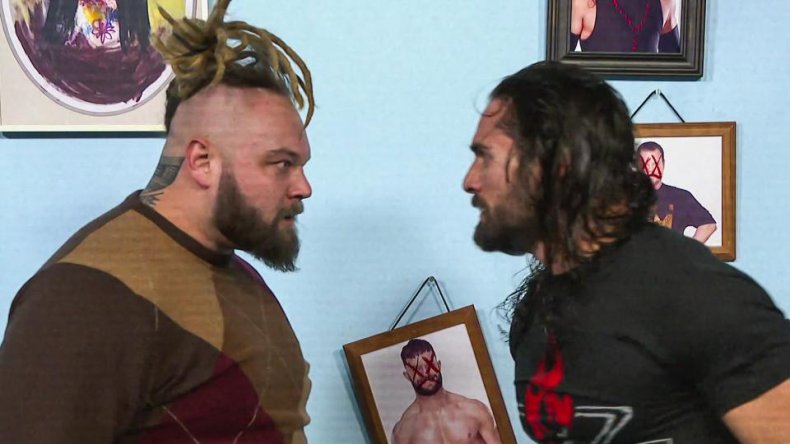 Firefly Fun House begins with Ramblin' Rabbit warning Wyatt that Seth Rollins is on his way and looks angry. Wyatt tells Rabbit to calm down and go play as everything will be ok. He tells Rabbit that "he" - The Fiend - keeps them safe in the Fun House. This is when Rollins leaps into the frame and attacks Wyatt.
Viewers can hear the voices of the Firefly puppets as they tell Rollins to stop. The Universal Champion tears down some of the pictures on the wall and looks at his own for a second before smashing it on the floor.
Wyatt gets up and asks Seth why is he doing this to him. He begs for Seth to stop when Rollins continues to wail on him and chase him off. Seth then looks at the camera and says "burn it down" and sets fire to the Fun House. As Rollins walks away, the laugh of Wyatt/The Fiend can be heard as the segment goes black.
There's quite a bit to unpack here. Rollins appearing on the Firefly Fun House raises a lot of questions like how he got there and most importantly what this means for their feud.
The Firefly Fun House being burned down is eerily similar to when Randy Orton set fire to the Wyatt compound a few years ago after infiltrating the Wyatt Family. This led to Sister Abigail being released, but it only led to Wyatt losing the WWE Championship to Orton at that year's WrestleMania.
Could burning down the Fun House unleash The Fiend even more? Or did Seth stop "The Fiend's" attacks? Rollins seems to think he had no other choice, as evidence from his tweet on Monday night.
It's unlikely burning down the Fun House took away some of Wyatt's power. From how the puppets and Wyatt himself reacted, it's almost as if this act could give more power to "The Fiend."
The WWE Universe won't have to wait long as there's only a little over two weeks until the Crown Jewel pay-per-view and the rematch between "The Fiend" and Seth Rollins.
What did you think of the latest Firefly Fun House? What's next for these two? Let us know in the comments section.