WWE Crown Jewel: Daniel Bryan and AJ Styles Title Match Happened on SmackDown Live
Following reports that Daniel Bryan refused to go to Saudi Arabia for the WWE Crown Jewel pay-per-view, he was officially written off the show on the latest episode of SmackDown Live after having his match with AJ Styles.
In the opening segment, WWE Champion AJ Styles walked out to the ring and called Bryan out. Bryan told Styles that he doesn't seem him as a colleague or a friend, just someone who he's going to take the title from.
Styles responds by saying he lied to Bryan last week when he told him he attacked him by accident. The two men don't want to wait for Friday and get ready to fight when Shane McMahon comes out to make the match official.
During the match, Bryan performs a suicide dive and tweaks his knee which would be targeted by Styles. Styles would eventually make Daniel submit with the Calf Crusher and just when the two men were congratulating each other for a great match, Samoa Joe ran in and took out both competitors and raised the WWE Championship over his head.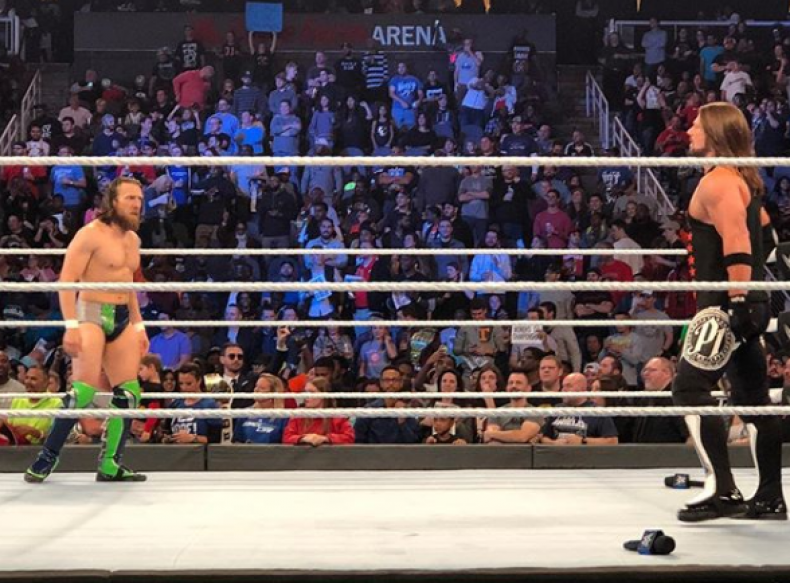 Newsweek subscription offers >
It's not confirmed if Samoa Joe will take on AJ Styles at Crown Jewel instead of Daniel Bryan, but we'll update as soon as we learn more.
PWinsider broke the news earlier in the day that Bryan would not make the trip to Saudi Arabia. The outlet reported that WWE considered pre-taping the match between AJ and Daniel in the Performance Center and airing it at Crown Jewel but thought better of it. Rusev was a name that was thrown around
On last night's Monday Night RAW, amid reports John Cena would not take part in Crown Jewel, WWE wrote him off the show by replacing him with Bobby Lashley at the behest of Acting General Manager Baron Corbin.
Robbie Fox of Barstool Sports broke the news about Cena and Bryan pulling out of Crown Jewel. Dave Meltzer of the Wrestling Observer later corroborated the reports.
Following the murder of Washington Post columnist Jamal Khashoggi, the WWE has been under pressure to cancel or at least relocate the Crown Jewel pay-per-view. However, the WWE confirmed the event would move forward as scheduled.
"WWE has operated in the Middle East for nearly 20 years and has developed a sizable and dedicated fan base," said the company's Q3 earnings report, published on its corporate website. "Considering the heinous crime committed at the Saudi consulate in Istanbul, the Company faced a very difficult decision as it relates to its event scheduled for Nov. 2 in Riyadh.
"Similar to other U.S.-based companies who plan to continue operations in Saudi Arabia, the Company has decided to uphold its contractual obligations to the General Sports Authority and stage the event. Full-year 2018 guidance is predicated on the staging of the Riyadh event as scheduled."
WWE Crown Jewel is set for Nov. 2.
WWE Crown Jewel: Daniel Bryan and AJ Styles Title Match Happened on SmackDown Live | Culture