WWE Announces Crown Jewel Pay-Per-View in Saudi Arabia
WWE announced the Crown Jewel pay-per-view, the second Saudi Arabia show of the year, during the opening segment of Monday Night RAW.
Acting General Manager of Monday Night RAW Baron Corbin formally announced the show when he informed Roman Reigns and Braun Strowman that, because of Brock Lesnar's involvement during their match at Hell in a Cell, all three will do battle in a triple threat match for the Universal Championship.
WWE.com also states the Crown Jewel pay-per-view will have the first-ever WWE World Cup tournament to "determine the best in the world."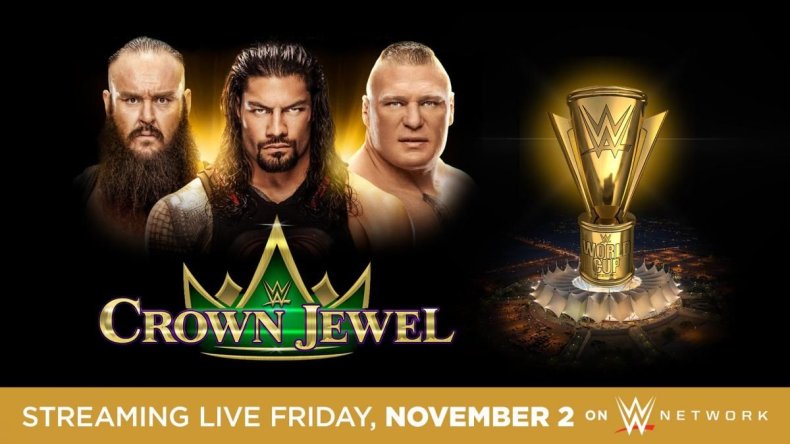 Before the official announcement of the Crown Jewel show, Dave Meltzer on MMAFighting.com reported that Brock Lesnar's return at Hell in a Cell was due to this appearance at the next Saudi Arabia show. Meltzer also reports Lesnar will make "well into the seven figures."
The Crown Jewel show is a part of a multi-year deal between the WWE and the Kingdom of Saudi Arabia. This show will take place in Riyadh, not Jeddah, where the Greatest Royal Rumble was held on April 27.
While a success for the WWE, Greatest Royal Rumble was not without its controversies. Women were not allowed to compete at the event, and Sami Zayn wasn't allowed to work the show because he is of Syrian descent.
WWE released this statement about Zayn's absence from the Greatest Royal Rumble.
"WWE is committed to embracing individuals from all backgrounds while respecting local customs and cultural differences around the world."
The Crown Jewel pay-per-view will take place Friday, Nov. 2 on the WWE Network.
What do you think of the next WWE Saudi Arabia show? What matchups do you hope to see? Let us know in the comments section below.