Daniel Bryan Turns Heel to Win WWE Championship from AJ Styles
On a packed episode of SmackDown Live, Daniel Bryan turned heel to capture the WWE Championship from AJ Styles and will now face Brock Lesnar at Survivor Series.
After some verbal jabs to open the night, both men were put into a WWE Championship match in the main event. The two fought hard but in the end, Styles hit the referee by accident giving Bryan the opportunity to hit AJ with a low blow.
When the referee came to, Daniel hit AJ with the knee and pinned him to become the new champ. However, it was Daniel's actions after the match that really has the WWE Universe buzzing as he proceeded to beat Styles down as he clung to his new title.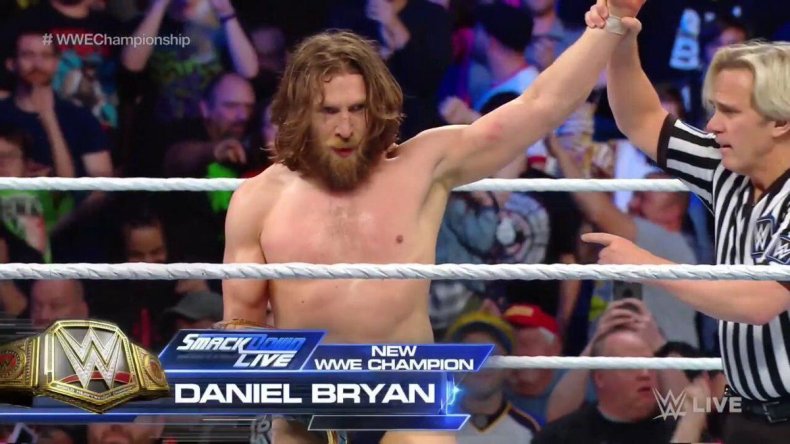 Take a look at Daniel Bryan's hee turn on AJ Styles below.
The heel turn began when AJ Styles game out to open the show, hyping up his upcoming match against Universal Champion Brock Lesnar on Sunday when Paul Heyman interrupts him. Heyman puts over AJ but reassures him that he will lose to The Beast at Survivor Series and evokes Daniel Bryan's name.
Bryan comes out upset with Styles for saying his name, but The Phenomenal One calms him down. AJ then says Bryan's name again and the two come to blows with Shane McMahon and security coming out to break the two apart.
Now that Bryan is the WWE Champion, he will go on to Survivor Series to face Lesnar.
Survivor Series is set to stream live on Sunday, Nov. 18 at 7 p.m. EST with the pre-show beginning at 5 p.m. EST.
What do you think of Daniel Bryan's heel turn? Do you think he has a chance against Brock Lesnar? Let us know in the comments section below.