WWE Superstar Ember Moon Talks Tribute to the Troops, NXT and Her 'Crazy' 2018
Tribute to the Troops is a special event where WWE Superstars put on a show for the men and women of the armed forces, and then spend some extra time meeting them and boosting morale. This year, the event took place in Fort Hood, Texas a town WWE Superstar Ember Moon is familiar with.
The Garland, Texas native took part in this year's event, the 16th in the company's history.
"I was at last year's Tribute to the Troops as the NXT Women's Champion, which was awesome. This year I get to be there as a member of the RAW roster, also it's in my home state," Moon told Newsweek. "So I felt a very personal connection, like I had to go above and beyond what I felt I should because as a Texan I just had to bring it all the way."
Newsweek caught up with Moon to talk about a wide range of topics including this year's Tribute to the Troops special, her transition from NXT to Monday Night RAW, and her love of Dungeons and Dragons.
Tribute to the Troops will air this Thursday at 9 p.m. on USA Network as part of WWE Holiday Week
Note: This interview has been lightly edited for length and clarity.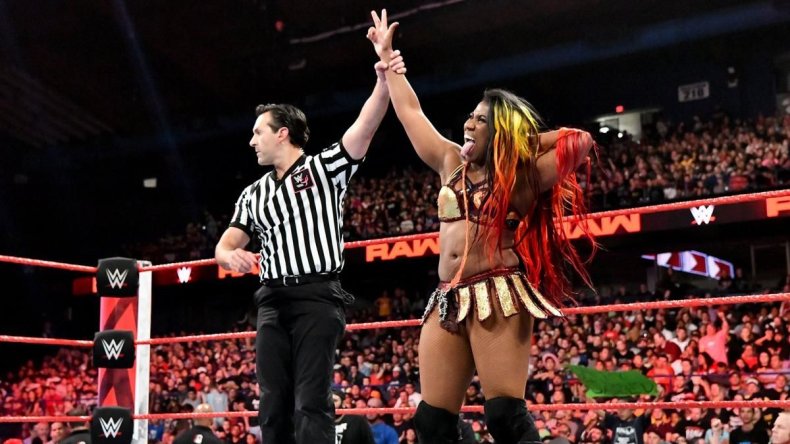 The Tribute to the Troops special is set to air. Can you describe what you did and talk about your experience?
We got up super early to see some of the troops' PT session. We got to work out with them a little. I climbed really far up and they had to help me down because everyone knows I'm afraid of heights. But, yeah, it was an awesome day. We had breakfast with the troops and then we all got to see the K-9 unit, which was great because I love dogs. Just to see the amount of passion that they have is truly awe-inspiring and humbling.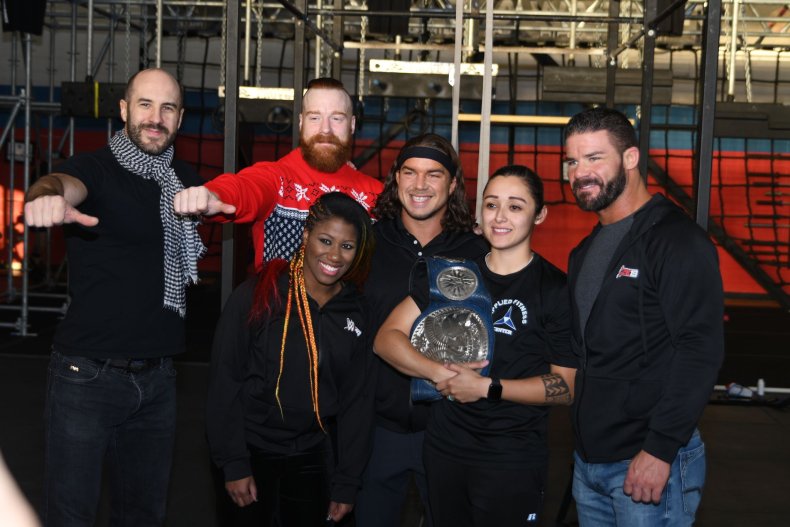 Wait, are you afraid of heights?
Yes I am. I've always been afraid of heights. I feel like I overcome the fear whenever I climb to the top rope. But it's something that I've been dealing with it. I never ride a rollercoaster, I freak out when I'm in glass elevators [laugh]. All of it.
What does it feel like to be doing this in your home state?
It's really humbling to be a part of their daily routine. I wasn't a part of the actual wrestling, but getting to meet and talk to so many wonderful people about video games, how I jump off the top rope when I'm afraid of heights, who my dream matches are. It didn't matter what I did because a lot of these troops are away from their families on Christmas but to be able to come, put smiles on their faces and make sure for a day and from here on out that we're their family. To show them they are loved and appreciated, that's the greatest gift.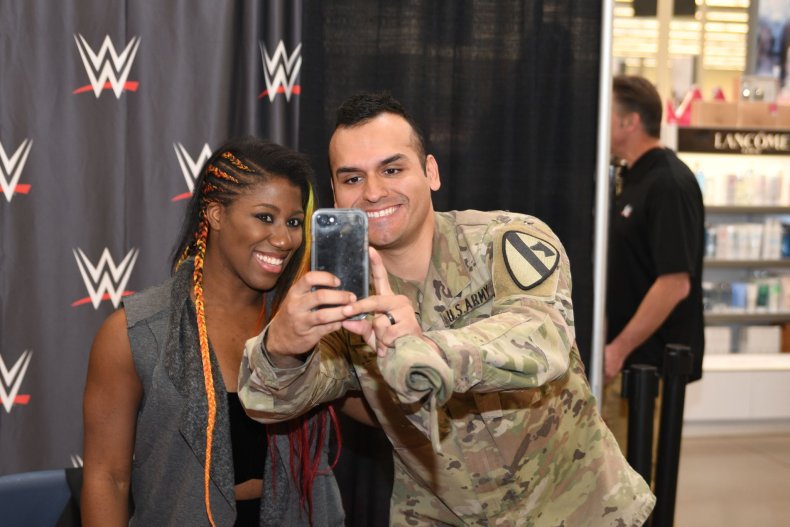 You mentioned being at Tribute to the Troops last year as a part of NXT and now you're on the main roster. How was that transition?
I would like to say easy, but I can't. It's very different. It's basically starting all over because at NXT I was the big dog, I was the Women's Champion, and I have been going strong for awhile. And going from that and starting over on Monday Night RAW, not knowing if people knew who I was, if they were going to like me. It's a whole other beast. You do get the benefit of debuting on the RAW after 'Mania where most of those fans are NXT fans but for me it's about proving myself all over again. There's no time to sleep, you know? You can't get content. Just keep impressing people, evolving and do what I do best.
Did you have certain expectations about the main roster before getting there? Were they met?
I don't ever really expect anything to be honest [laughs]. I'm always overwhelmed when I get positive reactions and feedback. And it's weird because you'll feel like it's your first match every time you go out there — "I don't know if they're going to like me" —. it's weird, I don't know how to explain it. I treat every match like I have something to prove, which I do. I feel that keeps me constantly evolving and coming up with something new to bust out.
Do you miss NXT?
To be honest, I miss the people I spent so much time with in NXT. You're basically at the WWE Performance Center and just being around the coaches and having all that knowledge is one place ... not to say there isn't any here. Just being around the women, and the amount we bonded together, it kind of broke my heart to leave Kairi [Sane] and Lacey Evans, and Bianca Belair, and Candice Lerae. And then coming here and having my friends from the independent scene come up, like Mia Yim and Dakota Kai. It's a love/hate thing with a lot of it, but it's so cool to see all these women who you start out with, like Sonya Deville and Mandy Rose, just flourish and grow and I miss seeing that. I miss being a part of that.
You've done a lot in 2018, being NXT women's champion, being a part of the first Women's Royal Rumble, Evolution. In one word how would you describe your year?
Crazy [laughs]. I'm serious though, it's unreal you say these things that I've done and I'm like "whoa I did do that. That's crazy. Whoa I did that too." Everyone wants to make their mark, everyone wants their name written down in history. To sit here and think back at being part of the first women's rumble, at the first-ever WWE women's pay-per-view. How can I have done so much in such a short amount of time? Everyone seems to think a year is a long time, but here it's not. The only way to describe this year is crazy. Or unreal.
I was at the Evolution show and your part in the Women's Battle Royal had the place rocking. How was that experience?
I don't expect people to like or hate me, so I had no expectations going into the match. Halfway through there were so many women still in the ring, not just me. And the crowd is cheering my name. It's such an emotional overflow of "oh my god, they like me." I know I sound like a big nerd right now, but it's overwhelming to have that. I need to try harder because they want me to [laughs]. It's crazy, overwhelming, emotional, and, crap, how can it get any better than this? It will one day, but man being there in that moment it's surreal.
2018 has been great for women's wrestling. Where does it go from here?
The sky's the limit. It's an amazing time to be a woman in sports entertainment not just in WWE, but in the indies too. There's so much competition to get a title opportunity to getting an opportunity to tryout to be in WWE. The spotlight is on the women right now. And if you saw the TLC match [between Becky, Asuka and Charlotte], that was amazing. My best frenemy Asuka winning her first tile for Smackdown is awesome. And it just shows that we're not going to stop and we're going to keep moving forward to do what we have to do to make history and no one is going to stop us. But we will tell you to follow that when we're done [laughs].
Like you said, Asuka is the new SmackDown women's champion. Does a part of you wish you were on SmackDown to get into a feud with her?
There's still so much for me to accomplish either way that I go. Right now I'm on RAW and there's nothing I can do about Asuka until that time comes. I have to worry about getting a shot at Ronda Rousey first [laughs]. I'm so proud of Asuka and everything's she's accomplished, she's a trend setter and really is the "Empress of Tomorrow." But I have to worry about myself right now and I'm on Monday Night RAW and I have to find a way to get a title shot. I have to prove myself, that's what I'm doing.
You mentioned Ronda. What can you say about what she brings to the WWE and would you want to work with her?
I would love to work with her in the future. Ronda in the WWE brings a lot of outside eyes from all platforms of life: entertainment, celebrities, whatever, so it's awesome to have her on board because it gives us as a locker room, as a brand, an even bigger platform to perform on. It's not just that. She works so friggin' hard too. She entertains everyone when she's in the ring and there's a reason she's the RAW Women's Champion, she's dominant and a force to be reckoned with. And yea, she's the one that I want to take down, you know? She hasn't been beaten, I'd love to be the first one and become RAW Women's Champion.
What current woman on the NXT roster do you want called up?
That's hard. That's an extremely hard question to answer because I feel like I'm being biased because I miss this person so much [laughs]. Honestly, Bianca Belair and Lacey Evans. I would love to have them here, and mostly just because I miss them as people. They are superb athletes and Bianca is ...God I wish I had a quarter of her athleticism. And Lacey is super funny, if you follow her on Instagram you'll know what I'm talking about. These are both women who started not knowing anything about wrestling and flourishing and showing the world they are superstars.
I have a colleague who is a big D&D fan and wanted me to ask you some questions. What's the class you play most as?
A monk. In the new edition they have a little bit of magical ability and before that I was a priest, a Mystra. And then I went from being a priest to a wizard, and then a multiclass priest/wizard which you aren't supposed to do but I did it anyway. I went to being a thief, but I really like the monk class because it's the best of both worlds. Of all the worlds.
How much experience do you have DM'ing?
I attempted to be a DM once. It was an epic fail. I feel like I was almost run out of the table. It was bad [laughs].
I've never tried being a DM but I'm terrified to try.
You have to know the rules like the back of your hand, and that's not something I knew so the game was pretty much ruined because I had to look up everything, like "can you do that?" [Laughs] One encounter took like four days.
On the WWE roster do you have your own crew you play D&D with?
What?! Of course I do, we have our own show called Rollout! You tell your friend to go on YouTube, on the UpUpDownDown channel and watch the first season of Rollout. I have my own D&D show with all my friends, Tyler Breeze, Xavier Woods and Brennan Williams and we have our D&D group and have our own adventure. Last week we announced that we got approved for a season 2. So you go tell him.
Oh I will [laughs] But this one is my questions. Who on the WWE roster do you want to play D&D with?
Ooooo that's hard. I don't know. Our roster is so huge I don't know who plays and who doesn't. But I also feel that I really want to play with either Shinsuke Nakamura or AJ Styles just because I think it'll be hilarious to watch them. I don't even know if they'll be good at it but I'd pay to watch them play.
AJ seems like he is very competitive and it'll be fun to watch him try and figure it out.
I feel AJ would try to win a game that's about teamwork [laughs].
What do you say to your fans who are being patient and expecting good things from you?
Staying patient is a virtue but getting hungry as time passes that's what it's all about. And I'll promise that I'll strike at the right moment.