WWE Superstar Charlotte Talks Her Evolution Match with Becky Lynch, Crowd Reactions and Ronda Rousey
One of the constants of WWE's women's division is the talent of Charlotte Flair. The seven-time champion is one of the pillars of the current Women's Revolution that has raised the bar for women's wrestling in the WWE.
As the WWE Universe heads towards the first all-women's pay-per-view, Evolution, on Oct. 28 "The Queen" looks to retake her throne and become SmackDown Women's Champion for the third time when she goes up against her former best friend, Becky Lynch.
Newsweek spoke with the WWE superstar about her ongoing feud with Becky, Evolution and how much she's grown since coming up to the main roster.
Note: This interview has been lightly edited for clarity and length.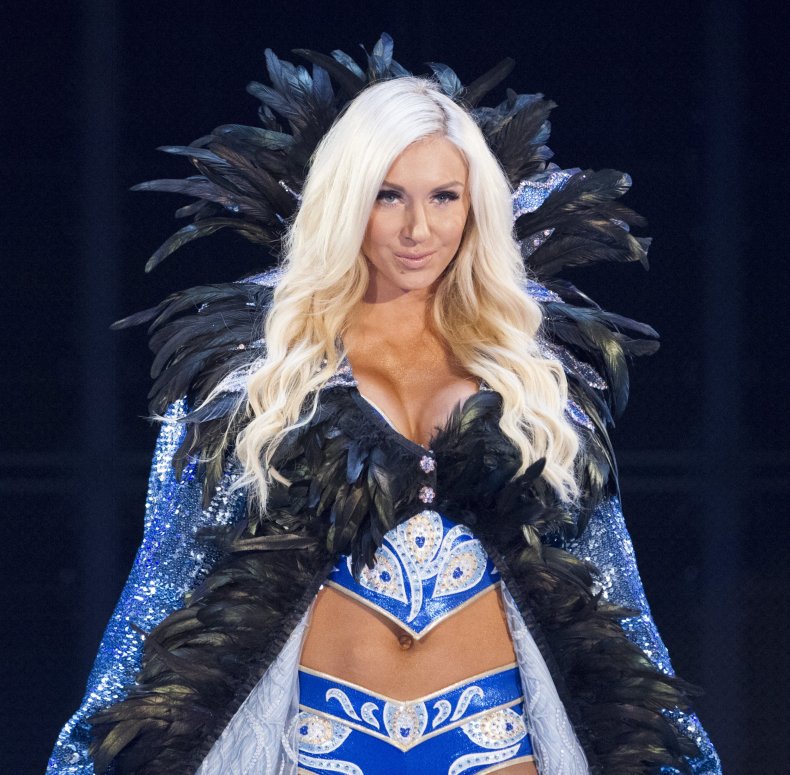 Your feud with Becky is probably the hottest thing in WWE right now. How does it feel to be a part of something that everyone's talking about?
I try not to think about it too much. I'm ecstatic about it, but I don't want to jinx it. I know people are saying that and with every match the story keeps getting better and better, but that's all I could hope for.
It was announced on SmackDown that your match at Evolution will be a Last Woman Standing match. Is that the natural progression of your feud?
Especially after SmackDown on Tuesday, it was the only direction that would make sense with the brutality of what happened. And it's perfect for the story between two best friends.
How are you feeling? You went through the LED board pretty hard.
[Laughs] I'm fine it just scared me more than anything. You don't see that very often. I was very excited because I got to put my former best friend through an LED board. I love doing Mixed Match Challenge, so I'm glad they still let me compete after they wrapped me up.
You seem to have a lot of fun on the Mixed Match Challenge. How much of a relief is it to be out of character?
Yes! The dancing is terrible [laughs] it's so bad. But I really built this wall around my character and I think it has to do with all the pressure I put on myself. For me, when I get to do Mixed Match Challenge, I'm like, I'm not as stiff and don't have as much pressure on myself. I get like "See! I can smile, I know how to have fun." I love it.
Going back to you and Becky. Has the crowd reaction you both received surprised you?
For me, I look at it as if I wasn't getting a reaction I would have a major problem. People have a natural reaction to their favorite. But I don't necessarily focus on whether it's a boo or a woo because the story is going so well.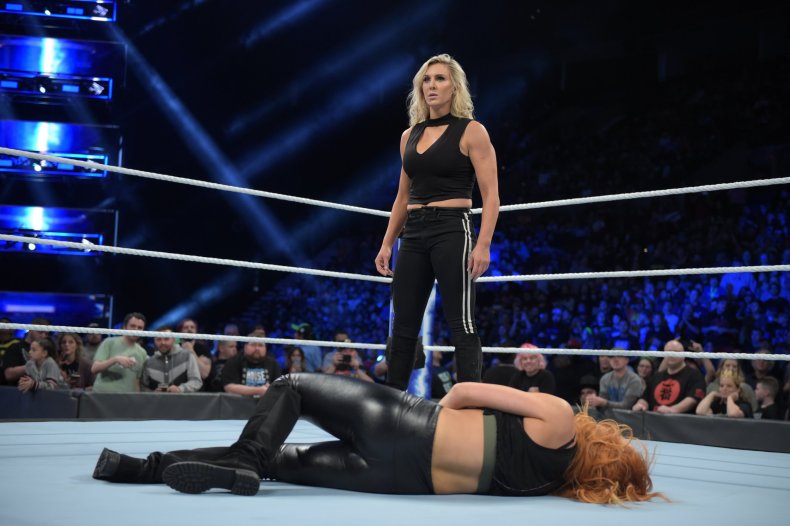 You had a memorable feud with Sasha and now you're in one with Becky. Do you feel they parallel or are they completely different?
It's parallel because I felt I could fight Sasha forever. And I still say that to this day. And I never thought I had that same intensity or anger, we've always had that chemistry but it just takes that spark, you know? And now I can look at this fight with Becky and can say we can fight forever. And to me it has a lot to do with me being a better talent than I was when I first started. I learned so much and I wish I could redo the Sasha feud because I feel like I can do things so much better because I learned so much. I couldn't be more happy with how every match has progressed. From Hell in a Cell to Australia to the TV match. You can see it getting better as it's going along and that's very important.
Was it important to have this feud go into Evolution?
I wanted to continue the feud there because we have a story. And it's all about the story. When you look at your favorite rivalries, it's not about the match it's because of the story. And everyone understands or can relate to two best friends not getting along and us fighting for the same thing. Whether you're on my side or her side you get it somehow and it's very relatable.
And for the first ever stipulation match is a big deal. Yea, I wanted it to be Becky because I felt it's that heated.
You've been a part of so many "first-ever" stipulation matches like the first women's Hell in a Cell match. Do you like doing them?
I look at them two ways. One, there is so much pressure because it's the "first-ever" and you want to hit it out of the park. But in the same sentence, it's the first-ever so it's special [laughs].
But I actually feel this is going to be a match we're going to remember for ages because of how far we both have come in terms of learning and being a talent, understanding our characters and becoming comfortable. I wish every day that I could go back and redo Hell in a Cell because I'm not the performer I am today that I was then. I have this very high expectation for Evolution and for our match.
Is there an added pressure performing at Evolution, a show with legends and some up and comers?
Oh yea. I'm always looking to get better and I know there's so many talented women who are hungry and want all of our spots and my spot. I really want to make an impact and show that there's only one Queen in the WWE, and that's the night to do it.
Is there a sense of obligation to build up the rest of the women's division?
The way I look at every match and every girl I had the opportunity to the face, I know this sounds like a lot of pressure, but I want every match to be a homerun. When I walk through that curtain whether it's three minutes, 15 or 30 minutes I want it to be a homerun and I'll give it my all whether it's a house show or in front of 100,000 people in AT&T Stadium. It's my job to give the audience and the WWE universe everything I have every night with any opponent I have.
If you weren't facing Becky is there a Legend you would have liked to face at Evolution?
Lita. I say this because she was a mentor when I first debuted on the main roster. She brought out a lot in me and taught me a lot so having the opportunity to face her with the same tools that she gave me would have been—I hate to use this word—magical. But with the current story I have going on, I just don't think it wouldn't feel right not to be facing Becky. I won't say it's the top story but it's the most heated story.
Have you thought about after Evolution and after Becky? Maybe facing Ronda Rousey?
I can't say that I don't envision having a match with Ronda, but only because I'm so impressed with how far she's come. She's really taken to her role and I'm floored by how fast she's picked this up. Just because you're MMA doesn't necessarily mean you're going to be good at this. She's passing everyone's expectations, or at least mine. So I would like the opportunity to face her. But no, I'm focused right now and Evolution is going to be a night for the ages.