WWE Evolution Delivers a Memorable Night of Amazing Women's Wrestling
After weeks of turmoil, controversy and loss, WWE's Evolution pay-per-view was a much needed dose of levity and goodwill for its fans and the best show the company put on all year.
Despite the lack of build, the competitors did what they do best; put on one hell of a performance. From top to bottom, the Evolution event was a celebration of women's wrestling and should pave a way for what fans can (hopefully) expect in the future.
Each match delivered in its own way, providing variety and intrigue to a crowd that could've easily "poo poo'd" everything and everyone, but instead played a huge role in how successful it was. There is a lot that can be said about WWE Evolution, but here are some thoughts on each match.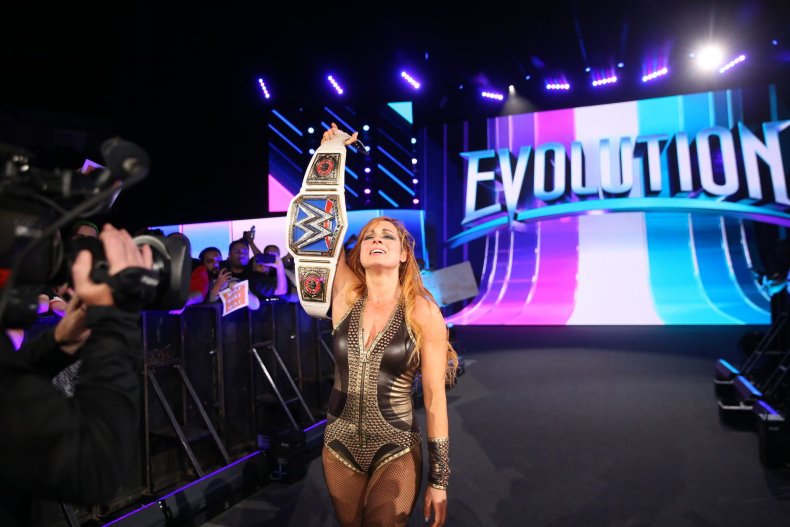 TRISH STRATUS & LITA vs MICKIE JAMES & ALICIA FOX
This was the perfect match to start the night. There were low-stakes, especially with Alexa Bliss having to sit this one out, but the appearance of Trish and Lita really got the crowd into the pay-per-view (and they would stay into it throughout the night).
Some noticeable ring rust from Trish and Lita aside, both competitors really brought it, getting their "greatest hits" in and showing what made them so popular and innovative. However, the real MVP of this match for me was Mickie James. She was the glue that held everything together and the crowd ate it up when she came face-to-face with Trish.
The obvious botch toward the end when Alicia Fox missed the pin breakup could have sucked the air out of the arena, but the ladies and the crowd didn't allow it to. The match provided a strong opening segment, despite being arguably the weakest on the card, but on a night full of amazing matches, it's not a knock.
BATTLE ROYAL
This was a ton of fun although many of the women involved such as Asuka, Naomi, Nia Jax and Ember Moon probably could have used their own matches on the pay-per-view. Still, all 20 competitors made the most out of the Battle Royal.
Different stories were sprinkled throughout the match from the Iiconics running down of the rest of superstars (past and present) to the showdown between the old and new guard, there was something for everyone.
There were so many great moments and call backs, like the face-off between Ember Moon and Asuka, Tamina and Nia paying homage to Roman Reigns, Carmella and Ivory's dance break and much more.
Nia Jax was the safe pick and it'll be great to see her and Ronda Rousey go at it again (I still feel their match at Money in the Bank was Ronda's best singles match), but I can't deny that Ember Moon was red hot by the end of the match. The crowd wanted her to win so badly that it was kind of a bummer to see her eliminated. If anything, it was Ember's coming out party for anyone who didn't already know she's the "bee's knees."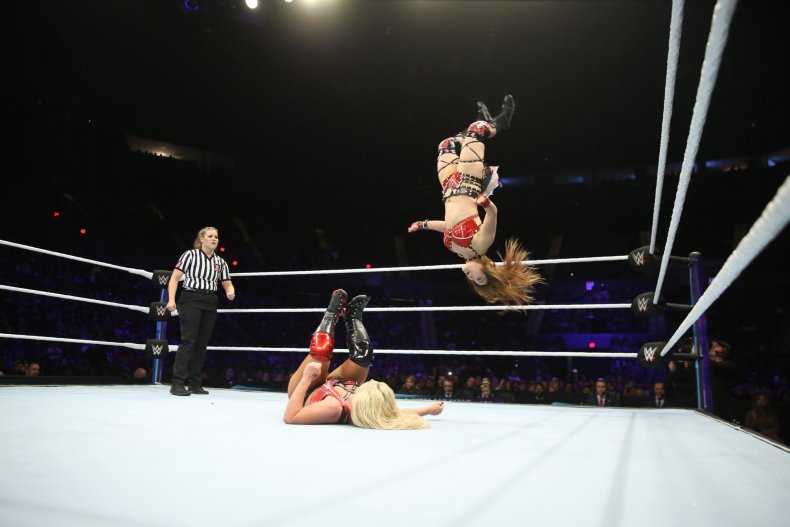 TONI STORM vs IO SHIRAI
I'll admit, I was a little worried about this match. Not about the competitors in the ring, they were guaranteed to be great, but how the crowd would react. The Mae Young Classic is a relatively niche event in WWE circles, so I was worried that the crowd would not be invested in this match, However, I was very wrong.
I sat behind two little girls who were cheering for Toni Storm from the beginning and the rest of the crowd appreciated both women with dueling chants throughout. The only misstep of this match was the lack of time given.
The match was about 10 minutes and it felt like it was missing a second act. It started slow and then quickly ramped up to the finish. Another five minutes would have gone a long way.
Both women are stars in the making if it wasn't already clear through their matches in the Mae Young Classic.
RIOTT SQUAD vs SASHA BANKS & NATALYA & BAYLEY
The most pleasant surprise on the card, the hastily put together six-woman tag match between Riott Squad and Sasha, Nattie and Bayley was very entertaining and showed how great all the ladies involved are.
It's a shame Bayley and Sasha weren't given their own matches to showcase their talents and show appreciation for their parts in the Women's Evolution, but boy did they make the most of this match. One weird sequence aside -- which took place when Sasha was supposed to flip over the ropes -- it was an entertaining bout and the little moments like Bayley taking an elbow for Sasha enhanced the match.
This is the Riott Squad's best performance as a unit and it's a shame they had to lose (again). Although in the context of the pay-per-view it made sense that the faces would win in a feel-good moment.
SHAYNA BASZLER vs KAIRI SANE
I was sooo into this match. If not for the classic that was Becky vs Charlotte, this would be my match of the night.
Both competitors know each other so well, which makes each of their encounters feel different. Their Mae Young Classic match was the first instance of both competitors showcasing what they can do with together, which saw Kairi come out on top with a style that Baszler wasn't used to. They would tussle on an episode of NXT with Baszler getting the upperhand by displaying a killer instinct. But she became a bit overconfident and took Kairi for granted at Takeover, resulting in Sane picking up a "flukey" victory.
While I would have loved to see Sane retain and Baszler called up to the main roster, having Shayna become the first two-time NXT Women's Champion makes all the sense in the world. WWE is looking to push the Four Horsewomen of UFC as a formidable stable and having Baszler lead Jessamyn Duke and Marina Shafir down in NXT is the smart play.
I would have preferred Baszler win clean and not involve Duke and Shafir, but if this builds to Sane and Shirai teaming up to take down the Horsewomen, I'm down for it.
BECKY LYNCH vs CHARLOTTE FLAIR
And now we've come to this. The Last Woman Standing match between Becky Lynch and Charlotte Flair was one for the ages. These two have tremendous in-ring chemistry and the willingness of both to go all out made their match one that'll be discussed for a long time. It's easily a "Match of the Year" candidate.
This was the longest match of the night but both competitors didn't take long to resort to chairs, kendo sticks, ladders and tables to put the other down. Last (Wo)Man Standing matches are usually very slow and littered with filler moments, but Becky and Charlotte had the crowd in the palm of their hands. There was never a dull moment and the intensity crescendoed in a satisfying way.
The bumps taken by both women were incredible and had everyone on the edge of their seats. I know Charlotte is getting a lot of flack for not being Becky, but she really is one of the greatest. The way she mixes power and high-flying moves was on full display here and she really had so many highlight moments. That Figure Four into the Figure Eight through the ladder was special and if you asked those who watched, they may have forgotten that spot even happened. That's how great everything else was.
Best of all, Becky coming out the victor was the right call. It'll be interesting to see where the SmackDown creative team goes from here with her.
I highly suggest you check out this entire pay-per-view, but if you only have time for one match, this is the one for you.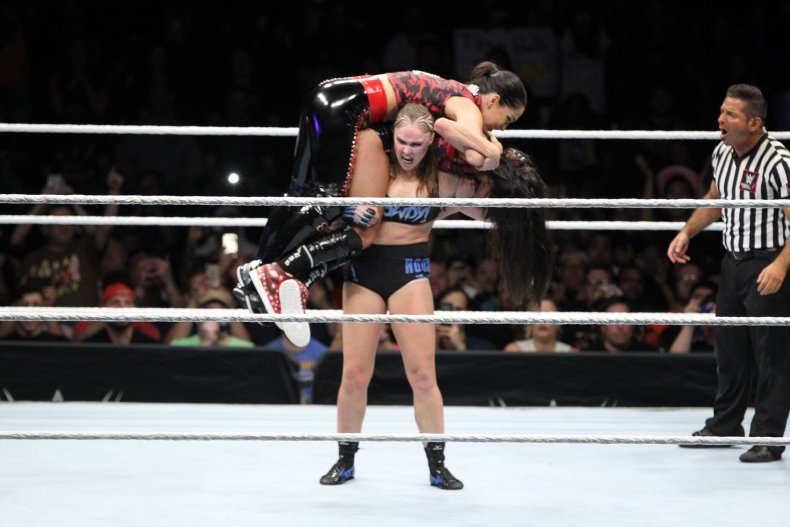 RONDA ROUSEY vs NIKKI BELLA
It's hard to follow the Becky and Charlotte match but the RAW Women's Championship bout was better than expected. It was a pretty straightforward match with Ronda having the upperhand early and getting increasingly overconfident as time went on until Nikki and her sister Brie used the numbers game to slowly weaken Rousey.
Nikki unfairly garners a lot of criticism for her in-ring work despite being very sound and her getting in a lot of offense against Rousey didn't feel out of place to me like it did for others. Nikki's the longest-reigning Divas champion and dominated a division for a long time, so her being the "boss" of that era and making Ronda work for it (especially with Brie by her side) wasn't hard to believe.
Ronda adds another move or trick to her repertoire every match and has made leaps and bounds of improvement since her first few WWE matches. The result was predictable, but predictable isn't always bad.
Ronda is on another level of popularity, so when she does lose, it'll be a huge deal.
Evolution is available to stream any time on the WWE Network.
WWE Evolution Delivers a Memorable Night of Amazing Women's Wrestling | Culture