WWE 'Extreme Rules' Results: Can Braun Strowman Overcome Bray Wyatt Tonight?
There's a Horror Show happening this Sunday as WWE is putting on its Extreme Rules pay-per-view.
Extreme Rules is usually the show where superstars will compete in matches with more hardcore stipulations and this year is no different. The SmackDown Tag Team Championships will be on the line as The New Day take on Cesaro and Shinsuke Nakamura in a tables match. Will Cesaro and Nakamura finally get over the hump and put an end to New Day's antics?
Universal Champion Braun Strowman is returning to the swamp to take on Bray Wyatt in a swamp fight. While the title won't be on the line, Strowman hopes to put Wyatt away before The Fiend pops up. Can Strowman bury his demons or will Wyatt's mind games get to the champ?
Rey Mysterio and Seth Rollins have been embroiled in a personal feud over the last few weeks and it's going to come to an end when the two fight in an eye for an eye match. The match will only end when one of the wrestlers has their eye gouged out. Will it be as gruesome as it sounds? And who will leave Extreme Rules as the victor?
Drew McIntyre will defend the WWE Championship against Dolph Ziggler tonight in an unannounced stipulation. Ziggler will choose his stipulation before their title match, but how hardcore will it be? Fans will have to wait and see.
SmackDown Women's Champion Bayley will defend her title against Nikki Cross. Bayley has held the blue brand's top women's title for a historic 200-plus days, but with the weight of holding up the division on her shoulders will tonight be too much for the "role model" especially with her friend Sasha Banks having her own match on the same night.
Speaking of Banks, RAW Women's Champion Asuka will defend her title against Sasha Banks this Sunday. Banks is looking to join her friend Bayley as a double champion, but she'll have to overcome the tenacity of the "empress of tomorrow." Will the WWE women's division change forever with Banks and Bayley holding all the titles or will Asuka continue her recent dominance?
Here's everything that happened at the 2020 Extreme Rules pay-per-view.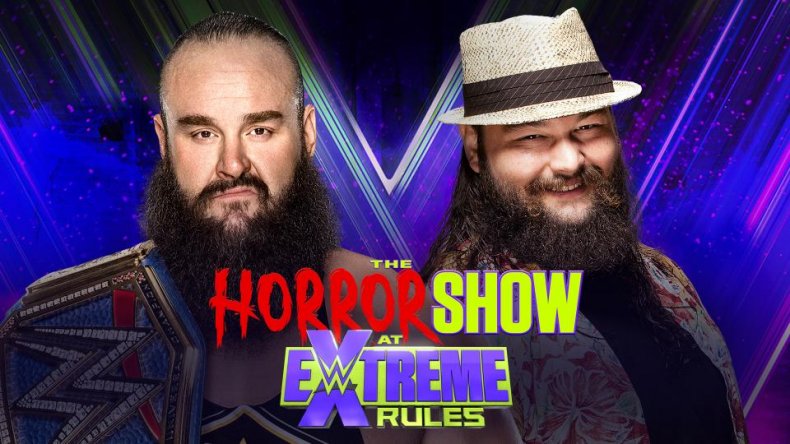 WWE EXTREME RULES 2020 RESULTS
New Day Interview
Kofi Kingston and Big E are asked about their tables match tonight. They bring out D'Von Dudley and ask for advice.
D'Von says that it's simple, they just have to put their opponents through a table.
MVP and Bobby Lashley Interview
Lashley says that Apollo Crews is a fake champion because he's been ducking him since he put the full nelson on him.
MVP says that Apollo is the champion, technically, but he put the money into the new US Championship. And Apollo's youth has put him in on a collision course with the greatest US Champion of all-time.
Kevin Owens vs Murphy - Kickoff Show Match
Owens pins Murphy after a Stunner
The match was highly contested with multiple near-falls.
The New Day (c) vs Cesaro and Shinsuke Nakamura - SmackDown Tag Team Championship Tables Match
Cesaro and Nakamura win
The finish happened when Cesaro power bombs Kofi Kingston through two tables stacked on top of each other on the outside from the top rope.
Backstage
Nikki Cross is in gorilla with Alexa Bliss, Kairi Sane and Asuka. They hype her up and say that they believe in her.
Before Nikki goes out to the ring, Kairi Sane says even if you lose, they will still be her friends, which makes Cross pause for a second.
Bayley (c) (with Sasha Banks) vs Nikki Cross (with Alexa Bliss) - SmackDown Women's Championship Match
Bayley wins via pinfall after the Rose Plant
The finish was set up when Sasha handed Bayley the "boss" brass knuckle and Banks distracted the referee allowing Bayley to hits Cross in the stomach with the knuckle and then the finisher.
Firefly Fun House
"firefly" Wyatt appears in vampire makeup and says he's ready to show the most horrifying footage. The karaoke showdown from two weeks ago is played briefly, but Wyatt stops it and blames Ramblin' Rabbit for showing it.
Wyatt says that he's ready to show Braun Strowman go back home and is unable to escape.
MVP Promo
It's announced that Apollo Crews didn't pass his pre-match physical and so the United States Championship match was cancelled
MVP, with Bobby Lashley, gets on the mic and says that by forfeit he's the new United States Champion. It's unclear if this is true, but Byron Saxton exclaimed on commentary that Apollo is still the champ.
Rey Mysterio vs Seth Rollins - Eye for an Eye Match
Rollins comes out with pliers
Rollins wins after "gouging" Mysterio's bad eye on the corner of the steel steps. A fake eye is shown and Seth turns around as the bell rings. Rollins vomits
Bayley Interview
Bayley jokes about Mysterio's injury and hypes up Sasha Banks who comes into frame.
Asuka (c) (with Kairi Sane) vs Sasha Banks (with Bayley) - RAW Women's Championship Match
Sasha "wins" after a pinfall
The finish was set up when Asuka hits the referee with the green mist by accident this causes Bayley to hit Asuka with the tag team championship. Bayley then takes the referee's shirt and puts it on and counts the three count and tells the time keeper to ring the bell.
She and Sasha take the RAW Women's Championship and run to the back.
Drew McIntyre (c) vs Dolph Ziggler - WWE Championship Match
Ziggler announces the stipulation. He says that it's an Extreme Rules match just for Ziggler and he can win the title if McIntyre gets disqualified or counted out
McIntyre wins via pinfall after a Claymore
Throughout the match, McIntyre had to refrain from using objects and had near count outs.
Braun Strowman vs Bray Wyatt - Swamp Fight
A lot was going on. Strowman was strapped to a rocking chair and Wyatt said that he has returned and won't be going back to being dead.
Braun fights off masked men--even sets one on fire--and then he sees a pier and a woman who is presumably Sister Abigail. Abigail is actually Alexa Bliss and says "you know you've always wanted to be with me" and "come with me, Braun."
Strowman heads to the pier and fights Wyatt. He chokeslams Bray into a boat, which floats away. The boat comes back empty when Wyatt pulls Braun into the swamp the two struggle, but only The Fiend comes out.