WWE 'Friday Night SmackDown' Results: Daniel Bryan & AJ Styles Battle to Become New Intercontinental Champion
It's the final Friday Night SmackDown before this Sunday's Backlash pay-per-view and the superstars of the blue brand look to build momentum heading into the weekend.
Friday's SmackDown is headlined by the finals of the Intercontinental Championship tournament. Daniel Bryan will take on AJ Styles in what will likely be a stellar bout. Bryan looks to recapture the title he once held before he was forced to retire due to injuries. Styles, on the other hand, has yet to win the Intercontinental Championship and wants to add it to his list of accomplishments in WWE.
Who will leave Friday night's show as the next holder of the "workhorse" title?
Jeff Hardy and Sheamus have been embroiled in a feud that has become personal. After Hardy defeated Sheamus in the Intercontinental Championship tournament, Hardy was framed for driving under the influence and hitting Elias with his car.
Hardy suspects it was Sheamus who framed him, but Sheamus denies the claim. The two will meet tonight for a contract signing for their match on Sunday's Backlash pay-per-view. Will the two have a peaceful meeting or will it be just like any other contract signing?
Bayley and Sasha Banks won the Women's Tag Team Championships last week from Alexa Bliss and Nikki Cross last week, but as the duo heads into their triple threat match at Backlash will we see the champs again or will they lay low until Sunday?
And finally, Tucker returns to Friday Night SmackDown to reunite with Mr. Money in the Bank Otis to team with Braun Strowman against Dolph Ziggler, The Miz and John Morrison.
Strowman will take on Miz and Morrison for the Universal Championship in a handicap match this Sunday while Ziggler has been a thorn in Otis' side for months. Who will come out of this match on top?
Here's everything that happened on the June 12 episode of Friday Night SmackDown.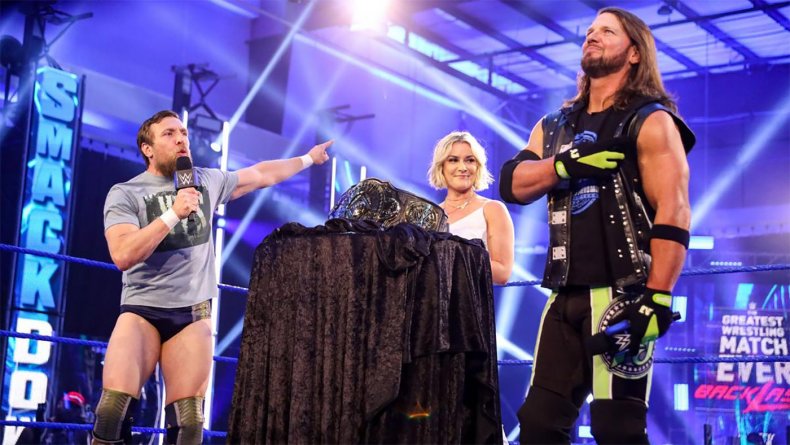 WWE FRIDAY NIGHT SMACKDOWN RESULTS
Jeff Hardy and Sheamus Contract Signing
A recap package of the feud between Hardy and Sheamus is played
Sheamus comes to the ring with a doctor and security. Sheamus is asked about the curtain that he brought to the ring. He tells Renee Young that it's for her.
Jeff Hardy says that it doesn't matter because Sheamus is the one who hit Elias with his car.
Sheamus tells Hardy to calm down and explains that he convinced WWE management that he won't sign the contract unless Jeff does a urine test. He says for the safety of everyone, he'll have to pass a urine test.
Jeff Hardy introduces himself as an alcoholic and explains how he already knows he has addictions and problems and he doesn't need Sheamus to explain it. He'll do anything if it means he can get in the ring with Sheamus.
Hardy gets behind the curtain as Sheamus berates him. Jeff comes out behind the curtain as the doctor tests his sample. Sheamus mocks Hardy before Jeff grabs the sample and says, "I rather be pissed off than pissed on" before throwing it onto Sheamus and leaving. Sheamus goes crazy in the ring as SmackDown goes to commercial.
Backstage
In the bathroom, Sheamus is shown washing his face and gargling mouthwash when the doctor he took to the ring comes in. He tells Sheamus that Hardy's test was negative, which upsets Sheamus even more.
The New Day vs Shinsuke Nakamura and Cesaro
During their entrance, Kofi Kingston and Big E take a knee with their fist in the air
Nakamura pins Kofi Kingston after a roll up
The finish was set up when Nakamura got his knees up when Kofi went for a Frog Splash
Backstage
Otis has a blindfold on with Tucker helping him get ready for their match tonight. Mandy Rose comes up and hands Otis his MITB briefcase and wishes Heavy Machinery luck on their match
Tucker looks at the briefcase and says that Otis should be ready to cash-in on Braun Strowman tonight
They are interrupted by Sheamus and Jeff Hardy fighting behind them when security comes and breaks them up
AJ Styles vs Daniel Bryan - Intercontinental Championship Tournament Finals
Styles wins via pinfall after a Styles Clash then a Phenomenal Forearm
The match went about 30 minutes
After the match, Renee interviews Styles in the ring. Styles says that he's the best WWE Champion that the WWE Universe has ever seen. He says he is phenomenal.
Braun Strowman Promo
Backstage, Strowman says there's a lot going on tonight. Strowman says not of that compares to what he's going to do to Miz and Morrison on Sunday. He says that while he likes Otis if he and Tucker try anything funny tonight he has no problem obliterating some Heavy Machinery
Sasha Banks and Bayley Celebration
Sasha and Bayley come out with balloons.
Bayley says that when you get to the top it's lonely. She says she's not lonely because Bayley has her best friend with her.
Sasha says that she told everyone that they would win back the Women's Tag Team Championships. The titles represent their friendship and that they'll only get stronger because they are unstoppable.
Bayley says she wrote a poem expressing how she feels. She's about to read it when they are interrupted by Alexa Bliss and Nikki Cross
Alexa says that she has to draw the line with poems. Nikki says that she and Alexa love a good party. The two teams start to argue when The IIConics show up on the titantron
Billie Kay says that Sasha and Bayley's time as champs is about to end because they are the ones who ended their first reign. They also say that Sasha and Bayley shouldn't turn their backs on Nikki and Alexa. The champs turn when Cross and Bliss lay out the tag champs
Miz and Morrison Interview
Backstage they are asked about Braun Strowman. They premiere a new music video in response to Braun's words from earlier.
The video is about to begin when it's interrupted by Strowman's entrance
Braun Strowman, Otis and Tucker vs Dolph Ziggler, The Miz and John Morrison
During the match, King Corbin shows up on the titantron. He takes a camera and walks up to Mandy Rose. He asks Rose if it was her idea for Otis to take his crown. She denies it and he says it's ok if she did because he knows she dreams about a man with power like him.
Otis shows up and jumps Corbin when SmackDown goes to commercial. When SmackDown comes back, Tucker and Strowman are fighting alone.
Otis with Mandy Rose rejoins toward the end of the match.
Otis pins Dolph Ziggler after a Caterpillar
The finish was set up when Strowman did his shoulder tackles around the ring and finally hits Ziggler before throwing Dolph into the ring to be hit with Otis' finisher.
WWE 'Friday Night SmackDown' Results: Daniel Bryan & AJ Styles Battle to Become New Intercontinental Champion | Sports