WWE 'Friday Night SmackDown' Results: Jeff Hardy, John Cena and Paige Return
It's going to be a SmackDown unlike any other, as the WWE will put on its Friday show live from the Performance Center in Orlando in front of just essential personnel.
With the growing coronavirus pandemic, WWE shifted the March 13 episode of Friday Night SmackDown from Detroit to Orlando to protect its fans and talent. But, the show must go on and the promotion is setting up for WrestleMania 36 in Tampa—at least for now—and there are three big returns tonight.
The first is Jeff Hardy who revealed on a recent episode of WWE Backstage that he's cleared to compete in the ring again. What will he do first now that he's back on SmackDown? With his brother Matt a free agent, Jeff will go on a singles run, but who or what will be his first program?
Paige returns to SmackDown to confront Bayley about her recent actions and attitude towards the blue brand's women's division. Bayley has run through the women's division in recent weeks, but now that Sasha Banks has returned she's feeling more invincible than usual. Can the former SmackDown General Manager get through to Bayley?
John Cena is also expected to appear on SmackDown tonight to further his feud with the Bray "The Fiend" Wyatt. A new episode of "Firefly Fun House" premiered last week explaining some of the reasons why Wyatt has targeted Cena, but how will John respond?
With WrestleMania less than a month away, the WWE is ramping up the feuds for the biggest show of the year whether it goes on as planned or not.
Here's everything that happened on the March 13 of WWE's Friday Night SmackDown.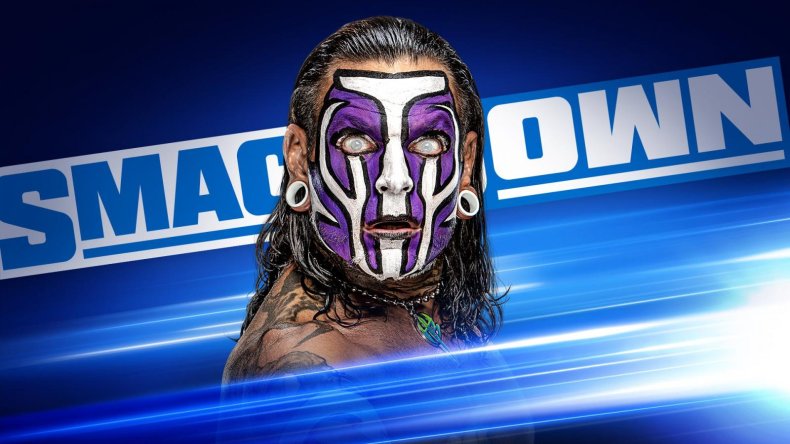 WWE FRIDAY NIGHT SMACKDOWN RESULTS
Opening Segment
The night starts off with Triple H hyping up what the Performance Center is and what it means to the WWE. He then unveils how SmackDown will look at the PC. Triple H will join Michael Cole on commentary for a portion of the show.
Sasha Banks and Bayley Promo
Bayley and Banks come out and say that they have arrived on time to the Performance Center, but Paige—who called them out—has not arrived. They walk up to Triple H and ask him to call her when they are interrupted by Alexa Bliss and Nikki Cross.
Bliss and Cross say they have been looking for a fight with the Kabuki Warriors but haven't been able to get them. Cross says they are looking for a fight and challenge Banks and Bayley.
Bayley and Sasha Banks vs Alexa Bliss and Nikki Cross
Banks submits Cross with a Bank Statement
Finish was set up when Asuka shows up to take out Bliss when the referee wasn't looking
Roman Reigns Promo
Reigns is asked about his critics who say he is always getting main event matches at WrestleMania. Reigns says he's worked hard for his opportunities and he worked so hard to get back from his treatment
In regards to Goldberg, Reigns says he has more than just The Spear and he's been working to get over his illness and make it back to the WWE and he will beat Goldberg at WrestleMania.
Backstage
Cesaro interrupts Kayla Braxton to introduce the new Intercontinental Champion, Sami Zayn. Braxton says that's not who her guest is as they walk off screen.
Jeff Hardy comes into frame and says that he's worked hard to get back and he's ready to get in the ring. King Corbin interrupts and says that he runs this show and he needs to pay homage. Hardy says that he has a match with Corbin tonight.
Daniel Bryan/Drew Gulak Segment
Bryan finds Gulak backstage. Drew is about to walk away, but Daniel Bryan stops him and says that he wants Gulak to teach him about his weaknesses
Sami, Shinsuke and Cesaro walk up to the two and joke about how Daniel Bryan told Sami no when he was offered to join them and now he's asking a "nobody" for advice. Bryan gets in Sami's face, but Cesaro gets in between them. Bryan says he doesn't have a problem with Cesaro but with Sami. Cesaro says that if he has a problem with Sami he has a problem with him.
Bryan says that Cesaro knows where the ring is and he'll meet him there.
Gulak scoffs at Sami for calling him a "nobody" and follows Bryan off-screen.
SmackDown Tag Team Championship Elimination Chamber Match
WWE replays the match from the Elimination Chamber pay-per-view
The Miz and Morrison retain the championships after last eliminating The Usos
After the replay, Miz and Morrison are in the ring and say that they are the greatest tag team of the 21st Century. They don't pander to the crowds like The New Day and The Usos, they just win.
Rob Gronkowski Announcement
Mojo Rawley joins Michael Cole and Triple H at the commentary desk and is asked about Rob Gronkowski. He says the rumors are true and that Gronkowski will appear on SmackDown next week.
It should be noted that Mojo is seemingly leaning more towards his "Hype Bro" character.
Daniel Bryan (with Drew Gulak) vs Cesaro (with Shinsuke Nakamura and Sami Zayn)
Sami is on commentary
Bryan wins via pinfall after a roll up
After the bell, Shinsuke and Cesaro beat down Bryan. Gulak goes in for the save, but Sami comes in to help and eventually Bryan and Gulak clear the ring
Jeff Hardy vs King Corbin
Elias is on commentary
Corbin attacks Hardy before the bell. During the match, Corbin yells at Elias for being out there, which causes Elias to start strumming his guitar, which distracts The King
Hardy wins after a "Twist of Fury" and a Swanton Bomb
John Cena Promo
Cena is asked about how Bray Wyatt has said he was the reason for his failures.
Cena says so many people have blamed him for their "burials" but he's taken so many big losses and no one says that about him. That's because they know who he is and he doesn't blame anyone but himself. He says the WWE needs to invest more time in the future like McIntyre, Rhea Ripley, Ciampa, Matt Riddle, and Velveteen Dream.
He says at WrestleMania, he's going to beat Bray Wyatt and put an end to the most "overhyped" wrestler.
Bray Wyatt comes out and says that when he lost to Cena six years ago he was a broken man, but "The Fiend" put him back together. And at WrestleMania it'll be a slaughter, Cena just doesn't know it yet.