WWE 'Friday Night SmackDown' Results: Rob Gronkowski Appears at the Performance Center Live
With a few weeks left before WrestleMania 36, and the blue brand shooting from the Performance Center in Orlando, tonight's SmackDown should be interesting.
Last week, John Cena made a return and had a face-to-face with "The Fiend" Bray Wyatt in a segment that was amplified by the lack of an audience. Tonight, Goldberg and Roman Reigns will come face-to-face for their contract signing. Will we get something similar to when The Undertaker showed up on Monday Night RAW or will both masters of the spear get in the ring?
WrestleMania 36 will be a two-night event this year with both being hosted by former New England Patriots Tight End Rob Gronkowski. The Super Bowl winner will be live on Friday Night SmackDown—and what will happen is anyone's guess.
Mojo Rawley made an appearance last week to make the announcement that Gronkowski has signed with the WWE and will appear this week, but will Gronkowski's friend get involved with the hosting gig?
One match is confirmed for tonight's show and it's the SmackDown Tag Team Champions, Miz and John Morrison going up against Heavy Machinery.
Otis and Tucker had a tremendous performance at the Elimination Chamber before being eliminated by Dolph Ziggler and Robert Roode, but can they get on the winning track by defeating the champs? Or will Miz and Morrison continue their recent winning ways?
Speaking of tag teams, Sasha Banks and Bayley defeated Nikki Cross and Alexa Bliss last night—with the help of a wild Asuka—last week. Bliss and Cross have made their intentions clear for the Women's Tag Team Championships. Will we get more build to that potential WrestleMania 36 match?
Here's everything that happened on the March 20 episode of Friday Night SmackDown.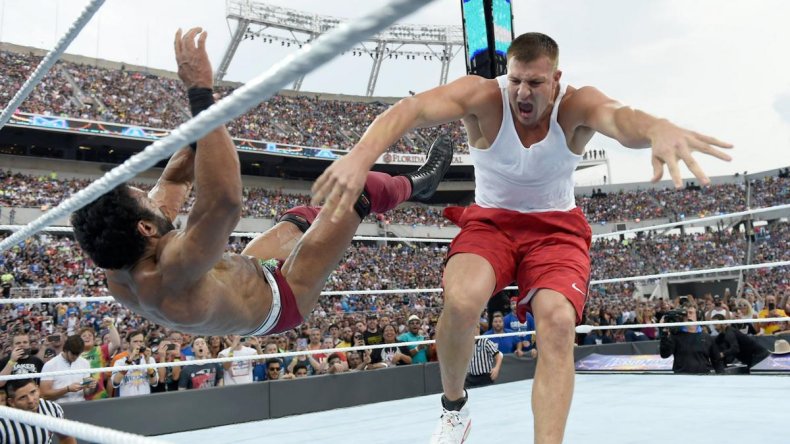 WWE FRIDAY NIGHT SMACKDOWN
Opening Segment
Michael Cole and Mojo Rawley open up the show inside the Performance Center. Rawley introduces Rob Gronkowski, who is the host of the two-night WrestleMania 36.
Gronkowski dances his way to the ring and Mojo tells him that the WWE is different from the NFL because there's always a target on your back. Rawley says he will have Gronkowski's back and Rob says he'll have Mojo's back.
Gronkowski says that he's been a fan of the WWE since he was in 2nd Grade and attended FCW shows to support Mojo Rawley.
King Corbin comes out to interrupt Gronkowski. He says that this is not the NFL and he'll be eaten alive here. Elias interrupts Corbin and starts to sing a song, but Corbin stops him when Gronkowski pushes King Corbin who trips over Rawley who was behind him. Elias tosses Corbin out of the ring.
Gronkowski says he is advocating for a WrestleMania match between Corbin and Elias.
Daniel Bryan and Drew Gulak vs Shinsuke Nakamura and Cesaro
Sami Zayn is on commentary
Bryan pins Cesaro after a sunset flip
Bryan holds Gulak's arms up and tells Zayn who Drew is. Sami starts jawing at Bryan.
Backstage
Bryan and Gulak are stretching and working out backstage
They are approached by Sami and his crew. Zayn calls his victories mediocre and Gulak is just teaching him to squeak by. Sami says that he's untouchable and that Bryan should have joined him.
Bryan says that if Sami is so confident he should put the Intercontinental Championship against him at WrestleMania. Sami says that if Gulak defeats Shinsuke next week then he'll defend his title. Bryan agrees
Paige Segment
Paige shows up on Skype. Bayley and Sasha Banks immediately interrupt her. They say that Paige no-showed last week and now on Skype.
They talk about how Paige can't do anything about them because she can't wrestle any more.
Paige says she can't wrestle, but she was given permission to announce Bayley's match at WrestleMania. Bayley says she doesn't have a match.
Paige announces Bayley will defend the SmackDown Women's Championship in a six-pack challenge against Lacey Evans, Naomi, Dana Brooke, Tamina, and Sasha Banks.
The announcement of Banks surprised both of them. Banks looks at the title and Bayley runs off alone to the back. Banks is still in the ring with a smile on her face.
Bray Wyatt vs John Cena - WrestleMania 30 Replay
A replay of the WrestleMania 30 match is shown in its entirety.
Cena wins via pinfall after an AA
After the replay, last week's segment with "The Fiend" and Cena is shown again.
The Dirt Sheet
Miz and Morrison sit in the ring and say that since they beat every team at the Elimination Chamber they don't know who should they face next. They ask the audience who they should face.
In the stands, cameras cut to Miz and Morrison who are dressed as The New Day and The Usos and Heavy Machinery (who are just Miz and Morrison in bacon costumes). The three "teams" are arguing and making fun of each other
When the segment is over Heavy Machinery come down for their match with the champs
Backstage
Alexa Bliss and Nikki Cross are interviewed about Asuka's interference a week ago. Bliss calls out Asuka and challenges her to a match next week on SmackDown.
Miz and Morrison vs Heavy Machinery
Dolph Ziggler joins commentary during the middle of the match. While Ziggler is on commentary, that static with the ring shows up
Ziggler interrupts Otis when he's about to hit the Caterpillar. He shows pictures of him and Mandy Rose together, which distracts Otis. Otis runs after Ziggler and grabs him when he tries to escape. Ziggler gets away but Otis takes his frustrations out on Miz and Morrison.
Otis is about to hit the tag champs with a chair when Tucker tries to stop him. Otis hits them anyways causing a disqualification.
Otis continues to toss chairs but stops as Tucker hugs him.
WWE Universal Championship Contract Signing
Roman Reigns and Goldberg come into the ring
Cole brings up a past tweet that Roman posted about Goldberg headbutting doors. Roman says he stands by what he said and at WrestleMania he's going to win the title that Goldberg didn't earn.
Goldberg says he's been busting doors down with his head for years and Roman will be next.