WWE 'Friday Night SmackDown' Results: Two More Money in the Bank Competitors Determined Tonight
Friday Night SmackDown has two more competitors that will represent the blue brand in the Money in the Bank ladder matches which will be determined tonight.
The first is between Otis and Dolph Ziggler. Both men have had a months-long feud revolving Mandy Rose and while Otis defeated Ziggler at WrestleMania 36 it hasn't tempered their hatred for each other.
Can Ziggler return to the Money in the Bank ladder match or will this be Otis' first attempt at the MITB briefcase?
The other Money in the Bank qualifying match is between Mandy Rose and Carmella. Rose has been involved in the feud with Ziggler and Otis and while she's aligned herself with the later, she lost her best friend Sonya Deville in the process.
Deville says she's sick of being in Mandy's shadow and sabotaged her date with Otis in February out of some misplaced love for her friend. But will Sonya play a role in this qualifying match or can Carmella rebound from her tag team championship loss last week to make it back to the MITB match?
Speaking of the MITB qualifying matches, King Corbin defeated Drew Gulak with the help of Shinsuke Nakamura and Cesaro. Daniel Bryan, who is also in the MITB ladder match, will look to get revenge for his mentor tonight when he goes one-on-one against Corbin.
The SmackDown tag team division has grown deeper in recent weeks as NXT's Forgotten Sons have made their way to the blue brand. Now the trio are setting their sights on The New Day and the SmackDown Tag Team Championships.
Forgotten Sons and New Day will square off tonight in a non-title match, but can the dominant trio make a statement against one of the most dominant and decorated tag teams in recent history?
Here's everything that happened on the May 1 episode of Friday Night SmackDown.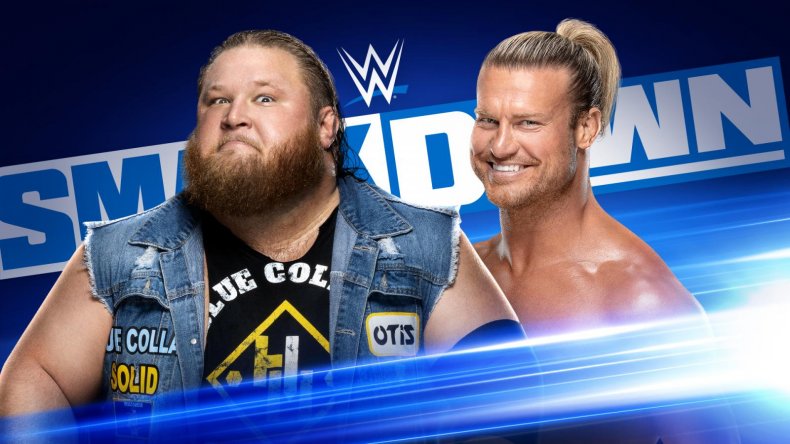 WWE FRIDAY NIGHT SMACKDOWN RESULTS
Daniel Bryan Promo
Before his scheduled match with Corbin, Bryan says that he loves tackling new obstacles and trying new things. He's excited to compete in this year's MITB ladder match because of how unique it is. He says he's competed in a lot of weird places, but this is the first time he'll be wrestling in an office building.
He says that years ago he couldn't get booked on SmackDown, but then he won the MITB briefcase before he cashed-in and became world champion. He says that winning the MITB match was the pivotal moment in his career and what spawned the "yes" movement, him main eventing WrestleMania and returning from retirement.
Bryan says he's also sad because he was hoping that Drew Gulak would compete with him. He was hoping to see Gulak try and make his moment like he did all those years ago. Bryan then calls out King Corbin.
Corbin says that Bryan should be careful what he wished for. After showing a recap of Gulak's loss last week, he says that he's going to win the MITB and be King Money in the Bank.
Bryan asks what Corbin will do with the briefcase? He brings up that Corbin is one of only four people who blew it.
Corbin says that a lot has changed since both men won the MITB ladder match. Corbin says that Bryan is older and desperate for hiring Gulak to coach him. As for Corbin, he says he's stronger and smarter.
Daniel Bryan vs King Corbin
Bryan wins via disqualification after the match got to the outside and Corbin threw a ladder at Daniel. The match went about 15 minutes.
After the match, Corbin tries to hit Bryan with an End of Days on a ladder but Daniel reverses and hits the Yes Lock on it. Shinsuke and Cesaro come out and attack Bryan. The segment ends with Corbin tossing Bryan into a pile of ladders.
Braun Strowman Promo
Braun says that his past with Bray Wyatt is just that. Before he can continue, he's interrupted by Bray Wyatt in the Firefly Fun House
Wyatt says it's story time and he's going to read "The Black Sheep." The story talks about the black sheep and how he was an outcast, but was the strongest of all the sheep. The shepherd finds the black sheep and brought him in and cared for him. And the black sheep in return protected the farm until the selfish black sheep left to look for greener pastures.
The shepherd says that without the black sheep he lost his farm to the government and the reptilians. But now he's going to take what the black sheep covets most the universal championship.
Braun Strowman says that anything Wyatt has to say to him he can say it to his face. Wyatt just smiles and waves goodbye and tells Braun that he'll see him soon.
Sheamus vs Leon Ruff
Sheamus squashes Ruff after a Brogue Kick
Jeff Hardy Vignette Chapter 4
This chapter was about Hardy's most recent knee injury and is road back. It's announced that Jeff Hardy will be back next week.
After it airs, Sheamus gets in Michael Cole's face and says that he will be on SmackDown next week as well.
Otis and Mandy Rose Interview
Backstage, Otis is asked about bringing the same winning strategy in his match with Ziggler. Otis says tonight is just the beginning for him and he's going to win this not just for himself but for Mandy Rose
Mandy Rose says that Sonya is her former best friend, but she's not looking past Carmella and puts her over. She then says that she and Otis will both climb the corporate ladders
Carmella vs Mandy Rose - MITB Qualifying Match
In the middle of the match, Sonya Deville comes out and says that today is the anniversary of when she gave up her MITB spot to her last year. She continues to speak and try to distract Mandy
Carmella wins via pinfall after pushing Mandy into the corner while Rose was distracted by Sonya.
After the match, Sonya runs into the ring and beats down Mandy.
Backstage
Mandy is in the trainer's room after her leg is injured. Otis comes in and asks and Mandy says she's ok.
When Otis leaves he runs into Dolph Ziggler. Ziggler asks if Mandy is ok, but Otis doesn't answer but instead just breathes heavily and looks at Dolph menacingly. Ziggler just leaves.
The New Day vs Forgotten Sons
Before the match starts, Miz and Morrison come out to join commentary
Forgotten Sons pin Kofi Kington after their corner tag team move
Tamina Interview
Backstage, Tamina is asked about dealing with Sasha in her match against Bayley. Tamina says
Sasha Banks comes out and says that she made her debut by Tamina's side. She talks nice to Tamina when Bayley comes up from behind, but Tamina chokes her. Sasha jumps Tamina to save her friend and the duo are beating down Tamina when Lacey Evans comes out to save Tamina.
Backstage
Dolph Ziggler is getting ready for his match when Sonya Deville says that she loved hurting Mandy and she hopes Dolph does the same with Otis
Dolph says that the people get upset with him for knowing how the world works. He says that the people sees themselves in Otis which is why they love him. He says that he's going to win the MITB match and cash-in, and be the champion again. He says after Sonya makes Mandy feel bad, Dolph will slide in and make her feel better.
Dolph Ziggler vs Otis - MITB Qualifying Match
Otis wins via pinfall after a Caterpillar