WWE 'Friday Night SmackDown' Results: Jeff Hardy is Arrested Ahead of Intercontinental Championship Tournament
The WWE Intercontinental Championship tournament continues on tonight's SmackDown with two semi-final matches.
The first pits Elias against AJ Styles. "The Phenomenal One" was moved to SmackDown last week, and now that he's a permanent fixture on the "blue brand" he's looking to add the IC Title to his list of accolades. Elias, coming off a big win over King Corbin, will look for the ultimate upset tonight.
On the other side of the tournament, the returning Jeff Hardy will take on Daniel Bryan. Hardy looks to win the Intercontinental Championship, the title he first won as a singles competitor. Bryan wants to win the championship he had to relinquish when he was forced to retire years ago. Who will win between these two WWE Legends? And will Sheamus get involved in the finish of this match?
Last week, SmackDown Women's champion Bayley defeated NXT Women's Champion Charlotte Flair. Although Bayley got the win using heel tactics, what's next for the women's champion? Charlotte tried to drive a wedge between Bayley and her best friend Sasha Banks a few weeks ago, but nothing came of it last week. Perhaps we're finally getting the buildup to their match starting tonight.
Universal Champion, Braun Strowman is embroiled in a feud with both The Miz and John Morrison. "The Monster Among Men" took care of Miz last week before Morrison challenged the champ to a handicap match at the Backlash pay-per-view.
What's the next chapter in this new Strowman feud? Braun lost the Intercontinental Championship in a handicap match earlier this year, will we see the same in a few weeks?
Sonya Deville got the last laugh against Mandy Rose in a mixed tag match last week. Deville teamed with Dolph Ziggler as they took out Rose and Otis. With that in the rearview, will we see another Rose and Deville match or will both women move on?
Here's everything that happened on the May 29 episode of Friday Night SmackDown.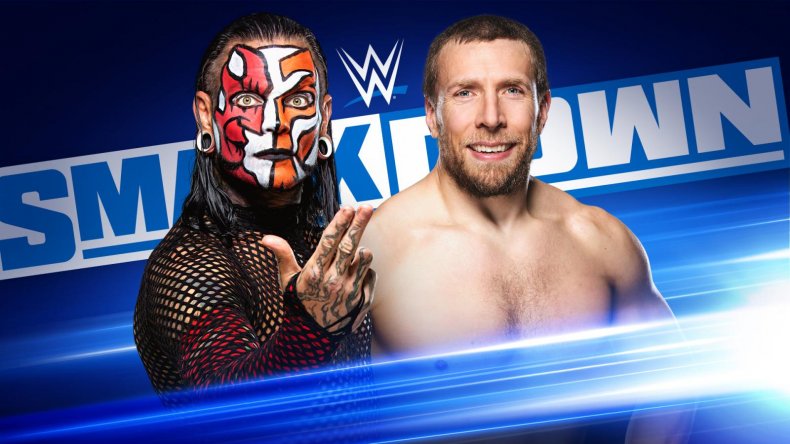 WWE FRIDAY NIGHT SMACKDOWN RESULTS
Outside of the Performance Center
SmackDown starts with Elias being hit by a car outside of the Performance Center. Police officers search the vehicle and find out that the rental car belongs to Jeff Hardy.
Braun Strowman is asked what he saw. He says he didn't see much but they hope they find who did this.
Police search the area and find Hardy who doesn't know what's going on. They arrest Jeff and as he sees Elias being put in the back of an ambulance, he calls out to the wrestler but is put in a police car. The police drive off with Jeff Hardy.
Backstage
Adam Pearce announces to the SmackDown locker room that Elias and Jeff Hardy can't compete tonight.
Sheamus says he's not surprised about Hardy's arrest
AJ Styles chimes in and says that it'll just be Daniel Bryan and him in the finals. Bryan says that they should have matches tonight anyways. AJ Styles calls D. Bry stupid for asking for another match
Sheamus says that he agrees with Bryan. King Corbin says that Sheamus already had a shot and offers to take on Styles tonight. Styles says that he's taking his free ride.
Jey Uso and Chad Gable want chances as do the other members of the roster. Pearce announces a Battle Royal happening next with the winner taking on Daniel Bryan later in the night. AJ Styles won't have to wrestle, but will take on the winner of D. Bry and the Battle Royal winner in two weeks in the tournament finals.
Intercontinental Championship Battle Royal
Dolph Ziggler, Lince Dorado, Cesaro, Shinsuke Nakamura, King Corbin, Sheamus, Drew Gulak, Jey Uso, Chad Gable, Gran Metalik are the competitors
Corbin eliminates Lince Dorado
Corbin eliminates Gulak
Corbin eliminates Gran Metalik
Corbin eliminates Ziggler after Dolph tried to double cross Corbin
Jey Uso eliminates Corbin
Gable eliminates Cesaro
Gable eliminates Nakamura
Cesaro eliminates Gable after running back in the ring when the referees were busy dealing with Shinsuke Nakamura
Sheamus eliminates Jey Uso
Backstage
Sonya Deville is preparing for her match with Lacey Evans when she says last week she beat a beach blonde barbie and she's going to do the same to Lacey.
Evans walks behind her and pushes Sonya to the ground and says to meet her in the ring.
Sonya wipes her lip and smiles
Backstage
Chad Gable is yelling at Cesaro and Shinsuke Nakamura backstage because they took his opportunity away.
Cesaro says that Gable doesn't have what it takes to be Intercontinental Champion and he should be the bigger man and walk away. Gable punches Cesaro and says challenge accepted as Shinsuke holds Cesaro back
Lacey Evans vs Sonya Deville
The match ends in a double countout
After the bell, the two fight near the commentary table. Evans gets back in the ring and tells Sonya to get back in the ring, but Deville says it'll be on her terms
Forgotten Sons Vignette
Jaxson Ryker and Steve Cutler introduce themselves along with their titles in the armed forces. Wesley Blake says that he appreciates those two so much that he wanted to be a part of them. And they are here on SmackDown to show the WWE Universe who they are.
Moment of Bliss
The New Day are their guests
Nikki Cross gives them Scottish pancakes. She made them with her grandma's special recipe.
The New Day give Alexa some coffee beans from inside Big E's tights.
Bliss asks if there are some standout tag teams on SmackDown. Kofi puts over the Forgotten Sons. Big E starts to talk about The IIConics when Bayley and Sasha Banks interrupt.
The champion asks if they see the best tag team on SmackDown. Sasha says she doesn't and they get in the ring. Banks takes off her windbreaker and throws it on Bliss. Nikki has to hold her back. Cross congratulates Bayley on her victory last week. Bliss makes a joke that Sasha is the only one in the ring without a title.
Bayley says that Sasha doesn't need one and Banks says that if it weren't for her and Bayley there would be no women's tag team titles and they can win them back any time.
Bayley says that they are going to prove they are the best tag team when Sasha beats Alexa in a singles match. Sasha looks annoyed and points out she is wearing heels. Bayley runs to the back to get her wrestling boots when Alexa drop kicks Sasha before the show goes to commercial.
Sasha Banks vs Alexa Bliss
Bayley and Nikki Cross are on commentary
Sasha pins Bliss after a roll up
The finish was set up when Bliss was getting ready for the Twisted Bliss causing Bayley to get on the apron to distract. Nikki Cross starts to fight with Bayley on the apron, but the champ pushes Nikki into Bliss causing her to fall into the ring.
Cesaro (with Shinsuke Nakamura) vs Chad Gable
Gable wins via pinfall after a roll up, reversing a power bomb
Otis and Mandy Rose Vignette
Otis and Mandy are poolside on vacation. Otis goes for a dip while Mandy takes a nap. In her dreams, a parody of Fast Times at Ridgemont High plays in her mind. Otis, in real life, does a cannon ball and wakes up Mandy. She gets in the pool with him and they make out.
Matt Riddle Video Package
Kurt Angle announces that Matt Riddle is coming to SmackDown soon.
Sheamus Interview
Backstage, Sheamus says that
Daniel Bryan walks up to Sheamus. Sheamus gets up in Bryan's face when Bryan hits Sheamus' shin. Sheamus says he'll pay for that.
Daniel Bryan vs Sheamus - Intercontinental Championship Tournament Match
Bryan wins via pinfall after a Flying Knee
The finish was set up when Jeff Hardy came out when Sheamus was about to hit Bryan with the Brogue Kick. After the bell, Hardy jumps Sheamus in the ring forcing the heel to flee.