WWE Friday Night SmackDown Results: A Flight Delay from Saudi Arabia Will Bring a "Special" Episode
Friday Night SmackDown airs live from Buffalo, New York just one day after the Crown Jewel pay-per-view. And after some "mechanical issues" many of the traditional WWE superstars won't make the show.
It seems the plan for tonight's SmackDown will be changed, which is a shame considering the new Universal Champion, "The Fiend" Bray Wyatt was supposed to appear on Miz TV. He could have shed some light on what this means for Monday Night RAW, now without its top title, and for WWE as a whole.
A match was announced earlier this week was a six-women tag match that's anchored by the number-one contender for the SmackDown Women's Championship, Nikki Cross and the champ herself, Bayley. Whether or not that match will still happen is unknown, but if it does, it could bring some momentum for Cross as she heads into her future title shot.
Unfortunately, we won't get the proper fallout episode that follows a pay-per-view, but the unpredictability of tonight's show could be fun.
Here's everything that happened on the November 1 episode of Friday Night SmackDown.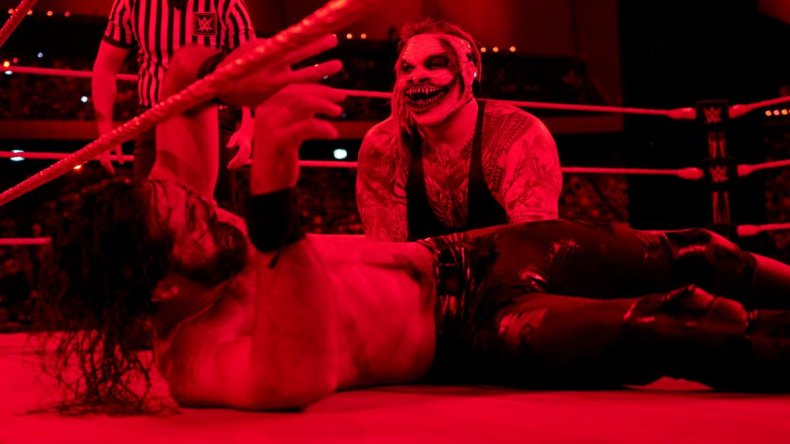 WWE FRIDAY NIGHT SMACKDOWN RESULTS
Tom Phillips, Aiden English and Renee Young are on commentary
Brock Lesnar Segment
Heyman talks up Lesnar's victory over Cain Velasquez at Crown Jewel
WWE then shows the entire Lesnar and Velasquez match
Heyman then reminds everyone what happened after the match when Lesnar beat down Velasquez with a chair, but then it's shown what happened when Rey Mysterio came into the ring. Heyman says that they quit SmackDown and are moving to RAW and Rey Mysterio needs to watch out.
Heyman and Lesnar leave the arena fast as Triple H and Shawn Michaels look on and shrug.
Bayley (c) vs Nikki Cross - SmackDown Women's Championship
Bayley wins via pinfall after a Bayley to Belly
After the match, Shayna Baszler comes through the crowd and takes out Sasha Banks and Bayley. Shayna ends the segment holding up the NXT Women's Championship
Sami Zayn Segment
Sami talks about how weird of a night it's become. He says he sees a pattern coming, and he says that NXT needs to watch out who they step to especially him.
Matt Riddle and Keith Lee show up and chase Sami to the ring.
Miz TV
Miz plays a recap of the Seth Rollins and Bray Wyatt match. He starts to talk when Tommaso Ciampa comes out.
Ciampa asks if this is supposed to be must-see TV? He says that The Miz is everything wrong with the WWE while he's breaking his next on NXT to prove he's the best.
Miz says he was hoping Ciampa would have come better on the mic. He says that if NXT has come to make a statement, then make a statement. Miz challenges Ciampa to a match right there, right now.
The Miz vs Tommaso Ciampa
Ciampa wins via pinfall after a Fairy Tale Ending
Backstage
Daniel Bryan is walking backstage when he runs into Triple H and Shawn Michaels
Triple H says that he was watching Crown Jewel and he saw the Survivor Series announcement that NXT was going to be a part of it and he thought that sounded like a fight so he thought he'd show up.
Bryan says that he's looking for a fight and stares down Triple H. Hunter says that he didn't bring his gear. Shawn Michaels takes off his jacket like he wants to fight but puts it bvack on because it's cold.
Triple H then brings out Adam Cole to challenge Bryan. Daniel says to put the NXT Championship on the line and everyone agrees.
Mandy Rose and Sonya Deville vs Carmella and Dana Brooke
Carmella and Brooke don't show up. Cameras backstage capture Bianca Belair taking out both women.
Rhea Ripley and Tegan Nox come out and challenge them.
Ripley submits Mandy Rose
Stephanie McMahon Promo
Stephanie McMahon cuts a promo about the women's evolution and the match between Lacey Evans and Natalya in Saudi Arabia.
Adam Cole (c) vs Daniel Bryan - NXT Championship Match
Triple H and Shawn Michaels are ringside
Adam Cole wins via pinfall after a Panama City Sunrise and a Last Shot.
Triple H gets on the mic after the match and says that if RAW and SmackDown want to fight at Survivor Series they better bring an army because they have fired the first shot. He calls out both brands to see what they got.