WWE 'Friday Night SmackDown' Results: Braun Strowman to Face Bray Wyatt at Money in the Bank
We're less than a month away from the Money in the Bank pay-per-view and SmackDown will look to set the groundwork for the upcoming show tonight.
First, Universal Champion Braun Strowman and Bray Wyatt had a confrontation last week after "The Monster Among Men" took care of Shinsuke Nakamura. Wyatt wants the Universal Championship back, but Braun was not buying what Bray was selling. Will the feud for the top title on SmackDown continue tonight and what will Wyatt do to get under Strowman's skin?
The SmackDown Tag Team Championships were defended in a unique way at WrestleMania 36. John Morrison successfully defended the titles alone while Miz was out sick. Tonight, The Miz will have to go it alone against Big E and Jey Uso in a triple threat match for the tag titles. Can The Miz pull his own weight or is he lost without his partner?
Mandy Rose got some revenge on her former best friend Sonya Deville at WrestleMania when she cost Dolph Ziggler the match against Otis. Deville is looking to make amends with Mandy, but can Fire and Desire put aside their differences?
Bayley, the SmackDown Women's Champion, has been on a roll for months now and with Sasha Banks by her side she may be stronger than ever. However, the rift between the two friends is growing especially after last week.
Tamina challenged Bayley for the championship, but Bayley put Sasha Banks in a match against her instead. If Tamina can defeat Banks, then she'll get a shot at Bayley.
Here's everything that happened on the April 17 episode of Friday Night SmackDown.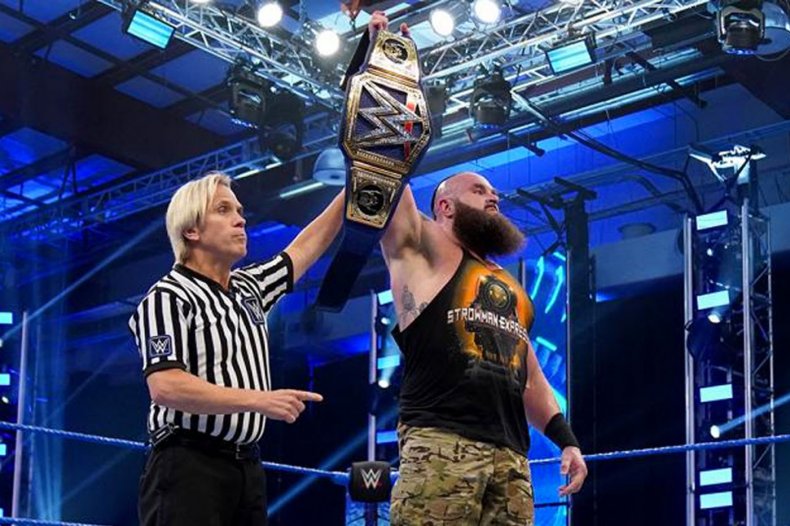 WWE FRIDAY NIGHT SMACKDOWN RESULTS
Moment of Bliss
Braun Strowman is the guest and he's asked about Bray Wyatt's challenge to him. It's announced that he will take on Bray Wyatt at the Money in the Bank pay-per-view for the Universal Championship.
Braun says that his past is something that he's trying to forget. He says that Wyatt didn't create him and he doesn't deserve an apology. He made his own path, and he knows how Bray Wyatt thinks.
Braun notices a present in the corner and thanks Alexa Bliss for it. Alexa says he didn't get him the gift. Braun opens it and is shocked to see his old Black Sheep mask from when he was in the Wyatt family.
Wyatt's ominous laugh is heard through the Performance Center while Brayn looks around startled. A still photo of Braun in the Wyatt family is shown before SmackDown goes to commercial.
Tamina vs Sasha Banks
Bayley is on commentary
Tamina pins Sasha after a Super Kick
The finish was set up when Lacey Evans came out to prevent Bayley from ganging up on Tamina. This allowed for Tamina to gather herself and get the best of Sasha.
Jey Uso Promo
Jey gives Morrison and Kingston props for their performance with Jimmy at WrestleMania, but Big E and Miz are going to get it tonight and The Usos are going to become seven-time champion.
Lacey Evans Backstage Interview
Lacey says that wherever Sasha Banks goes she goes because of what she's done to her family and to her at WrestleMania. And she won't stop until the mission is done. Lacey pulls off her right glove to show a painted symbol of Sasha's name crossed out before kissing it.
Sheamus vs Denzel Dejournette
Sheamus wins via pinfall after a Brogue Kick.
As expected, it's a squash match
After the match, Sheamus walks up to Michael Cole and gets upset that he keeps talking about Jeff Hardy even after his dominant victories. Sheamus says he will not be disrespected.
Jeff Hardy Documentary
It's the second part of Jeff Hardy's 24 documentary. It documents Jeff's "fall" and how he left the company and was abusing pain medication. It covers his arrests all the way up to 2018. Next week will be part 3.
Backstage
Dana Brooke is warming up when Carmella runs up to her. She asks Dana why she's facing Naomi tonight when they have to prepare for their tag team championship match next week. Dana says she's not giving up an opportunity for the Money in the Bank contract and can do both.
Dana leaves for her match when Carmella looks on not believing her.
Naomi vs Dana Brooke - Money in the Bank Qualifying Match
Dana Brooke wins via pinfall after a Roll Up
Sonya Deville Promo
Sonya comes out and says that she wants to explain herself. Mandy Rose comes to the ring and Sonya tries to explain, fighting tears, why she did what she did. But Sonya's demeanor quickly changes to one of jealousy and disgust for Mandy.
Sonya says that for years she was in Mandy's shadow and that when she started to talk to Otis, she realized that Mandy will be quick to kick her to the curb. And that putting her with Dolph only made sense because he would help them become tag team champions.
Mandy is about to throw down with Sonya when Dolph Ziggler comes out to plead to Mandy. He says their date on Valentine's Day was real and that she must feel something for him. Before Mandy could say anything, Sonya hits Mandy and the two start to fight. Otis comes out to break it up when Dolph Ziggler tries to hit him, but Otis takes Ziggler out.
Howard Finkel Tribute
Miz Promo
Miz says that he's going to prove that he and John Morrison are the best tag team of this generation and he's ready to prove how awesome he is.
The Forgotten Sons Vignette
A supercut of Forgotten Sons clips from NXT. The three men say they are on SmackDown now and won't be forgotten.
Cesaro (with Shinsuke Nakamura) vs Daniel Bryan (with Drew Gulak) - Money in the Bank Qualifying Match
In the beginning of the match, the hacker who exposed Sonya Deville and Dolph Ziggler appears again. They show clips of a few tag teams and says that you're supposed to keep your friends close but your enemies closer before heading to commercial
Daniel Bryan wins via submission after the Yes Lock
The finishing sequence saw Shinsuke try to get in the ring to try and break up the lock, but Drew Gulak holds him back.
Big E Promo
Big E says he's doing this for Kofi and Xavier Woods and they watch him make the New Day eight-time champions.
Elias Backstage Segment
Elias is walking backstage as he's about to have a performance when King Corbin jumps him, takes his guitar and starts to take him somewhere before commercial.
When SmackDown comes back from commercial, Corbin is still beating down Elias. He starts to stomp on Elias' hand and Corbin hits him in the throat with his scepter.
The Miz (c) vs Big E vs Jey Uso - SmackDown Tag Team Triple Threat Match
Big E pins Miz after a Big Ending
The finish was set up when Miz had Jey in a Figure Four and Big E came in and hit his finisher on The Miz