WWE Friday Night SmackDown Recap: Who Will Face 'The Fiend' at the Royal Rumble?
It's the final Friday Night SmackDown of 2019, but this week's episode will decide the next challenger for Bray Wyatt's Universal Championship.
A triple threat match between Daniel Bryan, The Miz and Baron Corbin is the top bout for tonight. Miz and Bryan teamed-up to take out Corbin and Dolph Ziggler last week, but now rivals will have to face off for the right to take on "The Fiend." Corbin will likely use his friend and the no disqualification rules of a triple threat to his advantage, but at the end of the day will anyone be able to defeat Bray Wyatt at the Royal Rumble?
In the women's division, the rivalry between Lacey Evans, Sasha Banks and SmackDown Women's Champion Bayley heats up. Evans is scheduled to appear in a new installment of a "Moment of Bliss" with Alexa Bliss where she'll discuss last week's match against Banks and how the former champion interacted with Lacey's daughter in Brooklyn.
A lot is expected to go down tonight, and here's the rundown of everything that happened at the December 27 episode of Friday Night SmackDown.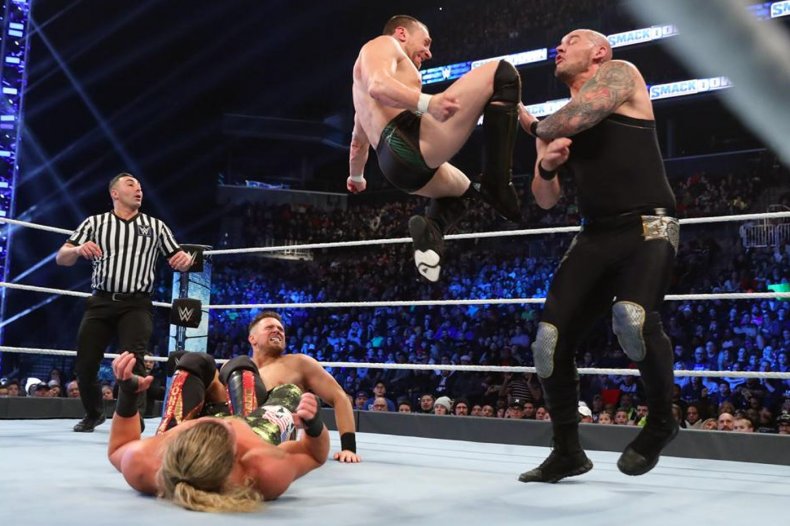 WWE FRIDAY NIGHT SMACKDOWN RESULTS/RECAP
Opening Segment
Elias starts Friday Night SmackDown with his own song recapping what happened in 2019.
The Triple Threat match to determine the number one contender is scheduled to be first, but after Daniel Bryan comes to the ring King Corbin gets on the mic. He says that he's the only one strong enough to defeat Bray Wyatt.
Roman Reigns' music hits and "The Big Dog" attacks Corbin and chases him off as SmackDown goes to commercial.
When SmackDown comes back, Corbin is arguing backstage about them doing something about Roman Reigns. Commentary is unsure about what happens to tonight's Triple Threat match.
The New Day and Braun Strowman vs Shinsuke Nakamura, Cesaro and Sami Zayn
Strowman pins Nakamura after a Power Slam
The finish was set up when Sami Zayn passes Shinsuke the platter where New Day's pancakes are. Shinsuke is about to hit Strowman with it, but Kofi grabs it and hits Shinsuke in the head with it allowing for Braun to hit his finisher.
After the match, Kofi gets on the mic and says that people may not know that Braun can dance. After some time, Strowman eventually dances to New Day's song.
Backstage
Kayla Braxton announces that Baron Corbin is refusing to have the Triple Threat match because he was banged up thanks to Roman Reigns, so the number one contendership bout is now between Miz and Daniel Bryan.
Sonya Deville is seen signing programs when Mandy Rose comes up to her and says she is ready to face Carmella next. Sonya asks if Mandy expects her to be in Rose's corner after not being in hers last week. Mandy says because of Otis' sweat she had to change. Sonya sighs and says that she has to finish up the programs.
Otis walks up to Mandy and gives her his mom's fruitcake. Otis doesn't know what to say afterwards so Mandy tells him she has to get to the ring.
Carmella vs Mandy Rose
Carmella wins via pinfall after a Superkick
The Miz vs Daniel Bryan
After a couple of minutes, Corbin's lackeys come in and attack both competitors causing a double disqualification.
Backstage, Corbin says that this is justice and he will insert himself in the match again later tonight. Miz and Bryan go backstage and attack Corbin and lackeys.
A Moment of Bliss
Alexa says A Moment of Bliss is back and brings out Lacey Evans. Lacey says that Sasha crossed a line. She snapped when she saw Sasha yell at her daughter.
Lacey says that while she appreciates being on the show, she knows what happens and she doesn't want to get attacked from behind. So she is going to go to the ring and get ready for her match.
Dana Brooke's music hits, but she is dragged out by Bayley and Sasha. Banks says that Lacey may be a good mother, but a terrible tag team partner. Lacey goes for the save and SmackDown goes to commercial.
Lacey Evans and Dana Brooke vs Sasha Banks and Bayley
Banks makes Brooke submit
Backstage
Mandy Rose is trying Otis' fruitcake when Dolph Ziggler approaches her and asks what she's doing for New Years. He thinks she got him the fruitcake but she explains it was Otis, he says that Otis give one to everyone and that someone found a roach in it. He puts it down and stomps on it.
King Corbin comes in and grabs Ziggler.
Mustafa Ali Vignette
Ali says that 2019 was the year of missed opportunities but he will walk into the light and in 2020 he will be a champion.
Backstage
Otis walks backstage and sees the fruitcake he gave Mandy on the floor.
King Corbin vs The Miz vs Daniel Bryan
During the match, Dolph Ziggler comes in to superkick Daniel Bryan. Roman Reigns shows up to pull Corbin off and chase King Corbin off.
Bryan submits Miz with the Crossface
After the bell, Bray Wyatt shows up on the titantron and says that "he" isn't done with Daniel yet. And The Fiend remembers everything, but will he let him in.