WWE Friday Night SmackDown Results: What's Next for Daniel Bryant and "The Fiend"?
It's the first Friday Night SmackDown of 2020, and the WWE is officially building towards the Royal Rumble pay-per-view in January.
On tonight's episode, WWE will look to highlight the SmackDown women's division, as its champion Bayley will team up with Sasha Banks to take on not just Lacey Evans and Dana Brooke, but also Alexa Bliss and Nikki Cross in tag team action.
Evans set her sights on Sasha and Bayley in recent weeks, but Bliss and Cross hope to raise their stock in the women's singles and tag team division if they can come up with the victory.
Daniel Bryan became the number-one contender for "The Fiend's" Universal Championship last week after defeating The Miz, but what's next for the leader of the "Yes" movement? And what did Bray Wyatt mean when he said "The Fiend" wasn't done with Bryan yet?
Bryan won't have time to figure that out as he teams with Roman Reigns to take on King Corbin and Dolph Ziggler in the main event.
Braun Strowman returned to WWE television last week and is looking for an Intercontinental Championship match. Sami Zayn, Shinsuke Nakamura's manager, has refused to give Braun a title shot, but, if Strowman continues to push the issue, there may not be a way to postpone it any longer.
Here's everything that happened on January 3 episode of Friday Night SmackDown.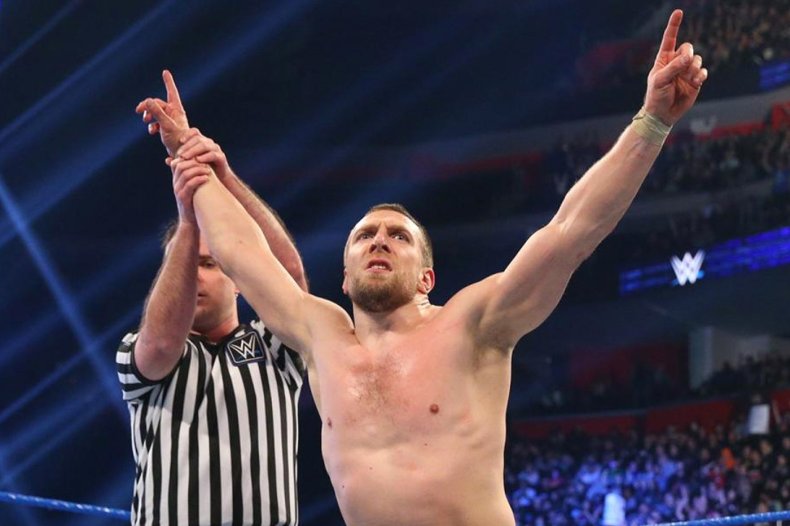 FRIDAY NIGHT SMACKDOWN RESULTS
Opening Segment
Show starts with The Miz walking up to Daniel Bryan backstage. He says that he needs to avenge what "The Fiend" did to his family. He's going to take away everything Wyatt cares about.
He says while he tries to figure out what to do next, he tells Daniel to defeat "The Fiend" for everyone.
Bayley and Sasha Banks vs Alexa Bliss and Nikki Cross vs Lacey Evans and Dana Brooke
Before the match Bayley gets on the mic and runs down the audience. She says that no one will be able to follow through with their resolutions. She says that she and Sasha took a long look at themselves in 2019 and became the standard in the locker room.
Lacey Evans and Dana Brooke interrupt Bayley and tells them to stop bringing up her daughter.
Alexa Bliss and Nikki Cross come out next and say that if they want to get the women's Tag Team Championships back they will start the year off with a win.
Brooke pins Sasha after a top rope Senton after Lacey hit her with a Woman's Right
Backstage
Mandy Rose walks up to Otis backstage and tells him Happy New Year. Otis is upset with Mandy and doesn't want to talk to her. Mandy asks if Otis' mom made something for the holidays. Otis tells Mandy he knows what happened with Dolph Ziggler because his mom told him.
Tucker comes in and tells Otis that they have to get ready for a match tonight and leave Mandy behind.
After coming back from commercial, Big E and Kofi Kingston walk up to The Miz with pancakes to try and cheer him up. They tell Miz not to be upset for losing the opportunity to face "The Fiend" because he did so much in the 2010s. He even won a lot of titles.
Miz says that this isn't about titles and slaps the pancakes out of Kofi's hands and challenges him to a match. Big E is about to step up, but Kingston accepts it.
Elias Segment
Shorty G vs Dash Wilder (with Scott Dawson on commentary)
Earlier in the day, The Revival are whining about having to wrestle in gimmick matches all the time in the locker room when Shorty G comes up to them and tries to tell them that everything will be ok. Wilder tells Shorty G that he can't talk because he hasn't done anything in 2019.
Shorty G wins via submission after an Ankle Lock
After the match, Dawson attacks Shorty G and The Revival hit the Shatter Machine.
Sheamus comes out and The Revival leave, but the former champion hits Shorty G with the Brogue Kick.
Kofi Kingston (with Big E) vs The Miz
Kingston wins via pinfall after a roll up
After the bell, Miz hits Kofi and Big E chases him off. The crowd chants "you suck" to the Miz on the ramp and he screams at them that he gave them everything and how dare you.
Daniel Bryan and Roman Reigns Interview
Bryan says he's the only one who has faced "The Fiend" and haven't changed because he is unbreakable. And at the Royal Rumble, he will defeat Bray and become Universal Champion.
Roman Reigns says he's entering the Royal Rumble this year and the main event at WrestleMania will be Bryan and Roman. He says that his Universal Championship wasn't taken from him and he's been waiting for this opportunity.
Bryan asks if Roman is trying to fire him up, because Corbin and Ziggler aren't ready for them.
Backstage
Cathy Kelly knocks on The Miz's door and John Morrison answers. Kelly is looking for The Miz, but Morrison says that Miz can't answer questions right now.
Otis (with Tucker) vs Drew Gulak
Before the match, Gulak says that he's not just a master of grappling but of the heart. Gulak says that a woman like Mandy wouldn't go for a guy who looks like Otis. Gulak tries to show a power point presentation, but Otis tosses Drew in the ring.
Mandy, Sonya and Dolph Ziggler are watching the match backstage.
Otis wins via pinfall after a second rope splash.
Braun Strowman vs Cesaro (with Shinsuke Nakamura and Sami Zayn)
Strowman wins via pinfall after a Powerslam
After the bell, Nakamura hits Strowman with a Kinchasa
Roman Reigns and Daniel Bryan vs King Corbin and Dolph Ziggler
Match ends in a no contest as The Fiend shows up and destroys Daniel Bryan
Roman Reigns tries to help Bryan but Corbin and Ziggler attack and handcuff him to the ropes and are about to pour dog food on him again when The Usos arrive and make the save