WWE 'SmackDown' Results: Sasha Banks Returns to Address Bayley's Attack
Friday Night SmackDown has been on a roll since SummerSlam and the return of Roman Reigns, and WWE will look to continue that momentum as they build toward the Clash of Champions pay-per-view.
Tonight's show is highlighted by the return of Sasha Banks. Not only is Banks in the second season of The Mandalorian, but she's returning to Friday Night SmackDown after the heinous beatdown from her best friend Bayley.
Banks will likely have a lot to say to her best friend. What that means for Bayley's SmackDown Women's Championship and her match against Nikki Cross at Clash of Champions is unknown, but we'll learn more about the intentions of "The Boss" tonight.
Universal Champion Roman Reigns has a new attitude as he looks to run Friday Night SmackDown like a king. Speaking of kings, King Corbin and Sheamus are trying to knock Roman off his pedestal when they team up to take on Reigns and his cousin Jey Uso in a tag team Street Fight.
Jey is the number one contender for Roman's title, but will their familiar bond help them overcome Sheamus and Corbin?
Nikki Cross won her match last week to become the number one contender for Bayley's title at Clash of Champions. However, in the match her best friend Alexa Bliss turned on her and looks to be hypnotized by "The Fiend."
Sami Zayn's journey to be recognized as the "real" Intercontinental Champion continues as he takes on AJ Styles in one-on-one action tonight. Zayn interfered in Styles and Jeff Hardy's title match last week, and now AJ looks to take it out on Sami. Is this leading to a triple threat match at Clash of Champions between the three wrestlers?
Here's everything that happens on the September 18 episode of Friday Night SmackDown.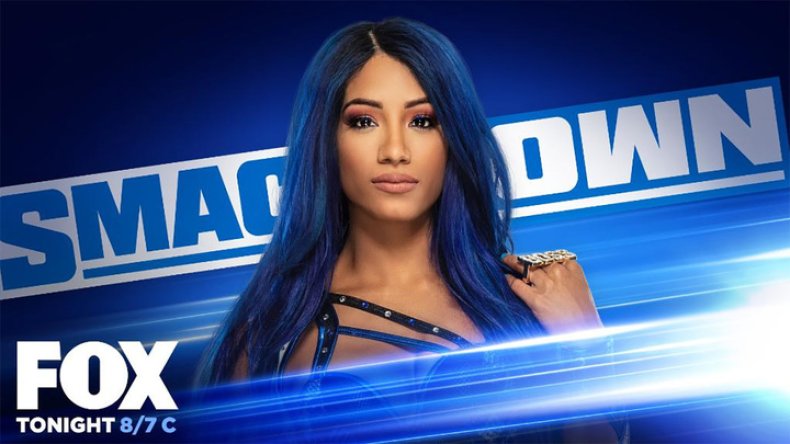 WWE FRIDAY NIGHT SMACKDOWN RESULTS
The Dirt Sheet
Miz and John Morrison start the night and show a clip from last week's Talking Smack where Miz announced that Mandy Rose was sent to Monday Night RAW.
Miz says that he wants to clear the air. He says he's not playing mind games with Otis. He's not trying to get revenge, he's trying to help Otis because he knows the pressures of holding the MITB briefcase.
He says he has removed the one obstacle that will keep Otis from moving to the next level.
Otis interrupts and comes into the ring, without Tucker, and he takes out Miz and Morrison. Tucker arrives ringside to toss Miz and Morrison back into the ring for Otis to continue his assault.
The segment ends with Otis hitting Miz with the Vader Bomb before ripping his suit off to leave Miz in his underwear.
Backstage
Miz and Morrison are interviewed about what happened before the commercial when Miz gets a phone call. He asks "if it's enough" and looks happy as he hangs up.
Gran Metalik (with Lince Dorado and Kalisto) vs Cesaro (with Shinsuke Nakamura)
It's announced that Cesaro and Nakamura will take on Lucha House Party at Clash of Champions
Cesaro wins via pinfall after the Gotch Neutralizer
During the match, Lince and Kalisto were distracting Metalik on what to do in the match before the referee threw them out from ringside.
Jey Uso Interview
Backstage Jey is shown his tag match from last week.
Moment of Bliss
Nikki Cross is Alexa Bliss' guest on tonight's segment. Bliss asks what's going to be different for Nikki against Bayley at Clash of Champions. Nikki cuts an impassioned promo saying that she has learned from the past and this time she will be champion.
Nikki then asks Alexa what happened last week. Alexa can't explain what happened when Lacey Evans comes out. Evans runs down Nikki by telling her she's too nice and has no backbone.
Nikki takes Lacey's handkerchief and blows into it before hitting Evans.
Nikki Cross vs Lacey Evans
Alexa Bliss is on commentary.
Cross wins via pinfall after a Neckbreaker
After the match, Alexa Bliss goes into a trance again and hits Evans with the Sister Abigail.
Sasha Banks Interview
Sasha is sitting in the Performance Center with a brace on her neck. She says she's still here.
Banks says that Bayley was using her and now is useless to her. She says she heard everything Bayley said last week. She talks about how they walked the halls of the PC and how they planned to takeover the whole company together. Now, she can't believe that she would turn on her.
She tells Bayley that she is nothing without her. And she's going to take Bayley's title away from her.
Bayley shows up and hits Banks with a chair and is about to hit her some more but officials pull Bayley away.
AJ Styles vs Sami Zayn
Styles wins via pinfall after Styles grabbed Zayn's tights.
Second before, Zayn had a handful of Styles' tights, but the referee stopped the count when she noticed it.
After the match, Zayn demands the ring announcer to announce he's the winner when Jeff Hardy comes out and hits AJ and Sami. Hardy then grabs a ladder and hits both men with it. Hardy gets on the mic and says he's tired of the Intercontinental Championship situation and being called a cheat and a fraud.
Hardy challenges Zayn and Styles to a triple threat ladder match at Clash of Champions.
Backstage
Otis and Tucker are in the locker room when Otis gets served with a lawsuit.
The lawsuit states Otis has created an unsafe work environment and they want the MITB briefcase or Otis will be taken to court and he has one week to decide.
Elsewhere, Sheamus and King Corbin are talking about their match when the security guard who lured Big E to the parking lot a few weeks ago shows up to tell Sheamus his car is being towed.
Sheamus goes to the lot when Big E shows up and hits Sheamus, but the Celtic Warrior runs away. Instead, Big E sets his sights on the security guard and slams him on the car windshield and throws him in the trunk.
Adam Pearce shows up and tells Big E he needs to leave.
Mystery SmackDown Woman
Roman Reigns and Jey Uso vs Sheamus and King Corbin - Samoan Street Fight
Before the match, Roman and Paul Heyman come out first. Roman gets on the mic and says that he came out first because he doesn't want anyone to be confused. He says this is his yard, island and his WWE. And if anyone wants it, they need to come find him.
Jey pins Corbin after a Frog Splash that followed a Spear from Roman
The finish was set up when Jey hit Corbin with the Universal Championship. Jey's Frog Splash almost hits Roman and Reigns is surprised.
After the match, Jey jokes holding up the Universal Championship but tosses it to Roman. The two hug, but while Jey walks up the ramp Roman is visibly upset in the ring.