WWE Head Vince McMahon Retires at 76: 'Then. Now. Forever. Together.'
Vince McMahon has announced his retirement from World Wrestling Entertainment (WWE) amid a sexual misconduct scandal.
McMahon, 76, cited his age while retiring on Friday. WWE announced that he would be stepping down as chairman and CEO of the sports entertainment company last month due to an investigation into multiple allegations of misconduct, with his daughter Stephanie McMahon serving as interim CEO and chairwoman.
Stephanie will now serve as permanent chairwoman and co-CEO alongside WWE president Nick Khan. Vince McMahon said that he would "continue to support WWE in any way I can" as the company's majority shareholder.
"As I approach 77 years old, I feel it's time for me to retire as Chairman and CEO of WWE," McMahon said in a statement on Friday. "Throughout the years, it's been a privilege to help WWE bring you joy, inspire you, thrill you, surprise you, and always entertain you.
"Our global audience can take comfort in knowing WWE will continue to entertain you with the same fervor, dedication, and passion as always," he added. "My personal thanks to our community and business partners, shareholders, and Board of Directors for their guidance and support through the years. Then. Now. Forever. Together."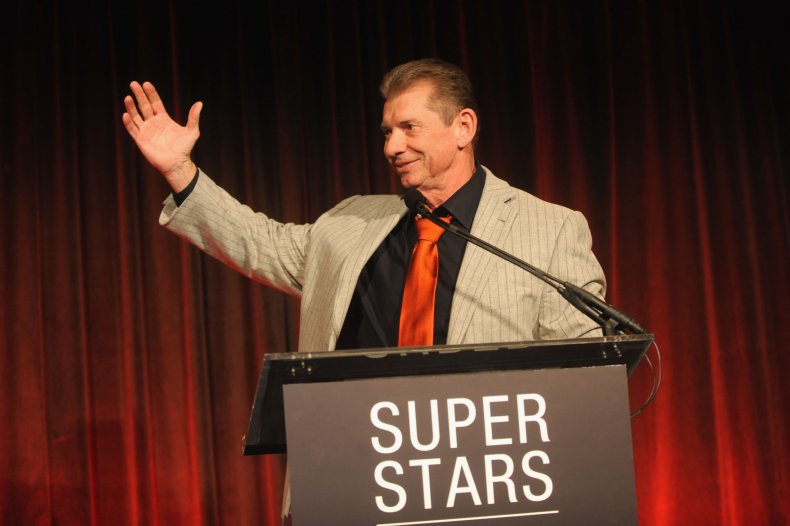 McMahon remained in charge of WWE's creative content despite taking a break as CEO and chairman last month. His retirement means that he is also stepping down from that role, as well as from making any new in-character appearances on WWE programs, according to The Hollywood Reporter. It is unclear who will be responsible for the company's creative content moving forward.
McMahon's retirement comes after he allegedly paid four women $12 million in "hush money" to silence allegations of sexual misconduct and infidelity, according to The Wall Street Journal. All four of the women had allegedly been associated with WWE and had signed non-disclosure agreements (NDAs) in exchange for the payouts.
The largest settlement was reportedly $7.5 million paid to a wrestler who alleged that McMahon coerced her into giving him oral sex before demoting her and letting her contract expire when she refused to take part in additional sexual encounters.
The alleged NDAs emerged as part of an investigation that began in April and focused on McMahon and WWE's head of talent relations John Laurinaitis, formerly known as the wrestler Johnny Ace.
One of the women who reportedly received a payout also allegedly had a sexual relationship with Laurinaitis after McMahon "gave her [to him] like a toy," according to an email reviewed by The Wall Street Journal.
McMahon pledged his "complete cooperation" when the WWE board announced that it was launching an investigation into the allegations while he stepped down as CEO last month.
"I will do everything possible to support the investigation," he said in a statement at the time. "I have also pledged to accept the findings and outcome of the investigation, whatever they are."
McMahon began to work for the company that would later become WWE in the late 1960s as a ring announcer for World Wide Wrestling Federation, a brand that his father Vincent J. McMahon had started as part of his Capitol Wrestling Corporation.
McMahon founded Titan Sports with wife Linda in 1980 and purchased his father's corporation in 1982, leading to the modern era of what was then commonly known as the World Wrestling Federation (WWF).
The company adopted the WWE moniker in 2002 after losing a trademark lawsuit from the World Wildlife Fund over the initials "WWF." The two entities had a previous agreement that the wrestling company could use "WWF" to refer to itself only in the United States. The World Wildlife Fund sued following a WWF-branded wrestling promotion in the United Kingdom.
Newsweek reached out to WWE for comment.