WWE Hell in a Cell 2018: Thoughts and Takeaways From Each Match
Hell in a Cell 2018 was a pleasant surprise. From the Kickoff to the start of the show, every match had a lot of action and the WWE told some great stories.
Even the weaker matches were entertaining in some way, but there's no denying that the finish to Hell in a Cell is controversial and, honestly, nonsensical. Here are my thoughts on every match from WWE's Hell in a Cell pay-per-view.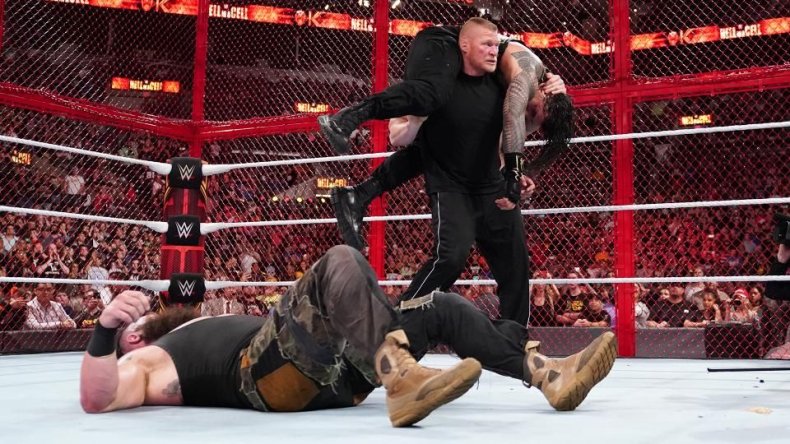 NEW DAY VS RUSEV DAY
Winner: New Day
It's a shame this was the Kickoff match because the entirety of the SmackDown Live tag team division has been busting ass every week and on the recent pay-per-views.
When this match was announced for the Kickoff, it made the result easy to predict.. Kudos to Rusev and Aiden English for getting a ton of offense in and making me believe (even if for just a moment or two) that they could win.
The overall match was fun and it did a great job of hyping up the crowd. The finish seems to be pushing the dissention between Rusev and Aiden a bit further, but their dynamic has been so start-and-stop lately that I'm sure the WWE doesn't know what to do with them.
JEFF HARDY VS RANDY ORTON
Winner: Randy Orton
I wasn't expecting much from the opening match of Hell in a Cell, but this match was brutal. I haven't really been looking forward to any Randy Orton matches of late, but his recent heel turn and meanstreak has been entertaining.
This feud needed a Hell in a Cell stipulation and by the end both competitors used it to great effect, and it was given more time than I expected. There wasn't any point where wanted to take my eyes off the match, except for some squeamish moments like when Randy Orton was manipulating Jeff Hardy's ear piercings.
Viewers will be talking about how Orton brutalized Hardy with a screwdriver and Jeff dropping from the top of the cell on a table, but this match really set the pace for what would be a very good show.
CHARLOTTE VS BECKY LYNCH
Winner: Becky Lynch
My personal match of the night. The fight between Charlotte and Becky felt like two friends trying to prove themselves against the other, with weeks of preparation and scouting visible on both sides.
Both competitors showed how great they are in the ring through multiple counters and some great storytelling. The way Becky worked Charlotte's arm to set her up for the Disarm-Her was perfect, and Charlotte being able to overcome it and show Becky that she'll need to do more than that to defeat her, was the story this feud needed.
The finish was simple but effective by showing Lynch's in-ring awareness and understanding of her former best friend's movesets. Becky went over to become the Women's champion again, which was an unexpected (but amazing) call by WWE. Lynch didn't acknowledge Charlotte after the match; a good way to keep that edge on her.
I probably would have preferred Charlotte to turn on Becky afterwards, but this is not the end for these two. I'm looking forward to seeing more.
DREW MCINTYRE/DOLPH ZIGGLER VS DEAN AMBROSE/SETH ROLLINS
Winner: Ziggler and McIntyre
A close second for my personal match of the night, the RAW Tag Team Championship match started off a bit slow but was white-hot by the end.
It can't be stated enough how hard Seth Rollins has been working of late, and the way he sold the combined might of Ziggler and McIntyre really worked. There's so much going on in this match that it's almost impossible to run it down beat for beat, so I suggest you watch it for yourself.
McIntyre really shined in this match. His offense looked devastating, he sold well and his storytelling/body language made him an imposing figure. And the finish came out of nowhere and was a true OMG moment. McIntyre looked incredibly strong, pushing his team to victory over two of the most over competitors in the WWE.
AJ STYLES VS SAMOA JOE
Winner: AJ Styles
It may be hard for these two to have a bad match. While the finish of AJ vs Samoa Joe for the WWE Championship wasn't ideal, these two know each other so well that they can continue to top their previous encounters like they did here.
Both were stiff in their strikes, and it felt like they wanted to beat the hell out of each other. However, the whole family aspect of the feud didn't feel like it was necessary in this match (just a nitpick). Also, what is WWE's fascination with wonky finishes in AJ Styles matches?
After AJ reversed the Coquina Clutch into a pin, the referee declared Styles the winner after the three-count but it's later shown that the champ actually tapped out before the count of three. I know it's used to further this feud, but seeing AJ tap out makes the champion look a little weak and only warrants sympathy for the heel. We'll see how it plays out on SmackDown Live leading to the Super Show-Down in October.
DANIEL BRYAN/BRIE BELLA VS MIZ/MARYSE
Winner: Miz and Maryse
This match is what it is. Daniel Bryan and Miz's parts were reminiscent of their SummerSlam match, and there wasn't much to say about Brie and Maryse's in-ring bits because they were so few. However, from a story standpoint, it did its job to give Miz and Maryse heel heat while furthering the feud between Bryan and Miz.
It looks like Miz and Maryse will be on a bit of a winning streak until Daniel Bryan can finally overcome his nemesis down the line.
RONDA ROUSEY VS ALEXA BLISS
Winner: Ronda Rousey
This is what their SummerSlam match should have been. While the buildup to Hell in a Cell wasn't the best, the final product was a good showing for Bliss and Rousey.
The first few minutes of this match were a bit sloppy and slow, but it really ramps up with five minutes to go. This is the first Rousey match where she really started to tell a story with her rib injury. Bliss continued to work the ribs, causing Rousey to sell how the injury affected her match and move set.
One of the best parts of Rousey in the ring is how "real" everything looks: Bliss' offense looked like it hurt, while Ronda's offense definitely looks legit. In the end, however, it was a foregone conclusion but a strong showing for both competitors.
ROMAN REIGNS VS BRAUN STROWMAN
Winner: No Contest
Woo boy where do I begin?
The actual match between Roman and Braun was typical of any other Reigns match recently. It's slow and plodding, but the added destruction from both competitors did up the ante just a bit. Strowman was looking very strong early on, and although Roman kicked out of a Running Powerslam it felt like Braun was starting to wear him down.
However, after Roman hit Strowman with a spear through a table both men were out for a loooong time. Long enough for The Shield and Dolph/Drew to come out and have their own mini-match on the Hell in a Cell. While those bits had a lot of cool spots, it completely took the focus away from the competitors.
And then the finish. Brock Lesnar returns to destroy both Roman and Strowman some more and the match is thrown out, leaving the crowd noticeably unhappy and unsatisfied. I don't know why Roman couldn't have just got the pin after Brock hit both with the F-5, but in a Hell in a Cell match there shouldn't be a finish like that.
Hell in a Cell 2018 was a very good show, and will arguably go down as one of the best of 2018. However, the finish to the final match really hurt an otherwise strong show. We'll see what the WWE has planned on Monday Night RAW.
What did you think of Hell in a Cell? What was your favorite match of the night? Let us know in the comments section below.