WWE Superstar Jimmy Uso Arrested for DUI in Florida, Company Releases Statement
WWE Superstar Jimmy Uso was arrested early Thursday morning for driving under the influence near Pensacola, Florida.
TMZ Sports reports that the 33-year-old wrestler was reportedly speeding when an officer noticed he was "swerving left and right." According to TMZ Sports, the police report states that Jimmy Uso, real name Jonathan Fatu, smelled of alcohol and refused DUI tests when the officer tried to administer it.
Fatu was reportedly booked at 3:04 a.m. for DUI.
The WWE have been touring Florida this week, with its RAW Reunion show on Monday taking place in Tampa and the following night's SmackDown Live in Miami.
WWE released a short statement regarding Uso's arrest saying, "Jonathan Fatu is responsible for his own personal actions."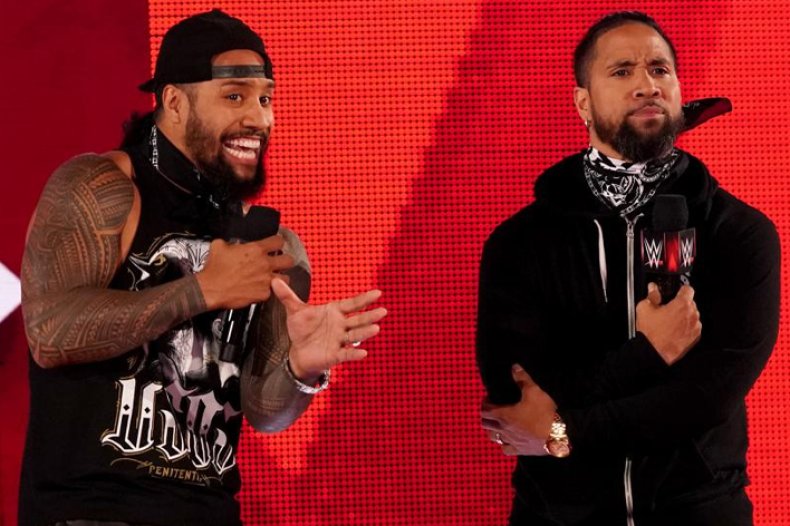 This is the same statement released back in February when Fatu was arrested in Detroit after allegedly having a drunken dispute with an officer. During that incident, Fatu's wife, WWE superstar Naomi, was behind the wheel when she allegedly turned down a one way street on the wrong side.

When the officer pulled the couple over, he said he smelled alcohol and ordered Naomi out of the vehicle. As she started to talk with the officer, Fatu reportedly exited the vehicle and proceeded to "square up" to fight. The officer reportedly pulled out a taser before Fatu settled down and was taken in for disorderly conduct and obstruction.
During the RAW Reunion on Monday, Jimmy and his brother Jey were part of a segment with John Cena who poked fun of the brothers' past arrests. Jey was arrested in January 2018 in Texas for DWI.
"Respect for calling me out, but ain't no way I'm getting bested," Cena rapped. "Ya'll look just like your mugshots. How was it getting arrested?"
The Usos are feuding with The Revival, who are the current RAW Tag Team Champions. Jimmy and Jey won their match against The Revival on Monday and the story, so far, suggests that both teams are destined for a match at SummerSlam in Toronto on August 11 for the titles.
The Revival defeated The Usos on July 14 at the Extreme Rules pay-per-view to retain the RAW Tag Team Championships.
It's unclear if this latest incident will result in disciplinary action toward Jimmy Uso, but he wasn't disciplined after his arrest in February, and from the WWE's statement it doesn't seem likely they will step in this time either.