WWE Wrestler Kane's Political Chokeslam Secures Tennessee Mayoral Election
Glenn Jacobs, better known as WWE wrestler Kane, easily won his race to become the next mayor of Knox County, Tennessee.
The Republican beat Democrat rival Linda Haney by 51,804 (66 percent) to 26,224 (34 percent) votes. "In my primary, I only won by 23 votes in that one, so every vote really does count and I want to make sure I get as many as I possibly can," Jacobs told WATE 6.
"Since May, we've been knocking on doors, continuing that. We've also continued the process of meeting with department heads, school board, county commissioners, that kind of thing."
According to his campaign website, Jacobs stood on a platform calling to keep taxes low, focus on quality education, attracting new jobs to the area, and improving local infrastructure.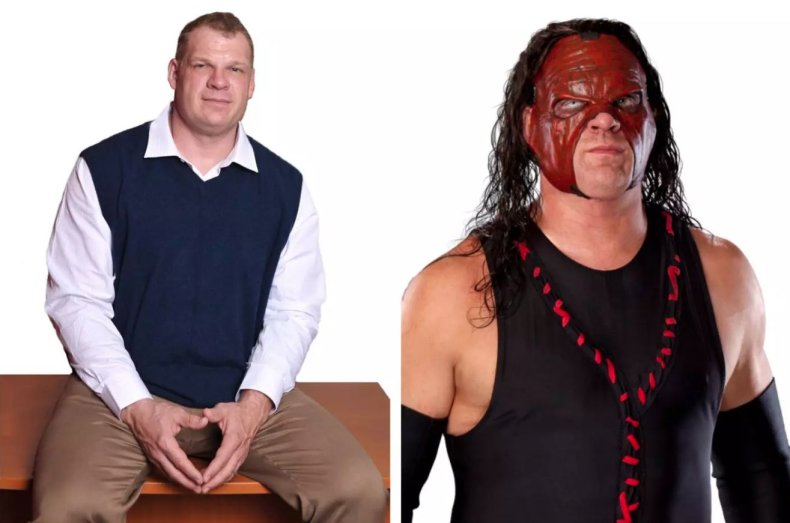 Most people know Jacobs, 51, who is seven feet tall and over 300 pounds, as the WWE wrestling giant—both figuratively and literally—called Kane.
And Jacobs did not let his campaign for Knox County mayor get in the way of his campaigns on the canvas, continuing to wrestle in the ring. He received some criticism for that.
But in a previous interview with Knox News, Kane said if elected mayor, his focus would be on serving the people of Knox County.
"After I am elected mayor, I'll be mayor," Jacobs said. "I'm sure some people will say that [I'm not focused] and some others will say that's the coolest thing ever. You can't make everyone happy. You just do what you can and that's it… you're always going to catch criticism no matter what you do."
Jacobs also said he "may still do a few special things" in wrestling if elected.
"I've done it for 23 years now and have quite a history, it'll always be part of my life. I think the question is if I am taking [running] seriously, and of course I am. I wouldn't [be running] if not."
Jacobs has been a professional wrestler since the early 1990s. He joined WWF—the predecessor to WWE—in 1995. But he became the demonic masked character Kane in 1997.
"For years, the sadistic Superstar wore a ghoulish face mask designed to conceal hideous burns from a fire supposedly started by The Undertaker years before," says Kane's profile on the WWE website.
"However, fans received a shock on one of the most infamous nights of Kane's career when, after losing a Mask vs. Championship Match on Raw, the tortured soul was forced to unmask and reveal his face to the world.
"Kane's career has been marked by some stellar and brutally woeful contests in the ring against some of the biggest names in WWE, including The Undertaker, 'Stone Cold' Steve Austin, Shawn Michaels, Edge and others. He has also pioneered some of the most vicious stipulations of all time, including First Blood, Inferno, Stretcher and even Till Death Do Us Part Matches."