Luke Harper Returns at WWE Clash of Champions to Help Erick Rowan Defeat Roman Reigns
The WWE Universe was treated to a surprise return at the Clash of Champions pay-per-view when Luke Harper helped Erick Rowan defeat Roman Reigns.
Rowan and Reigns were embroiled in the middle of their No Disqualification match when Roman was getting ready for a Spear on the ramp. That's when Harper appeared out of nowhere to attack "The Big Dog" allowing for Erick Rowan to hit the Iron Claw and pick up the victory.
Watch Luke Harper's return at Clash of Champions below.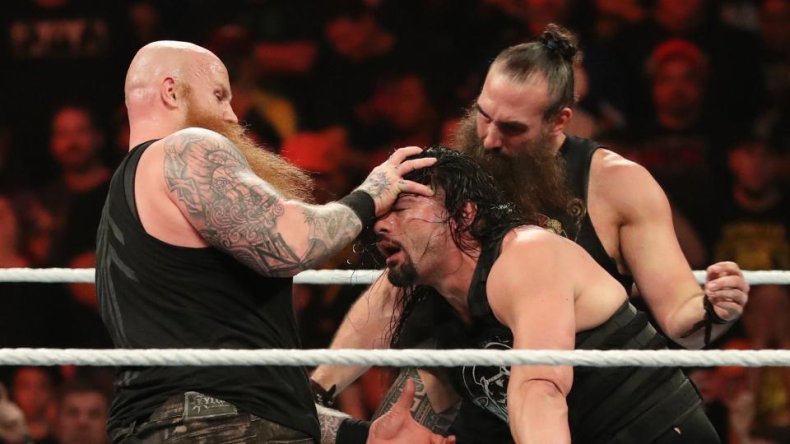 Luke Harper's return on Sunday came out of nowhere for the WWE Universe because of the 39-year old's lack of time on WWE TV.
It started at last year's SummerSlam in August when he and Rowan were the SmackDown Tag Team Champions as the Bludgeon Brothers. Erick Rowan was injured during that match and the duo dropped the titles to The New Day a few days later on the next SmackDown Live.
While Rowan was rehabbing, Harper went under the knife himself to repair an injured wrist.
Harper would return to WWE TV during WrestleMania weekend as he took on Dominik Dijakovic at the World's Collide tournament. And then was a participant in the Andre the Giant Memorial Battle Royal where he was eliminated by Braun Strowman.
That same month, Harper took to Twitter to publicly announce he was asking for his release from WWE after six years in the company. However, the promotion declined to grant Harper's release and reportedly added time to his contract for the time he was out injured.
Harper's contract was reportedly up in the fall but the added time would have his contract end around April 2020.
So what does this mean for Harper moving forward? The WWE Universe will have to tune into SmackDown Live on Tuesday to see where this story goes as Rowan has outed himself as the mastermind behind the attacks on Roman Reigns - to the point that his partner Daniel Bryan didn't know. Now that Harper is back in the fold does this mean that both of them were involved? Or is Harper just returning to help his former tag team partner out?
Daniel Bryan can also be reinserted into this feud as Roman's teammate against the former Bludgeon Brothers.
What did you think of Harper's return to the WWE? Let us know your thoughts in the comments section below.