WWE Monday Night RAW Live Results: 7/2 Show Furthers the Sasha/Bayley Feud
It's Monday, which means a new episode of Monday Night RAW. As the WWE draws closer to the Extreme Rules PPV in a few weeks, matches are still being confirmed, along with extreme stipulations. According to a preview tweet, tonight's show will focus on the crumbling friendship between Bayley and Sasha Banks.
Sasha and Bayley have been trading blows in recent weeks, with both Superstars tussling outside the ring instead of inside it. Will these small scraps lead to a big bout at Extreme Rules? We'll see how it goes after the mandatory counseling session these two must attend tonight.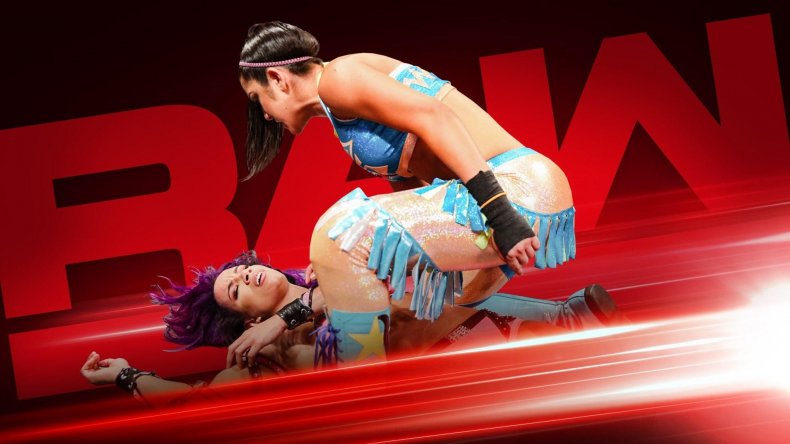 As for other Superstars, expect to see Seth Rollins and Dolph Ziggler further their feud. I wouldn't be surprised to see Seth face off against Drew McIntyre this week leading up to their inevitable Extreme Rules match. Roman Reigns and Bobby Lashley's tense friendship likely will not last long after their loss to The Revival last week, and Kevin Owens and Braun Strowman will probably end up in some kind of wacky situation involving flipped automobiles.
Live WWE Raw Results For July 2
Note: The results are still being compiled. We'll update as matches conclude.
Opening Segment
Roman Reigns opens the show once the recap of last week finished
We're getting Lasley/Reigns vs. Revival again?
Reigns calls out Lashley as the worst team mate of all time
He asserts that he is "The Guy" and "The Big Dog"
Reigns is interrupted by Dolph Ziggler
Ziggler calls out Reigns for being self-centered
McIntyre and Ziggler move in to attack Reigns, it turns into a brawl
Seth Rollins runs out to make the save
Ziggler/McIntyre retreat to the back
Back from commercial... Rollins and Reigns are in a match against Ziggler/McIntyre
Matt Hardy enters the arena
Curtis Axel and Bo Dallas show up on the screen to mock Hardy
The B Team mock Bray Wyatt's old creepy shtick
Matt Hardy vs Curtis Axel
The first match of the night
Curtis Axel wins after hitting Hardy with a... what is Axel's finisher?
Back from commercial and Lashley and Roman exchange heated words in the locker room
Sasha/Bayley Counseling Session
Sasha and Bayley find out they have the same time booked for their appointment
Dr. Shelby returns
Titus Worldwide vs Authors of Pain
It's probably safe to say AoP will win this one, but we'll see
My guess was correct, the Authors of Pain pick up the win easily
Kevin Owens shows up to the arena late, doesn't give the valet his keys
Rollins/Reigns vs Ziggler/McIntyre
The first of Roman's two tag-team matches tonight
The match ends in disqualification when The Revival runs in to beat down Reigns and Rollins
Rollins eats a Claymore/Zig-Zag and Reigns takes a Shatter Machine
Kevin Owens finds himself in a match against Braun Strowman
Constable Corbin walks to the ring as we cut to commercial
Corbin Segment
Corbin says he was appointed to his new position to make the show better
Says he was just trying to talk strategy, but was attacked by Finn Balor during last week's match
Corbin asks for an apology from Balor
Balor comes to the ring, Corbin apologizes for being bigger, stronger and tougher than Finn
Balor throws some zingers at Corbin instead of saying sorry
Corbin punches Balor after he is called "Stephanie's stooge"
Balor returns fire while Corbin retreats to the back
In a backstage segment, Elias plays a song for Liv Morgan and Sarah Logan
Ember Moon vs Liv Morgan
Ember hits the Eclipse on Morgan for the win
More Sasha/Bayley fun
Dr. Shelby asks for the women to participate in some role reversal
Sasha mocks Bayley for being so positive
Bayley accuses Sasha of stabbing people in the back
After bickering back and forth, Dr. Shelby yells to interrupt them
A message says the segment will be continued
The Revival vs Reigns/Lashley
The match ends in DQ after both members of The Revival start beating up Roman
Lashley leaves the ring after never entering the match
Backstage, Roman approaches Kurt
Kurt confirms a Reigns/Lashley match for Extreme Rules
No Way Jose vs Mojo Rawley
Mojo has new music!
Mojo denies Jose a match, then attack's Jose's conga line
Ronda Rousey confirms she will be at Extreme Rules
Mickie James vs Nia Jax
Mickie walks to the ring with Alexa
Nia comes out with a microphone and cuts a promo saying she thought she was done with Alexa
Nia says her rematch with Alexa will be an Extreme Rules match at the Extreme Rules PPV. That's EXTREME!
Natalya joins Nia's side for her match against Mickie
Nia gets the win after hitting Mickie with a Samoan Drop
Kevin Owens vs Braun Strowman
After all the build-up, we finally get KO vs Braun
The match starts and Owens runs away from the arena
Braun wins by count out
Owens runs to the garage and realizes he doesn't have his keys
Strowman is in hot pursuit
Owens hides in a nearby Porta-potty
Strowman uses his apparently superhuman sense of smell
Strowman wraps the Porta-potty in duct tape
Braun drags the portable bathroom back into the arena
After getting the Porta-potty onto the stage, Strowman pushes it off