WWE Monday Night Raw Live Results: The Final Stop Before Royal Rumble
It's the final episode of Monday Night RAW before this year's Royal Rumble pay-per-view, and we already know a good number of the entrants in this year's men's and women's Royal Rumble match. Will we see more competitors confirmed tonight? We'll have to watch and find out.
Last week, Finn Balor shocked the world with one win over Jinder Mahal and another win later that night in a four-way match with John Cena, Drew McIntyre and Baron Corbin to secure himself a Universal Championship opportunity against Brock Lesnar. Will the champ respond to his new challenger?
Bobby Lashley won the Intercontinental Championship at last week's RAW. It will be curious to see if Lashley and his manager Lio Rush try for a title defense at Royal Rumble, or if they will avoid any potential challengers.
We also know Sasha Banks and Ronda Rousey will do battle against each other tonight in tag-team competition. Banks is teaming with her longtime ally Bayley, while Rousey is joined by her friend Natalya.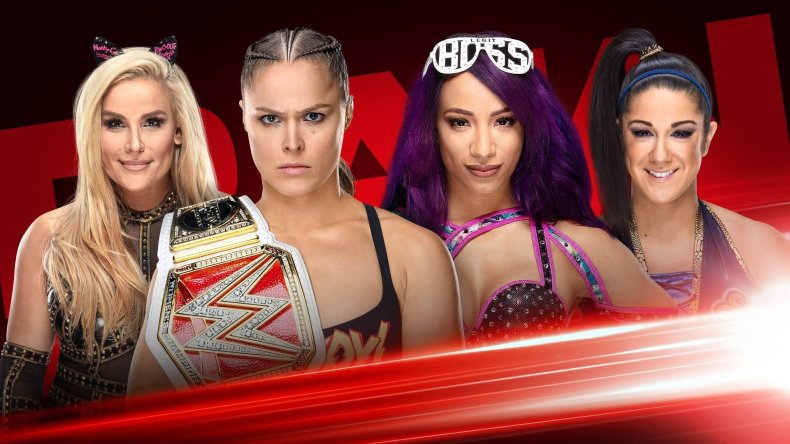 Monday Night RAW Live Results
[This article will update as RAW airs]
Opening Segment
RAW opens with a video package celebrating Martin Luther King Jr. Day.
After the video ends, Brock Lesnar makes his entrance with Paul Heyman at his side. Heyman cuts his normal promo, putting Finn Balor over. "I believe in Finn Balor," he says. Of course, the promo ends with Heyman saying Brock will still win the match and continue his championship reign.
Mr. McMahon himself walks to the ring now.
McMahon tells the story of David and Goliath, but David is killed and reincarnated as Finn Balor. However, McMahon closes his argument saying if you believe Balor can defeat Lesnar, you believe in fairy tales.
Braun Strowman now makes his way to the ring. Strowman says he'll wait until after Royal Rumble, and if Lesnar still has the belt, Strowman will "Rip him apart."
This summons Finn Balor to the ring.
Finn reiterates that he earned his championship opportunity, and says he and the fans do believe in fairy tales. Strowman interrupts and says Finn "damn well better" beat Lesnar.
Finn says he'll do what Strowman can't and get a win over The Beast Incarnate. Finn then corrects McMahon on the story of David and Goliath.
McMahon sets up Strowman versus Balor with Lesnar sitting ringside for the first match of the night.
Braun Strowman vs. Finn Balor
Lesnar hits Balor with a suplex, but the match continues
Balor fires back at Lesnar with several well-timed kicks
Strowman has an altercation with his worst enemy, the ring post
Balor hits Strowman with the Coup de Grace, but Lesnar interferes and hits Balor with an F5
The match is finally called in a disqualification
Bobby Lashley Celebration Segment
Lashley and his hype man Lio Rush make their entrance
Rush says Lashley is better than Dean Ambrose, Seth Rollins and everyone else in the locker room
Rush says "open challenges are for kids." Lashley is a pro fighter, and he fights for money instead of fun
Lashley procedes to pose with his belt
Apollo Crews makes his way to the ring, says nobody paid to see Lashley pose
Crews issues a challenge to Lashley, Lio says Crews isn't in Lashley's league
Lio challenges Crews to a pose-off
Crews accepts as Lashley hits his first pose
Crews starts hitting poses now
Lashley poses more, while Crews does a little dance
Lashley finally attacks Crews
Crews survives the assault and throws Rush into Lashley
Apollo Crews vs Bobby Lashley
Back from commercial and the match is already underway
Rush interferes, which gives Lashley the window to hit a spear on Crews
Lashley gets the win, Seth Rollins makes his entrance
Lashley and Rollins have a short stare-down as Rollins prepares for his match
Seth Rollins vs Drew McIntyre
Rollins talks about Martin Luther King Jr. and says we can still learn from him to this day
Rollins says he used to have two titles and two brothers by his side, but now he has none of it
After Rollins says he'll win the Royal Rumble, Drew McIntyre makes his way to the ring
McIntyre says there is a zero percent chance Rollins will win the Rumble
Unsurprisingly, McIntyre says he will win the Rumble instead of Rollins
It's commercial break time as we prepare for the match
The match is underway as we come back from commercial
Rollins beats McIntyre with a surprise roll-up pin
Backstage Segment
The Revival corner Mr. McMahon and beg for a match with a good referee
McMahon nominates Kurt Hawkins to be ref
Back from the commercial break, and Dean Ambrose cuts a promo how him not being the Intercontinental Champ is an injustice
Ambrose says he'll win the Rumble, and he owns the road to Wrestlemania
Jinder Mahal and the Singh Brothers vs Lucha House Party
Gran Metalik picks up the victory for the Lucha House Party
Backstage Segment
EC3 video package airs
Dana Brooke compliments EC3's appearance after the video finishes
Elias walks by on his way to the ring as we go to another commercial break
Elias Segment
Elias is in the ring playing a song on his guitar
As Elias starts a new song, Baron Corbin interrupts
Corbin threatens Elias, so Elias tries to play his music
Corbin's microphone is cut, giving Elias the spotlight
Elias vs Baron Corbin
Corbin hits Elias in the throat with a cheap shot
Corbin hits the End of Days on Elias and picks up a victory
Alexa Bliss Segment
Alexa comes out for her A Moment of Bliss talk show
Bliss runs through a number of the women's Royal Rumble contestants
21 women are already confirmed for the Rumble
Bliss introduces her guest tonight, Nia Jax
Jax is interrupted by Ember Moon
Moon walks out and says she will win the Rumble on Sunday
Alicia Fox enters and declares herself the future victor of the Rumble
Mickey James repeats the process
Most of the RAW women's roster makes an appearance now, and Bliss takes control of the situation
The women start brawling at the top of the ramp
The brawl spills into the back as the women exit
Alexa announces she will compete in the Royal Rumble herself
Lacey Evans ruins the moment for Alexa
Evans says the women's roster is classless, then declares herself the Rumble winner
Heavy Machinery vs The Ascention
Before the match, Titus O'Neil announced he was entering the Royal Rumble
Heavy Machinery pick up the win
The Revival vs Gable and Roode with Kurt Hawkins as Guest Ref
This is a RAW Tag Team Championship match
Hawkins enforces the tag rope rule, negating a tag from Gable to Roode
Hawkins surprisingly is calling all the illegal moves in the match for both teams
Gable gets the pin and retains the Tag Team titles with Roode
The Revival attack Hawkins after the match
Zack Ryder runs out to clear out The Revival and save Hawkins
Backstage Segment
Ronda Rousey says she doesn't owe Sasha Banks anything, especially not an apology
Rousey cuts a weird, rambling promo saying she'll beat Sasha
Ronda Rousey and Natalya vs Sasha Banks and Bayley
Sasha starts cutting a promo
The words end and the match is underway
Sasha gets the win with a Banks Statement on Natalya
The show ends with Sasha and Ronda getting into a post-match brawl
So what do you think? Who are you rooting for at the Royal Rumble this Sunday? What did you think of tonight's episode of RAW? Let us know your thoughts in the comments section below.