Survivor Series was a one-sided affair, as Monday Night RAW dominated SmackDown Live, taking six of the seven brand vs brand matches on Sunday.
Now that the RAW roster and acting general manager Baron Corbin came out on top, how will the Red Brand move forward towards the Tables, Ladders and Chairs pay-per-view and Royal Rumble?
According to WWE.com, Braun Strowman—who eliminated four of the five SmackDown competitors in the Survivor Series match—will get his wishes from RAW commissioner Stephanie McMahon. First, he'll get his match against Corbin, who cost him the Universal Championship at Crown Jewel. Then he'll face off against Brock Lesnar in a title rematch. Will Corbin be able to avoid Strowman for long? And how can he possibly take down the Monster Among Men?
Following his victory over Shinsuke Nakamura, Seth Rollins will now get into a program with former Shield teammate Dean Ambrose heading into TLC for the Intercontinental Championship. The first step towards that match will go down tonight.
RAW Women's Champion, Ronda Rousey, was viciously beaten down by Charlotte on Sunday. Will Ronda be on RAW tonight? And will she be ready for Nia Jax, who is next in line for a title shot?
Here's everything that happened on the Nov. 19 episode of Monday Night RAW.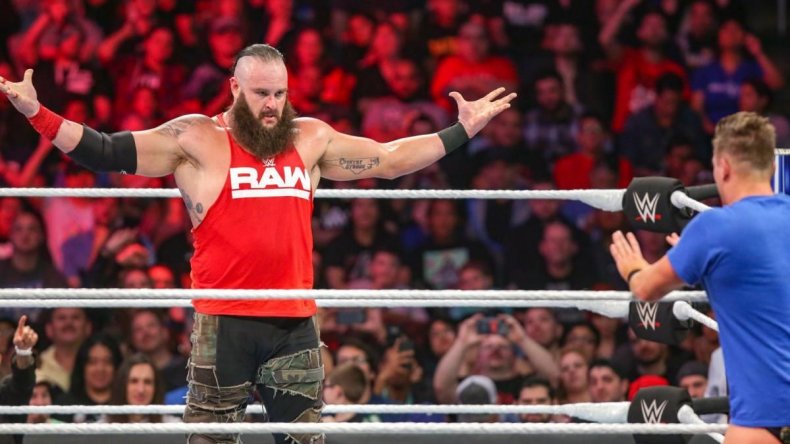 MONDAY NIGHT RAW RESULTS
Opening Segment
Stephanie McMahon and Baron Corbin come out to celebrate RAW's sweep at Survivor Series, but Braun Strowman comes out to collect on their deal.
Stephanie says that to hold off on Corbin until the TLC pay-per-view. If Braun defeats Corbin at TLC, he will have his Universal Championship shot against Brock Lesnar at Royal Rumble. If Corbin wins, he will be permanent GM of RAW.
Braun announces that the match will be a TLC match.
Stephanie makes a three-on-three elimination match for right now between the team of Strowman, Finn Balor and Elias against Corbin, Drew McIntyre and Bobby Lashley.
Braun Strowman/Finn Balor/Elias vs Baron Corbin/Drew McIntyre/Bobby Lashley
Strowman wins after McIntyre and Lashley are disqualified.
After the match, the team of McIntyre, Lashley and Corbin beat down Strowman.
Seth Rollins Promo
He says that the Shield was formed six years ago and that he and Dean Ambrose have had their ups and downs but at TLC Ambrose won't be able to run because they're going face-to-face.
Seth says that he didn't know about Ambrose's injury and infection that almost killed him because Ambrose didn't pick up the phone. He then says that Ambrose always loved wrestling because it was a bout the physicality and Seth is looking for a fight and calls Dean out.
Dean shows up on the titantron and says that Seth doesn't get it. He says that when the Shield formed they were "rotten" and that things will come back around on them. It already has with Roman. Ambrose calls Seth out to the back of the arena, causing Rollins to run to the back.
Backstage, Rollins is frantically looking for Ambrose and assaults one of the security guards.
Sasha Banks and Bayley vs Tamina and Nia Jax
Jax pins Bayley after a Samoan Drop
Backstage
After Drake Maverick peed himself at Survivor Series, he's on the catering line when the Heath Slater and Rhyno, and then Bobby Roode and Chad Gable all make fun of him. Maverick says that Roode and Gable are in trouble now and storms off.
Lucha House Party vs The Revival
Lucha House Party wins via pinfall
Ronda Rousey Promo
Ronda says that she will defend her title against Nia Jax at TLC. She knows how dangerous Nia can be because of what she did to Becky Lynch. But she will tap her out.
When she is done with Nia she will go after Charlotte and finish what they started.
She says that she came out here today to show the crowd what a true champion looks like. And that she will be the best even on a bad day.
Ronda takes off her jacket to show her welts and says that she's ready to defend her champion right now. Corbin comes out to interrupt her and says her request for a match has been denied.
Ronda says that she's had 17 matches and never backed out of one, and tells him to find her a challenger. She then says "unless he wants a shot at the champ."
Corbin says he'll find a challenger and they will be the next RAW women's champion.
Ronda Rousey (c) vs Mickie James - RAW Women's Championship Match
Rousey wins via submission
After the match, Nia Jax and Tamina meet Ronda on the ramp and stare her down.
Bobby Roode and Chad Gable vs Authors of Pain
Roode and Gable win via pinfall after a roll up
Natalya vs Ruby Riott (with Sara Logan and Liv Morgan)
Natalya wins via pinfall after a roll up
Dean Ambrose Promo
Ambrose comes out and talks more about how the fans are fake and that Seth doesn't get it. Seth Rollins comes to the ring and the two begin to brawl but Dean hits Rollins with a low blow.
Ambrose hits Rollins with a Dirty Deeds and leaves.