WWE Monday Night RAW Live Results: Seth Rollins Gets Another IC Title Shot
WWE's Royal Rumble event is set for January 27, so there's a couple more weeks of Monday Night RAW left to confirm the field of Rumble participants and individual matches.
WWE.com lists a few confirmed matches for the January 14 episode of RAW. including a title defense. Dean Ambrose is set to defend the Intercontinental Championship against his former SHIELD brother and past IC Champion Seth Rollins.
Last week, Rollins' attempt at recapturing the belt was thwarted when Bobby Lashley inserted himself and took out "The Architect," allowing Ambrose to pick up the victory. This week, Rollins gets another shot against Ambrose and Lashley in a Triple Threat match.
The other confirmed match is a tag team bout in the RAW women's division. Women's Champion Ronda Rousey will team up with the number one contender, Sasha Banks, against Nia Jax and Tamina.
In the RAW tag team division, it's another week with another Revival dodgy finish. Last week's match between The Revival and Bobby Roode and Chad Gable for the RAW Tag Team Championships was neck and neck, but the referee missed Scott Dawson's foot on the rope before the pinfall. The Revival will come to this week's Monday Night RAW to look for answers and possibly another shot at the tag team titles.
Monday Night RAW will continue to build toward other Royal Rumble matches, including the Universal Championship fight between Brock Lesnar and Braun Strowman. As for the Rumble itself, WWE fans can expect more superstars to declare themselves for the 30-man and 30-woman match.
Here's everything that happened on this week's Monday Night RAW.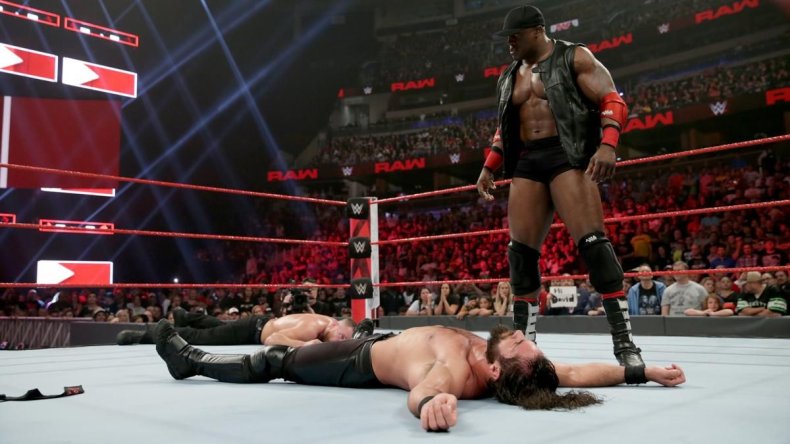 MONDAY NIGHT RAW LIVE RESULTS
Opening Segment
Show opens with Vince McMahon pulling up to the arena.
Braun Strowman comes out and says that Lesnar has always been afraid of him. He says that Lesnar sabotaged his Hell in a Cell match because he was afraid and that he got Corbin to screw him at Crown Jewel. But now that Corbin is gone, there's nowhere to hide.
Baron Corbin comes out and tells Strowman that he only lets the fans down because he can't beat Lesnar.
Strowman runs after Corbin towards the back. Strowman tosses one of the Singh Brothers and passes Elias who sings a song about Corbin being inside the limo. Strowman kicks the side mirror of the limo off and grabs the driver from the driver's seat. He pulls the limo door off and Corbin runs out but Vince McMahon shows up to see the damage to his car.
McMahon says that the damage will cost Strowman $100,000. Strowman calls the limo a piece of crap and says it doesn't cost that much. Vince says since he talked back, Strowman's match with Lesnar at the Rumble is off.
Strowman is escorted by police out of the arena.
Ronda Rousey/Sasha Banks vs Nia Jax/Tamina
Sasha makes Tamina tap with the Bank Statement
After the match, Ronda and Sasha are asked about their upcoming match and Rousey says that it'll be honor to tap her out.
Sasha takes offense and the two trade words with Sasha telling Ronda that she isn't afraid and that Rousey isn't the only one who can tap people out.
Ronda tries to make amends but Sasha isn't having any of it.
Backstage
Sasha and Ronda continue to fight with Nattie and Bayley keeping them apart. Natalya and Bayley says its the other's fault when they are approached by the Riott Squad. Ruby says if the two of them can find a third woman, they can have a match.
Natalya says that they will find a third member.
Lucha House Party (Kalisto and Gran Metalik) vs The Revival
Revival wins via pinfall
Gran Metalik puts his foot on the rope but Dash Wilder pushes his foot off.
Backstage
Wrestlers are lined up outside of McMahon's office to get a shot at Brock Lesnar. Apollo Crews, Curt Hawkins, B-Team, EC3, Slater and Rhyno make their cases.
McMahon Segment
Mr. McMahon comes out to make an announcement on Lesnar's Royal Rumble appointment but is cut off by John Cena.
Cena says that he knows McMahon is looking for someone to step up. Cena says that when Stone Cold, The Rock and Lesnar left him, he looked at Vince and told him he wouldn't let him down.
Cena asks for a chance and he won't let him down. He will walk out of the Royal Rumble as the 17th time WWE Champion.
Drew McIntyre comes out and says that he has ruthless aggressions. He says that Cena's time is up and his time is now.
Corbin comes out next and says that he should have a shot, and is followed by Finn Balor who says that he's the only one who has been Universal Champion.
Vince says that he doesn't know if Finn can handle Lesnar. Finn says that Vince never believed in him and that he's stubborn and won't change his mind so he'll have to show him. Finn then takes out Cena and Corbin but McIntyre hits Balor with a Claymore and then Cena with one.
McMahon makes a match a fatal fourway match to determine Lesnar's opponent tonight.
Backstage
Jinder Mahal approaches Mr. McMahon as asks to be involved in the fatal fourway. Vince says he can pick one of the men who came out earlier and if he beats them tonight, he can take their spot.
Mahal chooses Finn Balor.
Riott Squad vs Bayley/Natalya/Nikki Cross
Commentary makes note that the NXT call ups will appear on both shows before a decision on their brand is made.
Bayley pins Liv Morgan after a top rope elbow.
Jinder Mahal vs Finn Balor
Finn wins via pinfall after a Coup de Grace
Dean Ambrose (c) vs Seth Rollins vs Bobby Lashley (with Lio Rush) - Intercontinental Championship Match
Lashley pins Ambrose after a Spear.
Lio Rush got involved and forced Rollins over the top rope to set up the finish.
Moment of Bliss Segment
Alexa Bliss reveals that at the Elimination Chamber pay-per-view, three teams from RAW and three teams from SmackDown Live will compete in an Elimination Chamber match. The winner will go home the Women's Tag Team Champions
Paul Heyman is Alexa's guest and says that it doesn't matter who faces Lesnar at the Royal Rumble.
Heyman says that Lesnar's defeat of Cena a few years ago is what Suplex City was built on.
Heyman has his eyes on McIntyre and says that one day he will be the Universal Champion, just not now.
In the middle of Heyman's rantings, Otis Dozovic shows up before Tucker Knight takes him to the back.
Finn Balor vs John Cena vs Baron Corbin vs Drew McIntyre - Fatal Fourway Match
Balor pins Cena after a Coup de'Grace
After the match, Cena tells Corbin that he believes in him and he hopes he gives Lesnar hell at the Royal Rumble.