WWE Monday Night RAW Live Results: Will Becky Lynch Challenge Ronda Rousey?
After a long and grueling Royal Rumble pay-per-view, WWE begins its "road to WrestleMania" on the January 28 episode of Monday Night RAW.
Now that Seth Rollins and Becky Lynch have won their respective Royal Rumble matches, where will their paths lead them? Will Rollins choose to take on Universal Champion Brock Lesnar to bring the belt back to weekly television? This is likely how the former SHIELD member gets on the road to WrestleMania but fans of "The Architect" will have to wait for his decision on tonight's show.
As for the women, it's no secret that Becky Lynch has her eyes set on a one-on-one with RAW Women's Champion Ronda Rousey. After their planned match at Survivor Series was cancelled, this is Lynch's chance to take on Rousey and hand the former UFC fighter her first loss in the WWE.
There are six NXT stars currently appearing on both Monday Night RAW and SmackDown Live. Lacey Evans, Nikki Cross, EC3 and Heavy Machinery have all debuted on either show but there has been no word as to which brand they will land on. WWE is teasing that fans may see one or more of them on tonight's show, and that we'll learn more about where they'll end up.
Of course, this could be the first appearance of Lars Sullivan who is the only one from this NXT crop that has yet to be seen on-camera.
Here's everything that happened on the January 28 episode of Monday Night RAW.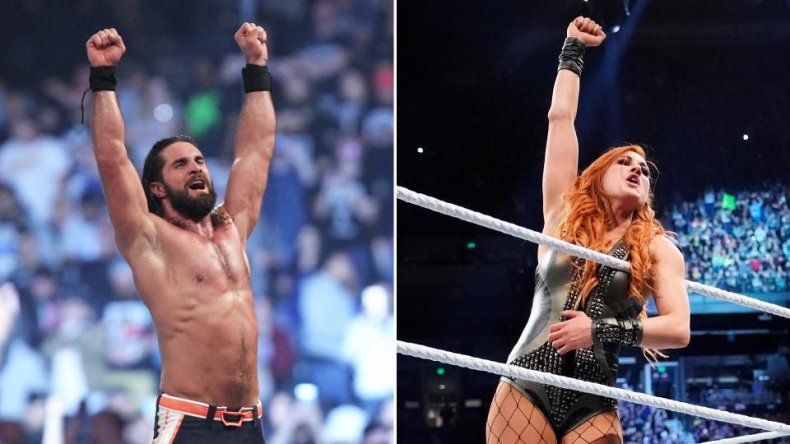 MONDAY NIGHT RAW LIVE RESULTS
Opening Segment
Seth Rollins comes out to start the night. He cuts a promo that he has the heart and that's why he won the Royal Rumble. He says he's going to the main event of WrestleMania, and that winning the Rumble is just the beginning of the journey. He says that he can take one of two paths, go to SmackDown and face his friend Daniel Bryan or go through Suplex City to take on Brock Lesnar. Rollins says that he needs some time to think about what choice he'll make.
Triple H comes out and says he knows Seth and that's why he came out to challenge Rollins at the end of last year. He says that Becky Lynch will make her decision tomorrow on SmackDown Live, but Rollins needs to make his choice tonight. At the end of RAW, Daniel Bryan and Brock Lesnar will be there and Rollins will have to choose.
Dean Ambrose interrupts and says that the "father/son" thing Triple H and Rollins makes him sick. When Rollins and Ambrose were touring in Florida, Triple H didn't believe in him. Ambrose calls Rollins a kiss-ass, but no matter what Rollins can't beat Dean without some help. Ambrose asks Triple H to make a match between Rollins and Ambrose for now. Triple H is about to walk out of the ring when Ambrose stops him and says, "what's the matter? have to ask your father-in-law first?" which causes Triple H to call for a referee.
Seth Rollins vs Dean Ambrose
Rollins wins via pinfall after a Stomp
Dean Ambrose Promo
After the match, Ambrose stays in the ring and is about to cut a promo when he's interrupted by Nia Jax and Tamina who are in the Tag Team Championship qualifier.
The two surround Ambrose and Dean turns his back on Nia who hits him in the back. Ambrose thinks about getting back into the ring, but decides to leave.
Nia Jax/Tamina vs Alexa Bliss/Mickie James
Nia Jax and Tamina win via pinfall after Nia hits Mickie James and Alexa Bliss with a double Samoan Drop.
Nia Jax and Tamina are the first team to qualify for the Elimination Chamber Tag Team match.
Baron Corbin vs Kurt Angle
Before the match, Corbin tells Angle that the WWE Universe doesn't care about him and that when he gets hurt in their match they will stop caring about him. Angle hits Corbin in the mouth before he can finish and the match begins.
Baron Corbin wins via pinfall after a Deep Six.
After the match, Corbin comes back in the ring and delivers an End of Days. He tells the crowd that he blames them for what happened.
Finn Balor Promo
He says he went toe-to-toe with The Beast last night and he's hurt from the ordeal, but he won't wallow. He says that Lesnar beat him, and then beat him again after the match because he made Brock a believer in Finn Balor.
Bobby Lashley and Lio Rush interrupt him. Lio says that it's a shame that a "twerp" like Finn had a chance at the Universal title. Rush admits that Finn almost beat Lesnar but he has no chance at beating Lashley because Bobby is stronger and faster than The Beast.
Finn says that he lasted longer with Lesnar than Lashley did in the Rumble. This causes Lashley to beat down Finn.
The Revival vs Zack Ryder and Curt Hawkins
Revival wins via pinfall after a Shatter Machine on Hawkins
Daniel Bryan Interview
Daniel Bryan and Erik Rowan are backstage and the WWE Champion says that he would have beaten AJ Styles with or without Rowan. He also says that if Seth chooses him, he will end his WrestleMania dreams.
Elias Promo
Elias says he used to write his songs for the people, but they aren't worthy to be in his presence. Jeff Jarrett interrupts Elias, then Road Dogg comes out and the two start to sing.
Elias hits Road Dogg with the guitar and then begins to beat down Jeff Jarrett, and hits Doulbe-J with his own guitar.
Backstage
Dana Brooke comes up to Natalya and tells she's her tag team partner in place of an injured Ember Moon. Natalya doesn't look too happy, but Dana says that she's better than Ember Moon and better than Natalya, which makes Nattie smile.
Mojo Rawley Promo
Mojo is seen talking to someone about how it's their fault that he's been forgotten. It's revealed that he's talking to a mirror, and he says that the days of him being forgotten are over.
Dana Brooke and Natalya vs Liv Morgan and Sarah Logan (with Ruby Riott)
Morgan and Logan win via pinfall after Morgan rolls up Natalya
The finish was set up after Dana Brooke was pushed into Natalya after she had Morgan in the Sharpshooter.
Liv Morgan and Sarah Logan qualify for the Elimination Chamber tag match.
Ronda Rousey Open Challenge
Ronda says that she's always been a dreamer and that Sasha gave her a hell of a time, but begins to stumble over her words.
Bayley comes out and wants to fight for the RAW Women's Championship. Ronda agrees and the two have their match.
Ronda Rousey wins via submission after an Armbar.
After the match, Ronda and Bayley shake hands, but is interrupted by Becky Lynch.
Becky tells Ronda that she told her she'd find a way back to her. She reminds Ronda that she dropped her in the ring the last time Lynch was on RAW. And afterwards, Lynch said that Ronda never came looking for her to prove she's the baddest.
Lynch says that she doesn't need time to think about her WrestleMania opponent like Seth does, she chooses Ronda.
Ronda says that she wants the best Becky there is so she can be her at WrestleMania.
Backstage
Braun Strowman walks up to Seth Rollins backstage and congratulates him for winning the Rumble. But he needs to do the right thing when selecting his WrestleMania opponent.
Braun Strowman vs Drew McIntyre
Braun Strowman wins via Disqualification after Baron Corbin hits him from behind.
After the match, Corbin hits Strowman with a few chair shots but Strowman gets the advantage and takes out both Baron and McIntyre.
Strowman is about to destroy Corbin's elbow on the steel steps when McIntyre hits Strowman with the Claymore. The two then do a double chokeslam on the steps.
Seth Rollins Decision
Brock Lesnar and Paul Heyman come out. Heyman says that Seth's decision is easy because for his own good, he should choose to face Daniel Bryan.
Seth Rollins comes out and gets in Lesnar's face and punches him. He then kicks Lesnar's midsection a few times and gets ready for The Stomp, but Lesnar intercepts and hits the F-5. Lesnar then hits Rollins with four more F-5s, once on the Universal Championship.
Seth baits Lesnar, asking if that's all he has before getting hit with another F-5.