WWE Monday Night RAW Live Results: Becky Lynch Returns to Confront Authority
Tonight is the final episode of Monday Night RAW before this Sunday's Elimination Chamber pay-per-view. The card still has some room for a match or two, and the go-home episode of RAW will likely fill it.
The WWE's most popular superstar, Becky Lynch, returns to RAW after being invited - again - by the McMahon family. Stephanie McMahon suspended Lynch after the Lass-Kicker refused to see a doctor for her knee last week, and quickly found herself on the receiving end of a Becky attack. The next night on SmackDown Live, Lynch arrived on the blue brand to interrupt a Charlotte Flair promo and Triple H gave her a tongue lashing. Lynch responded to The Game's verbal tirade by slapping the Cerebral Assassin. What can the WWE Universe expect from Becky Lynch tonight?
Seth Rollins makes his return to Monday Night RAW after suffering a brutal attack from Universal Champion Brock Lesnar the night after the Royal Rumble. The Architect will address the WWE Universe and it's anyone's guess to what he has to say.
Becky's opponent at WrestleMania 35, RAW Women's Champion Ronda Rousey is set to take on Ruby Riott this Sunday. After Ronda dispatched of Liv Morgan and Sarah Logan last week, the Riott Squad will look to deal some damage to the champ before this Sunday's bout.
Finn Balor took out Lio Rush last week, but Intercontinental Champion Bobby Lashley refused to give Balor a shot at his title. Now that Barlor took out Rush, will Lashley give Finn the title shot he wants?
A lot is expected to happen on the go-home episode of Monday Night RAW. Here's everything that happened on the February 11 episode.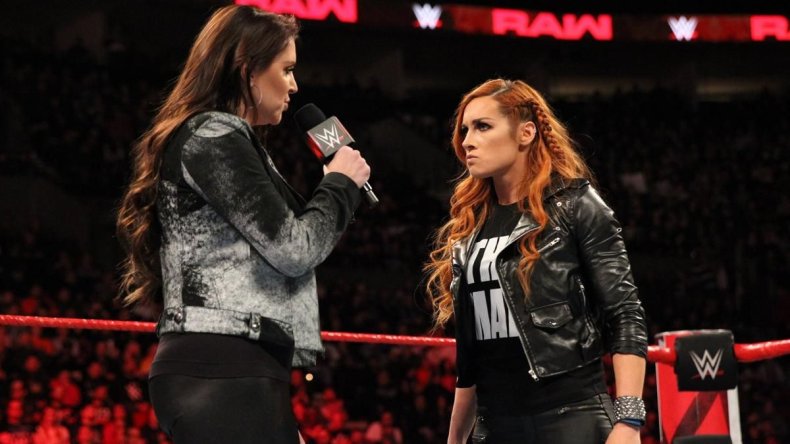 MONDAY NIGHT RAW LIVE RESULTS
Opening Segment
The night begins with Stephanie McMahon and Triple H hyping up Elimination Chamber when they replay what happened last week on RAW and SmackDown Live between Becky Lynch and the Authority. Stephanie says despite what happened, they want to give the WWE Universe what they want and tell the audience that Becky saw a doctor and call her to come to the ring.
Becky Lynch comes out and Triple H apologizes for antagonizing her. He reveals that the suspension on Lynch is lifted but she will have to do a few weeks of rehab. Becky Lynch and Ronda Rousey at WrestleMania 35 is official only if the Lass-Kicker apologizes to Stephanie and Triple H.
Becky says she doesn't trust them and she feels they are trying to take her opportunity away. Lynch berates them and says they shove the apology. Stephanie gets in Becky's face, but Triple H separates them. Trips gives Becky a choice, she needs to decide by the end of the night whether she will apologize and go on to WrestleMania or lose her opportunity.
Sasha Banks/Bayley vs Nia Jax/Tamina vs Liv Morgan/Sarah Logan
Winner leaves the Elimination Chamber last.
Sasha Banks is taken out early by the Riott Squad, leaving Bayley to wrestle the match herself.
Nia Jax pins Bayley after a Samoan Drop.
Backstage
Finn Balor approaches Becky backstage, and tells her to not let her pride get the best of her and to bide her time.
Elias Promo
Elias is first interrupted by the backstage segment and then by a Seth Rollins video package and then the Lucha House Party.
Elias gets upset with the Lucha House Party but Kalisto says they came out there to walk with Elias. He performs his song, and the Lucha House Party give the thumbs down. Elias challenges them to do better, and Kalisto takes Elias' guitar and strums a quick tune. Elias asks if Kalisto wants to do a duet, and he wacks the wrestler with a second guitar and leaves.
Finn Balor vs Drew McIntyre (with Bobby Lashley and Lio Rush at ringside)
Balor wins via disqualification after Lashley throws Finn off the top rope.
After the bell, McIntyre and Lashley beat down Balor.
Kurt Angle comes in for the save and takes out Rush and Lashley, but Baron Corbin comes out and takes out Kurt. Braun Strowman comes out for the save and chases the heels off.
Braun Strowman/Finn Balor/Kurt Angle vs Bobby Lashley/Drew McIntyre/Baron Corbin
Lashley pins Balor but Finn had his foot on the bottom rope before the count of three.
Ater the match, another referee comes out and they restart the match.
Balor pins Lashley after a Coup de Grace.
Kevin Owens Promo
Owens is in a bowling alley giving the WWE Universe an update on his status. He says he's about a month away from returning but doesn't know where he'll be on RAW or SmackDown Live.
Backstage
Becky Lynch is interviewed about what she will tell the fans if she doesn't apologize and keeps her match with Ronda from them. Lynch says it's none of her business and walks away.
Nikki Cross vs Ruby Riott
During the match, cameras go backstage to show Ronda Rousey approach Becky. She pleads for Lynch to just apologize even if she doesn't mean it, but if she doesn't then she proves that she's afraid to face her.
Riott wins via pinfall after a Riott Kick.
Seth Rollins Segment
Rollins talks about his incredible 12 months, and says that this was the year that he felt like Seth Rollins. He says he has bad news, which is that he took 6 F-5s and is hurting. But the good news is that he took those F-5s and he was still standing, and that means he can beat Brock Lesnar. Seth's family asks if fighting Lesnar is worth it and he starts to answer but Heyman interrupts.
Paul Heyman comes out and teases Brock Lesnar's apperance but he's not in the building. Heyman warns Seth that if he goes into WrestleMania, Rollins will be the architect of his own demise.
Rollins tells Heyman that he is right, but he doesn't care. He says that Lesnar has held the industry hostage for two years and he's tired of it. He will do anything to beat Lesnar even sell his soul to the devil to win.
Dean Ambrose comes out and tells Seth to slay the beast and rolls out of the ring to prepare his match.
Dean Ambrose vs EC3
Ambrose wins via pinfall after a roll up
Backstage
Alexa Bliss approaches Becky Lynch and tells her not to apologize because it'll show her weakness.
Becky asks Bliss if she just wants her spot at WrestleMania, which Alexa denies. Becky says she won't be selling out herself, just WrestleMania if she apologizes.
The Revival vs Bobby Roode and Chad Gable (c) - RAW Tag Team Championship Match
The Revival wins via pinfall on Chad Gable after a Shatter Machine
Becky Lynch Segment
Triple H tells Becky to drown out the crowd and do the right thing.
Becky says that she feels they don't want her anywhere near the WrestleMania main event. And that she wanted to do what she did last week. But in the end, she apologizes to both Triple H and Stephanie. After that was done, she says they have a deal.
Triple H congratulates Becky Lynch and tells her she's going to WrestleMania.
Becky starts to drop a promo, when Ronda Rousey comes out for a stare down. Vince McMahon suddenly comes out and stops them. Vince comes out and suspends Becky for 60 days, and replaces her with Charlotte Flair who comes out.