WWE Monday Night RAW Live Results: Who Will Be A Part of MITB Ladder Matches?
The next WWE pay-per-view is Money in the Bank, a show that will affect the title pictures across both brands.
Some matches for the Money in the Bank pay-per-view have already been announced, but the WWE has yet to be reveal the men and women participating in the MITB ladder matches. Tonight, Alexa Bliss will announce the RAW participants for both matches.
A supposed leak puts some big names in both ladder matches including currently-MIA superstar Sasha Banks. Tonight's announcement will confirm whether Sasha is taking time off the roster or not.
AJ Styles, who defeated Baron Corbin in a match last week, will go one-on-one with Universal Champion Seth Rollins at Money in the Bank. The two superstars have yet to go to war in the WWE and fans are looking forward to the technique and athleticism both men will bring to their match. But is Rollins ready to defend his Universal title against the man who held the WWE Championship for over a year?
In the women's division, Becky Lynch has carried both the RAW and SmackDown women's titles after WrestleMania. However, on Monday Night RAW, Lynch's first feud was confirmed to be with Lacey Evans, the upstart former NXT Superstar, who looks to outmuscle "The Man." Becky will have to defend her titles against Evans and against her longtime rival, Charlotte Flair,in two separate matches at Money in the Bank. Is Lynch overlooking Evans or will make good on her promise to tap out Lacey before she even breaks a sweat?
Bray Wyatt was the talk of the wrestling world last Monday when he debuted his new gimmick as a creepy children's television show host. After one week, the WWE Universe is curious to see what will happen next on Firefly Fun House.
There's a lot of developments for the Money in the Bank pay-per-view expected to go down tonight and we have a running list of everything that happened on Monday.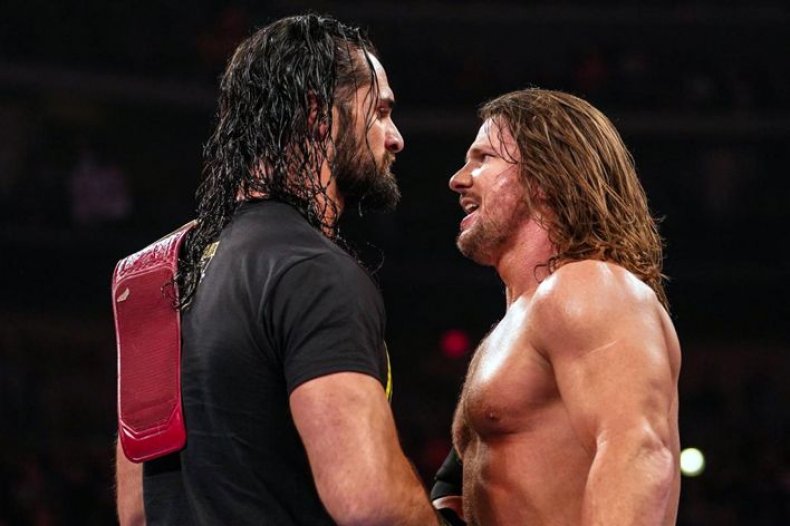 MONDAY NIGHT RAW LIVE RESULTS
Opening Segment
Alexa Bliss comes out to start the night to announce the RAW participants for both MITB ladder matches.
The four men representing Monday Night RAW in the MITB ladder match are: Braun Strowman, Ricochet, Drew McIntyre, and Baron Corbin.
Corbin comes out to egg on the crowd and say he'll be a two-time MITB winner. Ricochet says he'll be a two-time loser. McIntyre says that Ricochet has a point because Corbin blew his opportunity when he lost to AJ Styles last week. Drew says that he's sick of outside forces keeping him from the Universal Championship. McIntyre gets in Ricochet and Corbin's faces when Braun tells everyone to shut up and says no one has what it takes to defeat him. He then challenges Baron and Drew to a tag match with Ricochet.
Braun Strowman/Ricochet vs Drew McIntyre/Baron Corbin
Ricochet pins Corbin after a Shooting Star Press
McIntyre was getting ready to hit Braun Strowman with a Claymore when Corbin tagged himself in. In frustration, McIntyre punches Corbin into a Running Power Slam setting up the finish.
The Usos vs Gallows and Anderson
Gallows and Anderson are officially on Monday Night RAW
Usos win via pinfall.
After the match, the Usos show footage of The Revival shaving each other's backs when the tag team come out to respond. They say that they have a match against Zack Ryder and Curt Hawkins, but when they are done with them they will come after the Usos.
Miz TV
Bobby Lashley is Miz's guest and Miz asks if Lashley is living up to his potential. Bobby says that he's done a lot in the year since he returned to the WWE and asks what Miz has done. After listing off his accomplishments, Miz says they can be there all day doing so. However, Lashley says that he couldn't defeat Shane McMahon after he beat him and his fater at WrestleMania. Lashley says they both deserved it when Miz gets irate and attacks Lashley.
The Miz vs Bobby Lashley
During the match, Shane McMahon comes out to distract Miz. After some failed distractions, Shane puts up a picture of Miz's dad on the titantron, giving Lashley a chance to hit the spear.
Lashley pins Miz after a Spear.
After the match, Shane takes some shots at Miz but Miz tackles McMahon to the ground. Lashley pulls Miz off of Shane and slams him into the ground. He puts Miz in the triangle until he passes out. Miz then says that he is the "best in the world."
Viking Raiders vs Lucha House Party (Kalisto and Gran Metalik)
Before the match, The Lucha House Party attack the Viking Raiders.
Viking Raiders via pinfall after the Viking Experience on Kalisto.
After the match, The Viking Raiders hit a Hart Attack on Lince Dorado
Moment of Bliss
Alexa Bliss returns to announce the women's MITB participants
The four RAW women entering the women's MITB match are: Natalya, Dana Brooke, Naomi, and Alexa Bliss.
Naomi challenges Bliss to a match, and Alexa reluctantly agrees even when she isn't in her ring gear.
Naomi vs Alexa Bliss
Naomi pins Bliss after a Split-Legged Moonsault
The finish was set up by Alexa's shoes coming off as she pled to the referee to throw the match out. When Bliss turned around she was hit with the Rearview.
Backstage
Rey Mysterio is asked if this is the hardest stretch of his career. Rey says it's not easy being his size in the world of giants. He says he felt embarrassed at WrestleMania in front of his family especially in front of his son, Dominic. He will prove himself to Samoa Joe tonight.
Becky Lynch Promo
Lynch is asked why would she willingly have two matches at MITB. Becky says she can protect what she has or fight and she only knows how to fight. She says she doesn't care about the odds. Becky says no one thouht she would main event WrestleMania a year ago, but she did.
Becky says she didn't make history by dodging her opponents, she made it by beating everybody.
After showing a replay of what Lacey Evans did last week, Becky calls out her challenger to show her who she's dealing with.
Lacey comes out and says she's done talking and the two start brawling. Referees come out and separate the two women.
The Revival vs Zack Ryder/Curt Hawkins
Ryder pins Dawson after a Backslide
Miz Interview
Miz is asked about his feelings following Shane's involvement. Miz responds by challenging Shane to a Steel Cage Match at MITB. Shane would accept on Twitter.
Sami Zayn Promo
Zayn says that during his time off, he brushed up on his history and sociology. It's in his sociology studies that he learned how the WWE Universe works and that they think what they feel is correct and everything should be given to them.
Samoa Joe vs Rey Mysterio
Before the match, Joe says that Rey's son has a face of shame after what happened at WrestleMania. And the way AJ Styles stole his opportunity at the Universal Championship using Rey's body, Joe will make Mysterio pay.
Mysterio pins Samoa Joe after a roll up
AJ Styles and Seth Rollins Contract Signing
Styles says he likes Seth Rollins but he has something he wants. Styles says that people compare the two of them, but Seth will never be him.
Seth says he never wanted to be the next AJ Styles. Seth says that this is not SmackDown Live, this is Monday Night RAW and that AJ will have to be better than phenomenal if he wants to take the Universal Championship from him.
AJ says that the Shield are not on RAW to hold him up anymore. Styles thinks Seth doesn't have much left after WrestleMania, and at MITB he will not stop until he's the new Universal Champion.
Seth says that he beat Brock Lesnar, something that AJ hasn't done. He will be at his best at MITB when he beats Styles.
After both men sign, Styles takes the Universal Championship and looks at it. He hands it to Seth and holds out his hand. Seth doesn't take his hand but instead holds the title high. AJ hits Rollins and starts to beat him down. Seth throws AJ out of the ring but Styles hits Rollins with a Phenomenal Forearm through the table.