WWE Monday Night RAW Live Results: Why Did Roman Reigns Show Up?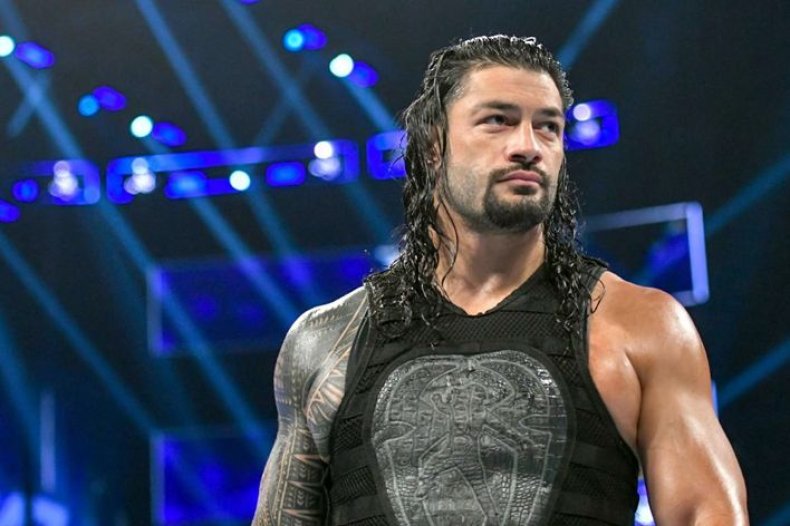 Roman Reigns announced on Twitter this weekend that he will appear on Monday Night RAW this week, despite being a SmackDown Live superstar.
The situation got even weirder when WWE officials announced that he won't actually show up on RAW. Of course, Roman isn't one to do what he's told by The Authority so expect "The Big Dog" to start off the night, but what is this "unfinished business" that he's talking about?
Roman is currently with Shane McMahon and Elias after Reigns hit Mr. McMahon with the Superman Punch on his first night as a SmackDown Live Superstar so what he'll be doing on RAW is anyone's guess.
The Money in the Bank pay-per-view is in a couple of weeks and the participants will likely be in action tonight. On the RAW side, Braun Strowman, Drew McIntyre, Ricochet and Baron Corbin will be competing for the MITB briefcase, so the dynamic between these four men will continue to form as they look for momentum heading into their ladder match on May 19.
Following an intense contract signing, AJ Styles stood tall over Universal Champion Seth Rollins to end last week's Monday Night RAW. How will Seth respond this week? The road to another dream match continues tonight.
Becky "Two Belts" Lynch continues being on top of both women's divisions, but Lacey Evans is looking to knock her off her porch at Money in the Bank. The two women have been at odds each week but how will the "Sassy Southern Belle" continue to get under Becky's skin this week? And with Lynch taking on Evans and Charlotte in two weeks should she not look past Lacey when defending both her titles on the same night?
Here's everything that happened on the May 6 episode of Monday Night RAW.
MONDAY NIGHT RAW LIVE RESULTS
Opening Segment
Mr. McMahon arrives to start the show to say that this will be a Monday Night RAW to remember because it's starting with him. He's interrupted by Roman Reigns.
Mr. McMahon says that if Roman hits him with a Superman Punch again, he'll be arrested. He says since Roman is on SmackDown he shouldn't be here. Roman says he is on SmackDown but he told the WWE Universe that he would leave with RAW in a better place but it's not. He reminded Vince when he and the other McMahons told the WWE Universe they were the Authority and he doesn't take orders from the McMahons but he listens to the fans.
Vince says that the fans won't know what to do. He's interrupted by Daniel Bryan.
McMahon asks what Daniel Bryan is doing. Bryan says that since he lost to Kofi Kingston at WrestleMania he spent the last month in solitude and meditation to figure out what happened. So when he heard Roman was coming to RAW Bryan though he could have a talk with Mr. McMahon.
Kofi Kingston interrupts. Kofi says that if Bryan had a problem with what happened at WrestleMania he didn't have to go to Vince he should have just came to him.
Bryan says that Kofi is underserving and a fluke. And that's why his 11-year journey went the way it did.
Mr. McMahon said that he has an epiphany and like
Kofi doesn't buy that this was Mr. McMahon's plan but said that when he saw Roman's tweet he decided to come to RAW too. Bryan says that he came to RAW to get his WWE Championship.
He's interrupted by Drew McIntyre and says that if Vince or the people in the back won't do anything about this, he will. He says that Roman left to SmackDown to avoid facing Drew McIntyre. He says that he'll give Roman a Claymore. Roman says if Drew wants a repeat of WrestleMania he's down.
Mr. McMahon makes two matches for tonight. Roman vs Drew and Kofi vs Daniel Bryan for the WWE Championship.
Before Mr. McMahon leaves, AJ Styles comes out.
AJ Styles Segment
AJ Styles asks what the hell McMahon is doing. Vince says it's the Wild Card Rule. Styles says that he spent all that time on SmackDown Live just for McMahon to put this rule in place and bring Seth's friend, Roman back.
Styles says if that's the case, maybe he'll come to SmackDown tomorrow with some of his friends.
McMahon says that the rule means that three SmackDown stars can be invited to RAW and vice versa.
Seth Rollins interrupts and says that RAW has been fine since AJ got there and since he left. This isn't SmackDown this is Monday Night Rollins.
Styles says he knows where he is and what he did to Seth last week. He just wanted to shake his hand, but Seth disrespected him. He reminded Rollins that he can kick his ass and at MITB he'll give him the Phenomenal Forearm again and become the new Universal Champion. The two are about to fight when Mr. McMahon puts them in a tag team match.
AJ Styes and Seth Rollins vs Bobby Lashley and Baron Corbin
Corbin pins Rollins after an End of Days
The finish of the match was caused when Corbin ducks AJ's Phenomenal Forearm which hits Seth by mistake. Frustrated, AJ leaves Seth behind leading to Baron hitting the End of Days.
Backstage
The Miz is seen sitting in front of Shane McMahon's locker room.
Sami Zayn Segment
Sami does his usual run down of the crowd, when he's interrupted by Braun Strowman. Strowman runs after Zayn through the crowd and to the back. Strowman catches him and throws him in the garbage.
A garbage truck comes in and dumps the canister where Sami was. Strowman thinks about stopping it but walks away.
Lucha House Party vs Local Enhancement Talent
Lucha House Party wins via pinfall after hitting all three of their finishers.
Backstage
Natalya, Naomi and Dana Brooke all get invitations from Lacey Evans to be ringside for a match later tonight.
Ricochet vs Robert Roode
Ricochet puts his spot in the MITB ladder match on the line.
Ricochet pins Roode after a 630
Backstage
It's announced that Mysterio will take on Samoa Joe at MITB
Rey Mysterio walks to his locker room with his son, but asks Dominik for something. His son walks away but Samoa Joe is walking right behind him.
Joe introduces himself to Dominik and says that he wants to send a message to his father. That he is looking forward to embarrassing him again at MITB.
Lacey Evans vs Local Enhancement Talent
The women on the RAW side of the MITB ladder match come out to ringside to watch the match.
Evans wins via pinfall after a Woman's Right.
After the match, Evans says that she expected proper RSVPs but she wanted to show the women what the next RAW Women's Champion will look like when she takes everything away from Becky. And she tells the women that if one of them wins the MITB match, they should be smart and not cash-in.
Becky comes out and she runs into the ring and the two women brawl. Before Becky can hit the Dis-Arm-Her, Lacey Evans rolls out of the ring.
Viking Raiders vs Zack Ryder and Curt Hawkins
Viking Raiders win via pinfall after the Viking Experience
Seth Rollins Promo
Roman Reigns vs Drew McIntyre
The match ends in disqualification after Shane McMahon and Elias get involved and beat Roman down.
Miz comes out and chases Shane away but Elias holds up Roman and lets Drew hit the Claymore.
Miz chases Shane out of the arena.
The Club vs The Revival
Before the match starts, the Usos come out to tell them that they put icey hot in their trunks causing Dawson and Wilder to freak out from the burning sensation.
No Way Jose Segment
No Way Jose and his conga line come out but are intercepted by Lars Sullivan who made the "wild card" jump to RAW
Kofi Kingston (c) vs Daniel Bryan - WWE Championship Match
Kingston wins via pinfall after a Trouble in Paradise