WWE Monday Night RAW Live Results: Seth Rollins to Address Baron Corbin
The December 10 episode of Monday Night RAW is the final show before the TLC pay-per-view this Sunday. There's still a lot of bad blood among many of the WWE superstars thanks to RAW's acting general manager Baron Corbin.
In recent weeks, Corbin has used his authority to wreak havoc on the faces of Monday Night RAW, especially Elias and Finn Balor. But Balor got the upperhand last week as he cost Drew McIntyre and Bobby Lashley, both superstars in Corbin's good graces, their matches against Dolph Ziggler and Elias.
As the good guys ended the night on top, Intercontinental Champion Seth Rollins set his eyes on Corbin. According to WWE.com, tonight Rollins will address his recent feud with Dean Ambrose in light of Corbin's way of running. What will Rollins say? And how will Corbin react?
In the women's division, Natalya and Ruby Riott are getting ready for their Tables Match this Sunday, so the two will likely come to blows tonight.
With most of the matches set for TLC on December 16, tonight's go-home show will solidify stipulations and hopefully add new wrinkles to the upcoming pay-per-view as it pertains to the WWE's flagship show.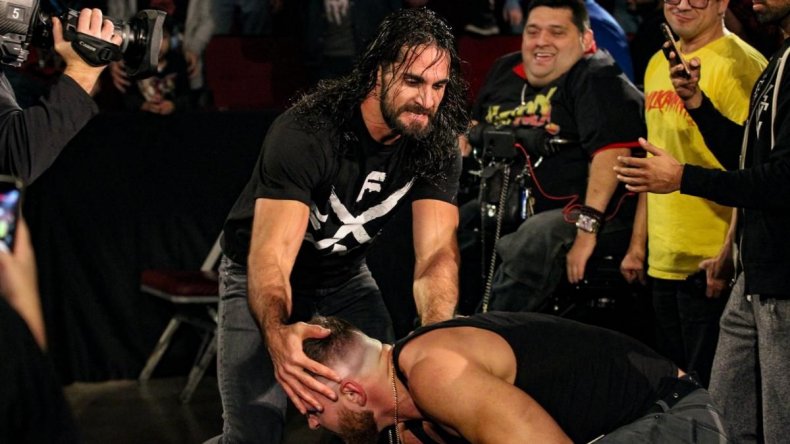 WWE MONDAY NIGHT RAW LIVE RESULTS
Opening Segment
Seth Rollins comes out to start the show and extends an invitation to Baron Corbin to come out to the ring. Corbin comes out and says that they can have this conversation in private. Rollins says that he's been so caught up with Dean Ambrose that he hasn't had a chance to address him and the job he has done. He says that since Corbin has been in charge, RAW has sucked. He's made the entire show about him.
Corbin warns Seth that he needs to respect him. Seth says he won't do anything. He says that tag teams like The Revival are being wasted.
Seth says that Corbin put the Universal title on Brock Lesnar and he's never shown up.
Seth continues to run down Corbin, talk about the locker room morale, the fan support and the tv ratings.
Corbin says he doesn't care about what the locker room, Seth or the fans think. He says that RAW is his show and he will make things worse for him. He says after TLC, when he becomes permanent GM, he'll put Seth through hell.
Seth challenges Corbin to a match tonight. Rollins ups the stakes by saying they should make it a TLC match. Corbin says that he would destroy Seth if they were in a TLC match, but his answer is still no. Rollins repeatedly calls Corbin a coward until he relents and gives Seth his match, but it will be for the Intercontinental Championship.
Backstage
Seth is asked if he regrets calling out Corbin and he say it's probably not the best idea but he couldn't stand by and let Baron do what he's doing.
Authors of Pain and Drake Maverick (c) vs Bobby Roode and Chad Gable - RAW Tag Team Championship Match
Roode and Gable win via pinfall after Bobby rolls up Maverick who was showboating.
Natalya Promo
Natalya says that Ruby Riott doesn't respect anyone or anything in this business. She wasn't given everything because of her last name she had to earn it.
Nattie brings up the Montreal Screwjob and says that she is dedicating her match at TLC to her father and that she will put Ruby through a table
Riott Squad interrupts her and bring out a table in a black cloth. Ruby says that Nattie disgraces her family. She decided to give Nattie a gift early this year and pulls the cloth off the table, revealing a cutout of Jim Neidhart on the table. She says that when she puts her through the table, Nattie will be closer to her father than ever before.
Drew McIntyre vs Dolph Ziggler
Before the match, Drew is interviewed about his loss last week. McIntyre says that no one stays undefeated forever, but his loss will only make him more dangerous.
McIntyre wins via pinfall after a Claymore.
After the match, McIntyre beats down Dolph and is about to powerbomb him onto the steel steps but refs stop him. Before he walks to the back, he hits Ziggler another Claymore.
Bayley (with Sasha Banks) vs Alicia Fox (with Jinder Mahal)
Jinder gets involved during the match, causing Apollo Crews (who is Bayley's new Mixed Match Challenge partner) to come out.
Bayley wins via pinfall after a Bayley to Belly.
Deam Ambrose Interview
Dean is asked about Seth's match tonight and he says that Rollins is a mad man and has a huge ego. And if he keeps his title tonight, he will take it from Seth tonight.
Ambrose is asked what Roman would think about his actions, and Dean asks "who cares."
Dean is shown a video package about the night Roman announced his leukemia diagnosis, and the night Dean/Seth won the tag titles. The same night Dean turned on Seth. He's asked what he thinks about it, and Dean just walks away.
Elias vs Lio Rush (with Bobby Lashley) - Heath Slater is the referee
Before the match, Elias does his usual segment but is interrupted by Bobby Lashley.
Elias was ready to win when Lashley comes in and breaks up the pin. Before Slater can call for the DQ, Lashley says something to stop him. Lio Rush hands Lashley Elias' guitar and smashes it against his back. Bobby tells Slater to count the pin.
Rush wins via pinfall.
Backstage
Baron Corbin approaches Slater to tell him he did a good job. Slater gets ready to leave, when he tells him that he has another match to referee tonight.
Nia Jax and Ronda Rousey
Alexa Bliss comes out and before she can talk, Nia and Tamina come out.
Nia cuts a promo saying that she will use the same fist that took out Becky Lynch on Ronda, but won't stop at one punch. And she will not leave TLC without her title.
Ronda comes out to fight, but Tamina and Nia leave the ring. They surround Ronda when Ember Moon comes out for the save.
Tamina vs Ember Moon
Ember wins via pinfall after an Eclipse
Seth Rollins (c) vs Baron Corbin - TLC Intercontinental Championship Match
Heath Slater is the ref for this match
During the match, Slater knocked Seth off the ladder. However, Rollins recovers and takes out both Corbin and Slater.
Rollins retains.