WWE Monday Night RAW Live Results: TLC Fallout Begins Tonight
It's the first Monday Night RAW after the TLC pay-per-view and WWE will look to jumpstart feuds heading into 2020.
What's special about the December 16 episode of Monday Night RAW is that it will be a double episode. After the original three-hour broadcast, a second RAW will be taped to premiere next Monday as the WWE superstars and staff go home for the holidays. That means fans can expect some interesting developments as we wind down 2019.
The first big development is the continued downward spiral of Seth Rollins. Now that he's full heel and aligned with the Authors of Pain, what will his next step be and is Kevin Owens going to try and get revenge?
Elsewhere, AJ Styles has set his sights on Randy Orton after "The Viper" cost him the US Championship last week. Who will come out on top in the rematch from WrestleMania 35?
Becky Lynch, Charlotte Flair and The Kabuki Warriors went to war in their own TLC match last night causing Kairi Sane to be reportedly injured. Now that The Kabuki Warriors retained the Women's Tag Team Championships, what is next for them heading into Royal Rumble season?
There's a lot expected to go down in the December 16 episode of Monday Night and here's a rundown of everything that happened.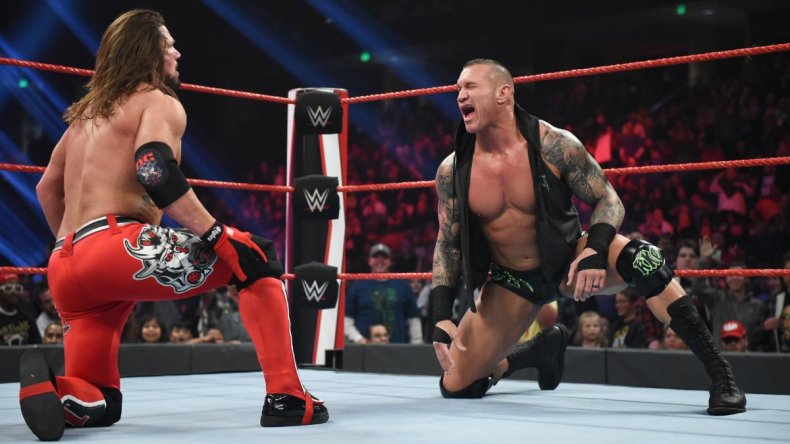 WWE MONDAY NIGHT RAW RESULTS
Opening Segment
Seth Rollins starts the night off by calling Authors of Pain out to the ring as the first two men who are on the right side of history.
He says that men like Kevin Owens don't get what he's trying to do.
He says he'll tell the truth every step of the way and that Seth Rollins is a leader and a visionary. He's going to be the man to lead this brand and the industry into the next decade and beyond. He will drag anyone into 2020 by "hook or by crook" and will impose his will. If you resist, the Authors of Pain will enforce his will.
He apologizes for what he will have to do from now on.
Viking Raiders vs The OC
The OC wins via pinfall after a Magic Killer in a clean victory
Backstage
AJ Styles and The OC celebrate the victory over the Viking Raiders. AJ Styles says he will end Randy Orton's career tonight.
Erick Rowan vs Local Enhancement Talent
Rowan tells the jobber to come get the cage, however, he goes under the ring and tries to take the tarp off the cage but runs away in fear but Rowan gets him.
Rowan wins via pinfall after a Claw
Andrade Interview
He's asked about his upcoming match in the Gauntlet Match to become number one contender for the US Championship. Zelina Vega says that his loss on Sunday is the best thing to happen to Andrade, but the worst for Humberto.
Liv Morgan Makeover
Liv says she used to have her friends tell her how to act and how to look but now she will be real.
Lana and Bobby Lashley Segment
Lana boasts about Lashley defeating Rusev on Sunday. This leads to Lashley proposing to Lana and her accepting.
US Championship Contender Gauntlet Match
R-Truth comes out first and says he'll be the first 24/7 dual champion.
Akira Tozawa pins and eliminates R-Truth
Ricochet is next and eliminates Tozawa with a pin
Matt Hardy is next and is eliminated by a roll up from Ricochet
Humberto Carrillo is next and eliminates Ricochet
Andrade is last but ambushes Carrillo from behind and beats him down and hits the Hammerlocke DDT on the concrete. This causes Rey Mysterio to come out and fend Andrade off. Humberto Carrillo is carted off without a winner being announced.
Seth Rollins Segment
Seth Rollins comes out with the AOP with Rey's steel pipe.
Mysterio fights the AOP but is overwhelmed. Rollins says they didn't come out here to fight, they just wanted to return the pipe from last week. When Mysterio goes to get it, the AOP lay out Rey. Rollins says he's not one to do an eye for an eye because he's a merciful leader. When he's about to leave, Seth turns around hits Mysterio with the Stomp.
Seth Rollins Backstage Segment
Rollins is asked about his actions when he says that he left Mysterio not in the hospital because he wants him to answer his challenge for the US Championship next week.
Asuka vs Deona Purrazzo
Kairi Sane makes the entrance with Asuka, but immediately goes to the back
Purrazzo hits Asuka with a pump kicks just as the bell rings
Asuka wins via submission after an Asuka Lock
Becky Lynch Interview
Lynch is asked about her recent time. Becky says that when she was put in tag team matches she thought the powers that be were burying her, but it's worse. They are trying to protect her because they don't believe she can defeat Asuka.
Lynch says that Asuka is the best in the world right now and proved it at last year's TLC, last night and at the Royal Rumble.
Randy Orton vs AJ Styles
Orton wins via pinfall after an RKO
After the bell, the OC come out and beat down Orton
WWE Monday Night RAW Live Results: TLC Fallout Begins Tonight | Sports