The Nov. 26 episode of WWE's Monday Night RAW was one of the worst this year, but the company continues to build stories heading into its Tables, Ladders and Chair pay-per-view on Dec. 16.
Baron Corbin is running Monday Night RAW with an iron fist, and he's drawn a line in the sand. If you're not going to back him as the General Manager of RAW, then you're against him. And that means you'll have to deal with him, Bobby Lashley and Drew McIntyre. With Braun Strowman on the shelf after elbow surgery, is there anyone on the RAW roster who can stop him?
The feud between Dean Ambrose and Intercontinental Champion Seth Rollins continues to heat up as "The Lunatic Fringe" comes to Houston after not showing up last week in Milwaukee. You know Rollins won't be too far behind, so expect more fireworks between the two former SHIELD brothers before their title match at TLC.
According to WWE.com, RAW Women's Champion Ronda Rousey will be in tag team action tonight with her friend Natalia against Nia Jax and Tamina. Jax continues to brag about pushing Ronda to the limit in their match at Money in the Bank earlier this year, so this will be a good chance for them to size each other up before their title match in a couple of weeks.
However, with Natalya's continued feud with The Riott Squad, Ruby Riott, Liv Morgan and Sarah Logan won't be far behind.
Here's everything that happened on the Dec. 3 episode of Monday Night RAW.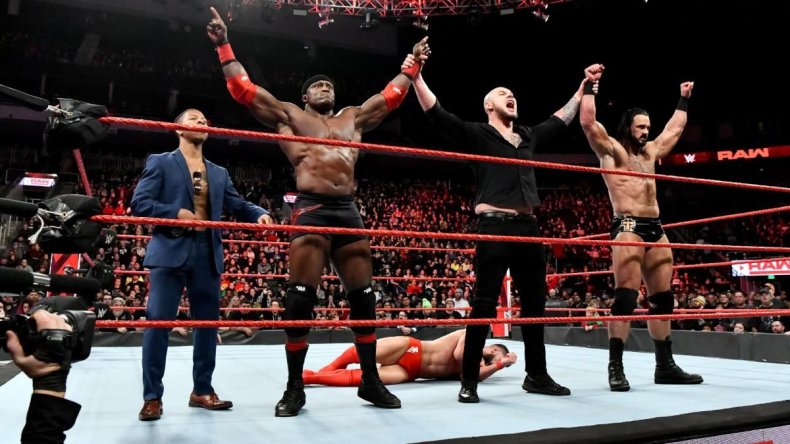 WWE MONDAY NIGHT RAW LIVE RESULTS
Ronda Rousey and Natalya vs Nia Jax and Tamina
Before the match, The Riott Squad come out and distract Rousey and Natalya. This gives Tamina and Nia Jax a chance to jump the faces before the bell.
Nia and Tamina take out Ronda while The Riott Squad put Natalya through a table.
Backstage
Ronda is helping Natalya backstage but Nattie keeps clutching her arm as Ronda asks for someone to help her.
Alexa Bliss Promo
She says how she was appointed by Baron Corbin to be in charge of the women's division. Also, the open forum from last week didn't go according to plan and they will try it again by calling down Sasha Banks and Bayley.
Before they start, Bayley says when will Alicia Fox, Dana Brook, and Mickie James jump them like last week. Alexa Bliss says that the heels were reprimanded and it won't happen.
The first question was about what they think about Sasha using Bayley: Sasha and Bayley scoff at the question and say they've been hanging out in Texas all day.
The second question asks who would they want to face from any era. Sasha and Bayley say Trish and Lita at WrestleMania.
The third question is: What power would they want? Bayley says make things disappear and start with making Alexa disappear.
The fourth questions is: What would you bring to the RAW women's division in 2019. Bayley says they want to be the first-ever women tag team champions.
Dana, Mickie and Alicia come out but Alexa stops them. And puts Alicia Fox and Mickie James in a tag team match against Sasha and Bayley.
Sasha Banks and Bayley vs Mickie James and Alicia Fox (with Dana Brooke)
Banks/Bayley win via pinfall after a Back Stabber/Bayley to Belly combination.
Backstage
Ronda runs up on Alexa Bliss and says how could she let The Riott Squad do that to Natalya.
Alexa says she didn't know they would do that and the Riott Squad were sent home and she will deal with them. Ronda says that she will find Nia and Tamina herself.
Alexa stops her and says she will find Ronda a tag partner to face Nia and Tamina later. Ronda says Alexa doesn't have a conscience and she'll find one herself.
Backstage with Baron Corbin
Bobby Roode and Chad Gable approach Corbin in his office and ask for a match for the RAW Tag Team championships. Corbin says no, but if Roode can defeat Drake Maverick they will have their rematch. Corbin says that AoP and Gable are banned from ringside.
Lucha House Party vs Scott Dawson (with Dash Wilder)
Scott Dawson comes out and says that he will have to teach them a lesson in tag team wrestling in a singles match. However, it's announced that this will be fought under Lucha House rules (making it a 3 on 1).
Lucha House Party wins via pinfall.
Drew McIntyre Appreciation Segment
Corbin says that he's had a lot of thorns in his side since becoming GM, but because of McIntyre it's been a lot easier. That's why Baron is making tonight Drew McIntyre Appreciation Night.
After a hype package for McIntyre, Drew comes out and Corbin presents a gold medal to him. He awards Drew the gold medal of excellence since he took out Kurt Angle.
McIntyre says he was just doing what he came to do. Stomp out weakness and complacency. Drew runs down Finn Balor and says that at TLC he will break him, but is interrupted by Dolph Ziggler.
Ziggler asks where was he in the hype package and his invite to the party. Drew says the truth is that he was never invited. He says Dolph doesn't meet the height requirement and that their arrangement isn't working for him anymore. Drew says that Dolph's role was to get McIntyre in a prominent position and he succeeded for the first time in his life. He thanks Dolph and tells him to leave. Ziggler doesn't leave and Drew runs him down some more. Dolph hits Drew with a Zig Zag.
Before he leaves, Corbin makes a match between Dolph and McIntyre for right now.
Drew McIntyre vs Dolph Ziggler
Finn Balor comes out in the middle of the match to "get a closer look." Towards the end of the match, Balor hits McIntyre from behind on the outside when the ref isn't looking. McIntyre barely makes it inside the ring before the 10 count, but leads to the finish.
Ziggler wins via pinfall after a Superkick.
Elias Promo
Elias runs down Bobby Lashley and does a tune but is interrupted by Lashley and Lio Rush.
After some posing, Elias comes down with his guitar and after a scuffle, Lashley runs away. Finn Balor shows up and throws Rush towards Elias who hits him with the guitar to the back.
Corbin Backstage Promo
Jinder Mahal approaches Corbin in his office and says he will squash Finn Balor for him.
Corbin brings in Rhyno and Heath Slater in, and tells them that there is only room on RAW for one of them. Corbin says that one of them can quit to save the other. After none of them accept, he puts them in a match against each other with the loser getting fired.
Bobby Roode vs Drake Maverick
On the titantron, Authors of Pain take out Chad Gable in the back. Corbin comes out and makes the match a three on two handicap match as AoP go to the ring.
Gable eventually makes his way back to the ring, but AoP destroys both Roode and Gable.
Drake Maverick tags himself in and gets the pin.
Dean Ambrose Promo
Ambrose comes out in a gas mask with a crew of guards with gas masks.
He says he doesn't need the mask for the people, he needs it for Seth Rollins.
He calls himself the moral compass of the WWE.
Seth Rollins comes out and takes out the security. Rollins chases Ambrose into the crowd, but eventually Dean stands tall.
Nia Jax Promo
It's revealed to Nia and Tamina that Ronda Rousey will team with Ember Moon.
Jax doesn't care who partners with Ronda and cuts an empassioned promo about how the RAW Women's Title is hers and she will do anything for it.
Heath Slater vs Rhyno
Slater wins via pinfall after a roll up.
Rhyno is now fired from Monday Night RAW.
After the match, Slater is approached by Corbin backstage who congratulates him. Slater asks what he can do for Rhyno, and Corbin says he can do his job as a referee, which is his new role on RAW.
Jinder Mahal (with the Singh brothers) vs Finn Balor
Finn wins via pinfall after a Coup de'grace
Apollo Crews came out to help Finn after the Singh Brothers were distracting him.
After the match, Finn is attacked backstage by Drew McIntyre during an interview.
Nia Jax and Tamina vs Ronda Rousey and Ember Moon
Before Ember Moon can come in, Tamina and Nia beat down Ronday.
Ember makes the save before the match officially starts.
Ronda and Ember win via submission after Rousey puts the Arm Bar on Tamina.