WWE Monday Night RAW Live Results: Lana and Rusev to Get Divorced Tonight?
It's the last Monday Night RAW before the TLC show and WWE will continue to build towards the final pay-per-view of 2019.
One of the A-storylines on RAW is the deterioration of Rusev and Lana's marriage. After weeks of belittling and arrests, the divorce of Lana and Rusev will supposedly go down on Monday night.
According to the official WWE preview page, here's what's expected to go down.
"After weeks of psychological warfare, marital strife, extraneous make out sessions, restraining orders and arrests, Rusev and Lana will finally divorce on this week's Raw. On paper (so to speak), this should be a net positive for both: Now, Lana is free to cavort with Bobby Lashley as much as she likes, while Rusev can start his own life anew free from his less-than-blessed union. Theoretically, this could all go down smoothly and without incident. But nothing has been quite so simple with these two for a time now. Strap in and get ready."
As for in-ring action, Rey Mysterio is putting his US Championship on the line against AJ Styles. Mysterio took it off of Styles a few weeks back, but now Styles and The OC look to regain their gold tonight. Can Mysterio defeat Styles again or will Gallows and Anderson help put the top singles title (at the moment) back on "The Phenomenal One."?
Styles will also have to worry about Randy Orton who RKO'd AJ out of nowhere last week.
WWE fans are also curious to see how the whole Seth Rollins and Authors of Pain story plays out. Kevin Owens seems to think that they are working together but "The Architect" is adamant that's not the case. Will we find out more about AOP's motives?
Here's everything that happened on the December 9 episode of Monday Night RAW.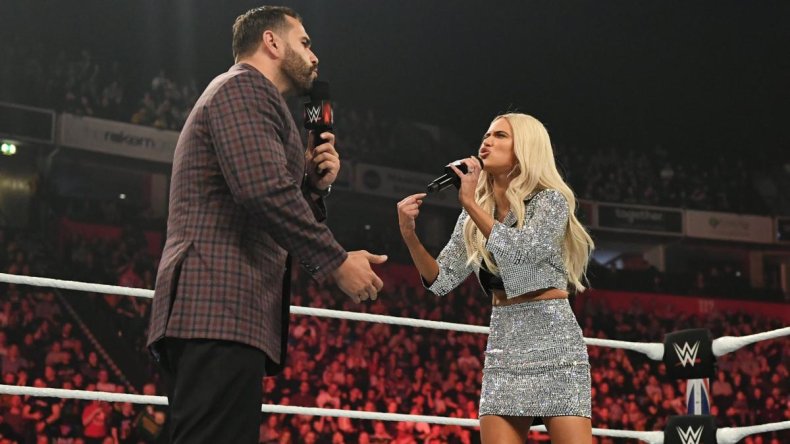 WWE MONDAY NIGHT RAW RESULTS
Lana and Rusev Segment
Jerry Lawler is presiding over the precedings. Lana comes out with a lawyer and reveals that the restraining order is on hold for this segment. Rusev comes out with a smile.
Lana says that she used to love Rusev even when the WWE Universe didn't. She says that Rusev's success got to his head.
Rusev says Lana needs to calm down and that he's the one that needs protection these days. He shows what happened last week when Lashley and Lana were arrested on the titantron.
Lana says that Rusev will never find anyone who loves him like she did. She keeps calling him selfish and that Rusev should have chose her over Rusev Day.
Rusev says that this whole thing is getting ridiculous and that they should sign the divorce papers. Lana signs them first and Rusev is about to sign them when he stops. He says he wants something from Lana before he does.
Rusev says he wants a match with Bobby Lashley. Bobby comes out and agrees to a match and the two start to fight. The segment ends with Rusev putting Lashley through the table.
Kevin Owens Interview
He's asked why the AOP attacked him. He says it's because Seth Rollins told them to. He was the only one to stand up to Rollins when he had his town hall meeting.
He got away from the AOP last week and now he's going to look for them
KO walks backstage and runs into Rey Mysterio. He says that he has KO's back against AOP. Owens says he got it, but Rey gives him the steel pipe he used against Lesnar.
Matt Hardy vs Drew McIntyre
Before the match, Drew gets on the mic and makes fun of Hardy and his newborn son. Matt attacks Drew before the bell when RAW goes to commercial.
McIntyre wins via pinfall after a Claymore
Charlotte and Becky Segment
Earlier in the evening, Charlotte approaches Becky in the locker room and asks to team up against the Kabuki Warriors for the titles. Lynch says no because she has a handicap match with them tonight to collect an old debt.
Backstage
Kevin Owens is walking backstage when he asks Mojo Rawley where AOP went. Rawley doesn't give him a straight answer causing KO to slap him and walk away.
Viking Raiders Promo
They say they've been looking for worthy opponents but all they only found victims. They announce an open challenge to any team in the back for the RAW tag team championships.
Street Profits accept the challenge
Viking Raiders (c) vs Street Profits - RAW Tag Team Championship Match
Viking Raiders won via pinfall after a Viking Experience
After the match, Viking Raiders give Street Profits a fist bump
Seth Rollins comes out and says he has something to say and both teams can stay and listen.
Street Profits leave first and then the Viking Raiders leave.
Rollins calls out the AOP to fight them when KO comes out instead. Rollins tells KO to put the pipe away. KO says the pipe is for the AOP and asks Seth when AOP are coming. Rollins says he doesn't know when they are coming when the AOP arrive to the arena.
Kevin Owens Promo
KO says that he can take out Seth now. Rollins says that since KO won't listen he's going to do the right thing and leave.
KO says that he'll take care of Seth after the AOP when the Authors of Pain show up on the titantron and say something to Owens in their native languages before leaving.
Sami Zayn comes out with Mojo Rawley. He says he has a manager's license which allows him to move between SmackDown and RAW. He says what KO did to Mojo backstage was out of line. Mojo takes the mic from Sami and says that anyone is tough with a pipe in their hands. Zayn tries to warn Mojo but Rawley continues to talk tough.
KO says they should test this theory and hands Mojo the pipe and hits him with a stunner.
Aleister Black vs Akira Tozawa
Black wins via pinfall after a Black Mass
Humberto Carrillo Interview
Carrillo is asked about his recent rise when Andrade comes out and the two yell at each other. They agree to have a match tonight.
Liv Morgan Vignette
The Liv Morgan makeover is coming soon
Andrade (with Zelina Vega) vs Humberto Carrillo
Carrillo wins via pinfall after a roll up
Finish was set up when Zelina got on the apron and Andrade hits her off causing the distraction.
After the match, Andrade blames Zelina
Zack Ryder (with Curt Hawkins) vs Buddy Murphy
Murphy wins via pinfall after a Murphy's Law
Backstage
Kevin Owens is still looking for AOP when he sees the car they came in. He takes the pipe to it. He opens the back to see someone there but before he can find out, AOP jumps KO. After Owens is beat down, Seth Rollins comes out of the truck and Stomps KO.
Seth Rollins Promo
He asks the crowd what they want from him. He says he fights through injuries and he does it for the people and they still turn on him. He says the truth isn't good enough for the fans and that they jumped on the "flavor of the month" in Kevin Owens.
Rollins says that he had nothing to do with the AOP and that is the truth. He says he beat Lesnar twice to bring back the Universal Championship and it was still not enough. And that's why he aligned with the AOP.
Becky Lynch vs The Kabuki Warriors
Lynch wins via disqualification after Asuka hits Becky with a chair
After the bell, the Kabuki Warriors put Becky through the table
Backstage
Charlotte approaches Becky in the trainer's room and asks again. Becky agrees as long as she gets her hands on Asuka. Charlotte leaves but is attacked by the Kabuki Warriors
Erick Rowan vs Local Enhancement Talent
The jobber takes Rowan's cage and puts it on the apron. Rowan chases after him, but the jobber goes into the ring hoping to get a count out victory.
Backstage
Charlotte is in the trainer's room with Becky when Lynch asks if they want to challenge the Kabuki Warriors. Charlotte says yes and suggests they up the ante. Becky says it'll be in a TLC match.
Rey Mysterio (c) vs AJ Styles - US Championship Match
Mysterio wins via pinfall after a roll up
Finish was set up when Randy Orton comes into the ring, causing Styles to not pin Rey when it looked like he was going to win.
WWE Monday Night RAW Live Results: Lana and Rusev to Get Divorced Tonight? | Sports