WWE Monday Night RAW Live Results: Randy Orton to Explain Attack on Edge
Despite the storm in Salt Lake City, WWE's Monday Night RAW is going on as planned as the promotion builds toward the Super Showdown event in Saudi Arabia later this month.
According to the official RAW preview, Randy Orton is scheduled to address his actions against the returning Edge from last week. After Edge made a surprise return at the Royal Rumble, Orton took out his former Rated RKO teammate out with a chair and, in storyline, injuring the WWE Hall of Famer.
What will Orton say tonight and how will the rest of the RAW locker room respond?
In regards to Super Showdown, a triple threat match to determine Brock "The Beast" Lesnar's opponent at the Saudi Arabia show will go down tonight. Ricochet, Seth Rollins and Bobby Lashley are scheduled to face off to get the chance at Lesnar and his WWE Championship.
Ricochet will try and get another crack at Lesnar after The Beast humiliated him the week of the Royal Rumble. The WWE's resident superhero did get some revenge during the Royal Rumble match when he hit Lesnar in the groin allowing for eventual winner Drew McIntyre to knock him out of the ring.
Lashley has been feuding with Rusev in recent weeks so that may play into this match while Rollins has been feuding against both Kevin Owens and Samoa Joe. Who will win tonight to move on to Super Showdown against Lesnar?
Liv Morgan defeated Lana last week, but fans will see a rematch tonight as Lana looks to get a win back. Will this feud get more personal or will Morgan be able to leave Lana in the rearview and move on?
Here's everything that happened during the February 3 episode of Monday Night RAW.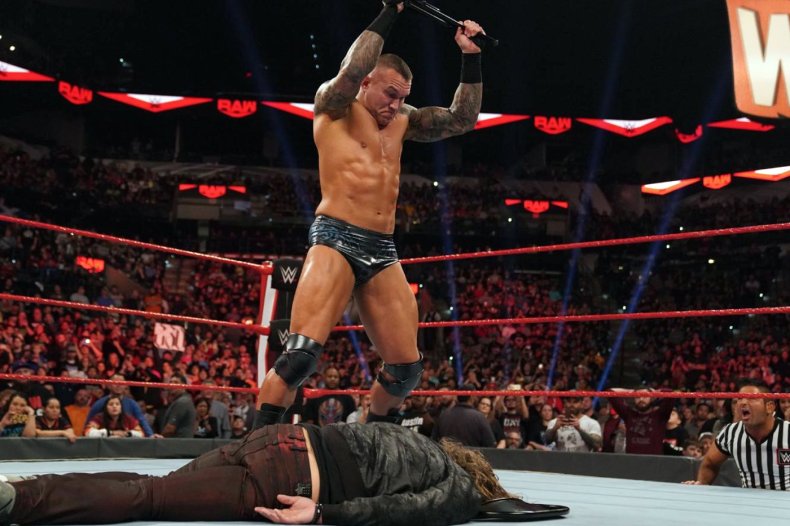 WWE MONDAY NIGHT RAW RESULTS
Opening Segment
After an extended recap package of Randy Orton's attack on Edge, Orton comes out to address the crowd.
Orton tries to start his promo, but with the crowd booing he says he can't do this and leaves the mic in the middle of the ring and leaves to the back to a chorus of boos.
Lana vs Liv Morgan
Lana wins via pinfall after her middle rope Flatliner finisher.
After the bell, Ruby Riott returns and attacks Liv Morgan. Lana laughs and when Riott leaves, hits Morgan with her finisher.
Drew McIntyre vs Mojo Rawley (with Riddick Moss)
Before the match, McIntyre thanks the Salt Lake City crowd for making it to RAW. He then tells Mojo that when the bell rings he's going to Claymore his head off. He then wants to talk about Brock Lesnar. He says that Lesnar attacked him last week because he knows that he's just as big and dangerous as him. He then scoffs that he forgot that Mojo is there and calls for the bell.
McIntyre wins via pinfall after a Claymore in less than three seconds.
This was not for the 24/7 Championship, so there was no title change
Backstage Interview
Charlie Caruso asks about Buddy Murphy and AOP's strategy against Kevin Owens and the Viking Raiders.
Murphy says they already won because they are on the right side of history. And that they work smarter not harder.
Seth Rollins comes in and tells Murphy and AOP to go and get ready for their match. Rollins says last week he got eliminated at the Rumble and he now has a second chance. He's beaten Lesnar twice and Drew McIntyre needs to start preparing for a new WrestleMania opponent.
Kevin Owens and Viking Raiders vs Buddy Murphy and AOP (with Seth Rollins)
Buddy Murphy eliminates Erick after Seth Rollins hits The Stomp on him on the outside while the referee was distracted
Ivar is sent to the back after hurting his shoulder on the LED board on the apron.
Kevin Owens eliminates Buddy Murphy after a Pop Up Powerbomb
Owens eliminates Akam after a Stunner
Razar eliminates Kevin Owens after two Spinebusters - the finish was set up when Rollins distracted Owens
Ricochet Interview
Ricochet is asked about his number one contendership match later tonight. He says that it means everything to him and that he will make the most
Aleister Black vs Eric Young
Black wins via pinfall after a Black Mass
After the match, Black says that children are told that they can be anything when they grow up but that's not authentic. He wants everyone to be who they want, but he's going to start being who he wants.
Humberto Carrillo Segment
Zelina comes out with Angel Garza and says that she's found Carrillo's weak spot. It's his family.
Garza says he's the leader of their family and Humberto should listen to him. He says that what Carrillo did last week was a disgrace to not just their family but to Latinos. Carrillo grabs the mic and starts to talk when Garza attacks him.
Garza ends the segment with the Wing Clipper. He then tosses Humberto outside. Zelina pulls the mat off to expose the concrete and Garza is about to hit his cousin on it when Rey Mysterio comes out for the save.
Angel Garza (with Zelina Vega) vs Rey Mysterio
Mysterio wins via disqualification after hitting Mysterio with the DDT on the concrete
Charlotte Flair Promo
Charlotte says she's been RAW and SmackDown women's champion multiple times and beaten Becky Lynch and Bayley already. The crowd chants for Rhea, but Charlotte says that she has love for NXT and they have love for their queen.
Rhea comes out and says that Charlotte can challenge anyone. She brings up how she actually beat Charlotte, and then tries to get her to challenge her.
Charlotte doesn't respond, instead she walks up the ramp and gives a wooo
Bobby Lashley Interview
Lashley says he's going to earn the opportunity he's been waiting for since he returned to WWE. And he's going to win tonight and then defeat Lesnar at Super Showdown. And then he's going to retain against McIntyre at WrestleMania.
Asuka (with Kairi Sane) vs Natalya
Asuka wins via submission after an Asuka Lock
Finish was set up when Kairi distracted Natalya, allowing Asuka to cinch in the submission.
After the match, Asuka calls out Becky Lynch and says she wants a rematch for the RAW Women's Championship
Becky Lynch comes out - with sunglasses - and says that after ducking her for a whole year, Asuka wants to fight her again. Lynch says that after defeating Asuka at the Rumble, she feels like she has super powers and she would do it again. She questions why she would put up her title so close to WrestleMania, and that's because she wants to beat her again.
Kairi tries to attack Becky from behind, but Lynch takes her out of the ring before walking up the ramp.
It's announced that Charlotte will be on NXT this Wednesday to answer Rhea's challenge.
Seth Rollins vs Ricochet vs Bobby Lashley
Before the match, Rollins gets on the mic. He tells the audience to applaud the AOP and Buddy Murphy on their victory earlier in the evening. He says that it's his turn to defeat Brock Lesnar again. The crowd cheers, and he points out that last year he got a different response. He says he promised he'd defeat Lesnar at WrestleMania and he delivered.
He says that he defended the title all over the world and the crowd crucified him. Seth says that he doesn't hate the fans for it, he says thank you because he's the man he is today because of them. He'll defeat Lesnar again because he is the Monday Night Messiah
It's announced that the RAW Women's Championship match between Becky Lynch and Asuka will go down next week on Monday Night RAW.
During the match, Murphy and AOP come out to take out Lashley and Ricochet. Kevin Owens and Erick from the Viking Raiders take out Murphy and the AOP.
Ricochet pins Lashley after a 630
Brock Lesnar runs out immediately after to hit Ricochet with an F-5 to end RAW.