WWE Monday Night RAW Live Results: Becky Lynch Comes Face-to-Face with Stephanie McMahon
It's a long road to WrestleMania, but WWE continued to lay the foundation for the April show on the February 4 episode of Monday Night RAW.
Last week, the post-Royal Rumble show saw a stare down between Becky Lynch and RAW Women's Champion, Ronda Rousey and Seth Rollins picking Brock Lesnar as his WrestleMania opponent. This week will continue those feuds as the company builds up to their marquee event of the year.
According to WWE.com, Stephanie McMahon has invited Becky Lynch to Monday Night RAW to talk about her upcoming match with Ronda Rousey. What does Stephanie have to say? How will Becky respond?
Kurt Angle is also set to address the WWE Universe about his future on Monday. Following his defeat to Baron Corbin last week, fans should be interested to hear what the former WWE Champion has to say.
In the ring, the Elimination Chamber qualifying matches continue as Bayley and Sasha Banks take on Nikki Cross and Alicia Fox to earn a spot in the match that will crown the first Women's Tag Team Champions.
Nia Jax and Tamina, Liv Morgan and Sarah Logan, The IIconics, and Mandy Rose and Sonya Deville are confirmed for the match.
Finn Balor and Intercontinental Champion, Bobby Lashley will square off on Monday night. Lashley took Balor to task last week over his poor Rumble performance, and now Finn is looking for retribution. A win tonight will help Balor earn a chance at the IC strap.
And finally, Elias will go one-on-one with WWE Hall of Famer, Jeff Jarrett. With Road Dogg in his corner, Double-J may have a shot at defeating Elias.
There's a lot expected to go down on the February 4 episode of Monday Night RAW. here's everything that happened.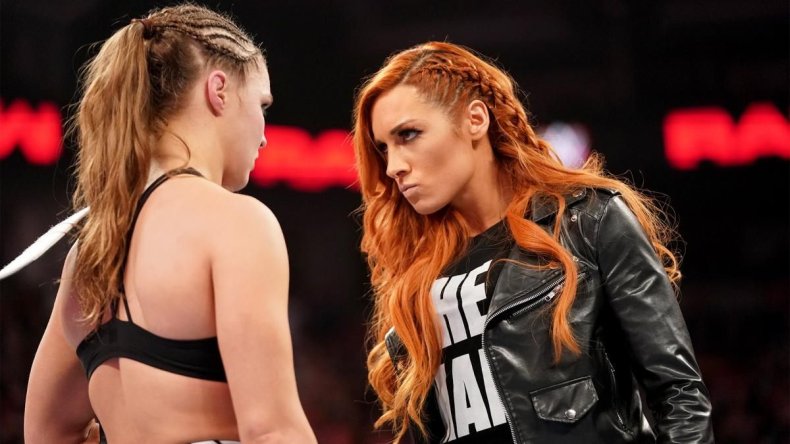 MONDAY NIGHT RAW LIVE RESULTS
Opening Segment
Stephanie McMahon is in the ring when Becky Lynch comes out to interrupt her.
Steph says that she wants to see Becky beat Ronda Rousey, but points out Lynch's knee brace and asks about her leg.
Becky says she's fine and doesn't want to be evaluated by a doctor.
Stephanie brings up the night Becky and the SmackDown women invaded RAW and was injured by Nia Jax, and she can't let her compete if she isn't cleared by the medical staff.
Becky says she sees what Stephanie is doing because she wasn't the "plan" for WrestleMania. She says Stephanie doesn't know anything about struggle and that she's just trying to stop her from winning everything.
Stephanie says that it's a liability and that she and everyone else wants to see her and Ronda Rousey at 'Mania. All Becky has to do is see the doctor. If she doesn't Becky will be suspended until she does.
Becky says that if Stephanie suspends her, she can't be held accountable for her actions.
Stephanie gives her one more chance, but Becky refuses. Stephanie suspends her, and Becky hits her in the face and is about to put her in the Disarm-her, but the injured knee doesn't allow her to. Security comes in and has to separate Becky from Stephanie.
Backstage
Becky is escorted out, and crosses paths with Ronda Rousey.
Ronda calls Becky unprofessional because she is jeopardizing their match and WrestleMania. She tells Becky to rest up so she can beat her at 'Mania.
Ronda Rousey vs Liv Morgan (with Ruby Riott and Sarah Logan)
Rousey wins via submission after an Armbar in a very quick match
After the match, Ronda asks for another fight against one of the other Riott Squad members. Sarah Logan answers the challenge.
Rousey wins via submission after an Armbar in a more competitive match.
After the match, Ruby Riott gets on the apron and teases going in to face Ronda but she doesn't and the Riott Squad leaves.
Backstage
Ruby Riott is asked why she didn't fight Ronda. Ruby says that Sarah and Liv are too hurt and she has to tend to them, but she will take the title away from Ronda before WrestleMania. She calls Ronda an opportunist.
Bayley and Sasha Banks Interview
Charlie asks how both of them failing to defeat Ronda Rousey will affect their tag team match tonight.
Bayley says that it's in the past and tag team wrestling is different. Sasha says the Boss n Hug Connection deserve to win the tag titles.
They are approached by Alicia Fox and Nikki Cross. Nikki says that Alicia Foxx has embraced the chaos and that chaos is fair.
Heavy Machinery vs Lucha House Party (Gran Metalik and Lince Dorado) vs B-Team vs The Revival
Winner becomes the number one contender for the RAW Tag Team Championships
The Revival win via pinfall after a Shatter Machine on Bo Dallas.
Backstage
Zack Ryder tells Curt Hawkins not to be upset that they weren't in the match.
Curt says that he's cursed and that Zack should go elsewhere. Ryder says that he's a loser too because WWE spelled his name wrong, but he will help Curt end his losing streak.
Kurt Angle Announcement
Kurt lists off his accomplishments but he's fallen on hard times lately. He's been beaten by both Drew McIntyre and Baron Corbin, and although he's beaten a lot of people he can't beat Father Time.
He's interrupted by Baron Corbin, who asks what he wants. Does Kurt want the WWE Universe to feel sorry for him? He calls him a broken down old man, when Kurt challenges Corbin to come into the ring and see what happens.
Drew McIntyre joins Baron Corbin on the ramp. He says that Kurt used to be a threat but he's nothing now. Drew says that he and Corbin will beat him down and this will be the last time the WWE Universe sees him.
Braun Strowman comes out for the save and starts to fight McIntyre. Angle throws Corbin out of the ring. Angle and Strowman chase Drew and Corbin away.
Sasha Banks and Bayley vs Nikki Cross and Alicia Foxx
Winner qualifies for the tag team Elimination Chamber match for the tag team championships.
Before the match, Cross and Foxx jump Banks and Bayley on the ramp.
Bayley pins Alicia Foxx after a roll up.
Backstage interview
Apollo Crews is asked about Kurt Angle's announcement. Crews says that Angle is allowed to have some bad matches and of course he has a chance against Drew McIntyre and Baron Corbin.
He's interrupted by Drake Maverick and Rezar who make fun of Apollo.
Elias vs Jeff Jarrett
Road Dogg comes out and does his old New Age Outlaws promo and introduces Jeff Jarrett.
The two sing "With My Baby Tonight" - and get through it - before Elias comes out and run down both wrestlers and the town.
Elias wins via pinfall
After the match, Road Dogg attacks Elias and JJ hits him over the back with a guitar.
Backstage
Natalya is getting ready when she's approached by Dana Brooke.
Dana apologizes for losing the match last week. Natalya appears to be ignoring her, and Dana says she's going to get a match against her next week.
Dana storms out and it's revealed that Natalya had air pods in her ears.
Finn Balor vs Lio Rush
Bobby Lashley says that he can't compete with him, but he can fight with someone his own size. So if Finn entertains Lashley enough in this match, he may give Balor a title shot.
Before the bell rings, Lashley beats down Balor and attacks the already injured ribs.
During the match, Lashley is sent back to the locker room.
Balor wins via pinfall after a Coup de Grace.
Paige Promo
Paige appears to plug her movie, Fighting with my Family.
Moment of Bliss Segment
EC3 is Alexa's guest
Alexa asks EC3 whether he'll be on RAW or SmackDown but is interrupted by Nia Jax and Tamina.
Nia wants to talk about how she was in the men's Royal Rumble or how she and Tamina qualified for the Tag Team titles. She's interrupted by Dean Ambrose.
Ambrose says that it's obvious that Nia has a crush on him. Ambrose asks who EC3 is and before he can talk, Dean knocks the mic out of his hand. He asks EC3 a bunch of questions but doesn't let him answer until EC3 hits Ambrose and walks to the ring.
Dean Ambrose vs EC3
EC3 wins via pinfall after a jackknife cover.
Mojo Rawley Vignette
Drew McIntyre and Baron Corbin vs Kurt Angle and Braun Strowman
Corbin and McIntyre win via disqualification after Strowman continued to hit Baron when he wasn't the legal man.
After the bell rings, McIntyre hits Strowman with the Claymore into the crowd. McIntyre and Corbin were going to chokeslam Angle onto the steel steps, but Strowman saves him and the two stand tall.