WWE Monday Night RAW Live Results: Brock Lesnar to Cash-In on Seth Rollins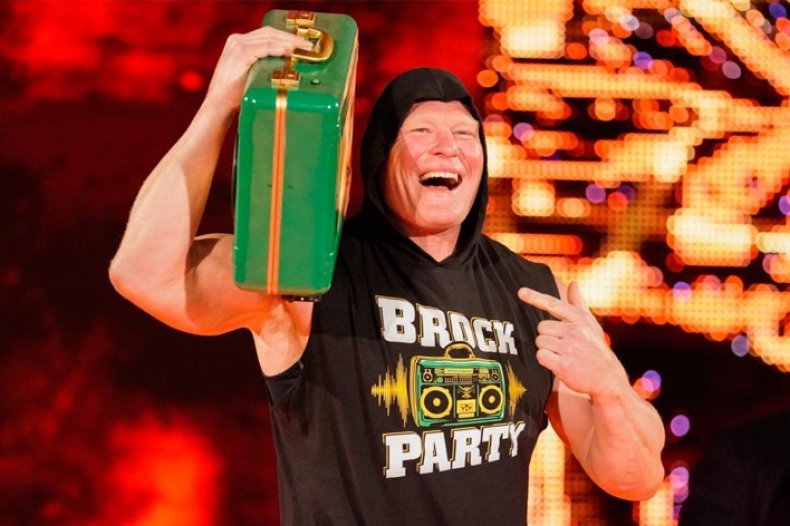 It's the final Monday Night RAW before the Super Showdown event in Saudi Arabia and WWE is pulling out all the stops to make it an intriguing go-home show.
The first order of business concerns Money in the Bank briefcase holder, Brock Lesnar, whose advocate Paul Heyman announced via Twitter that Brock would cash-in on Universal Champion, Seth Rollins tonight. Heyman could be pulling everyone's leg, but Seth Rollins will have to look over his shoulder for three hours to stay ready for the cash-in.
Undertaker is set for an in-ring return at Super Showdown when he goes up against Goldberg for the first time. With just a few days to build hype for their match, The Dead Man is scheduled to appear on Monday Night RAW. Undertaker has not wrestled since the Crown Jewel event in Saudi Arabia last November and hasn't appeared on WWE television since the Monday after WrestleMania.
The feud between Roman Reigns and Shane McMahon continues as The Big Dog teams with The Usos to take on Drew McIntyre and The Revival. Roman looks to capture the momentum before his match with Shane on Friday, even though you know there will be others (like Drew and Elias) who will try to help their boss pick up the victory.
It was announced last week that Rey Mysterio will have to relinquish the U.S. Championship when he separated his shoulder against Samoa Joe at Money in the Bank. Joe says that he should be crowned US Champion again since his shoulders were up when the referee counted the three. But it's never that easy in the WWE so the fate of the title may be determined on Friday.
Here's everything that went down on the June 3 episode of Monday Night RAW.
MONDAY NIGHT RAW LIVE RESULTS
Opening Segment
Roman Reigns comes out to start the night but before he can say or do anything, Shane McMahon comes out. He says he can't wait to shut Roman up this Friday.
Roman says that Shane doesn't stand a chance with him. And he only survives by relying on guys like Drew McIntyre. So when he defeats Shane on Friday, he'll take out Drew at Stomping Ground.
Drew McIntyre comes out and says that at Stomping Ground he will end Roman. He says that he doesn't need his partners and Drew and Shane will take out Roman right now. The Revival jump Roman from behind, which causes The Usos to come out to make the save. This starts the scheduled six-man tag match.
Roman Reigns and The Usos vs Drew McIntyre vs The Revival (with Shane McMahon)
Drew pins Jey Uso after a Claymore.
Shane McMahon got involved when he hit Jey on the top rope while the referee was distracted. Roman went to confront him when Drew hit Reigns with a Claymore taking him out of the match.
After the match The Revival hits Roman with a Shatter Machine and then McIntyre hits a Claymore. Shane then hits Roman with a Spear.
Miz TV with Seth Rollins
Miz brings up how Paul Heyman said Brock Lesnar would cash-in. Rollins says that he is prepared for Lesnar but he doesn't believe what Heyman says.
Miz brings up how he and Rollins won the MITB briefcase in the past and how they cashed-in but Lesnar is a different animal. Rollins says that if Lesnar cashes in he'll be relieved because he doesn't want it looming over him. He wants to focus on his match with Baron Corbin on Friday.
A car is shown pulling into the arena with Heyman and Lesnar coming out. Lesnar stops in front of gorilla position and walks in the opposite direction.
Lucha House Party Segment
Lucha House Party come out for a tag match, but Lars Sullivan comes out instead. Sullivan starts taking them out one by one, but the three wrestlers eventually take Lars out of the ring.
Backstage
Nikki Cross is seen in the locker room looking sad. The IIconics walk up to Nikki and pick on her for being by herself. Alexa Bliss comes out and helps her out. Peyton Royce says she has to get ready for her match against Nikki Cross.
Bliss says that Nikki has been getting close to Becky, although Lynch doesn't like Alexa. But she asks if Nikki wants a coffee. Nikki says that she doesn't care about what Alexa has done in the past, she has been kind to her since even before anyone knew she was on the show. Alexa says she will be in Nikki's corner tonight.
Becky Lynch Promo
Becky says she's done a lot in the past few months and she's the most content she's ever been. But that's the worst thing to have happened to her. She became too content, and that's why Lacey Evans got the jump on her at Money in the Bank. But that moment has awoken something in Becky and that there isn't a woman who can beat her now that she's awake.
Lacey Evans comes out to interrupt. Lacey says she did the WWE Universe a favor. She doesn't want a woman like Becky to represent her women's division and not to confuse her with Charlotte because Lynch isn't in her head.
Charlotte Flair comes out and says that she beat Becky and became the nine-time women's champion. Becky asks where Charlotte's title is now. Lacey asks what she is doing here. Charlotte says she's half way to her dad's championship record and all Lacey has done is make tea. Charlotte says she didn't even need to take her street clothes to take out Lacey.
Lacey says that it doesn't matter about Charlotte's reigns because she doesn't have a title. Lacey then hits Charlotte and a match is started.
Lacey Evans vs Charlotte Flair
Evans wins via disqualification after Becky Lynch hits Charlotte Flair.
After the bell, Lynch hits Evans with the Man-Handle Slam.
Rey Mysterio Segment
Rey comes out with the US Championship and in a sling. Mysterio says that wrestling is in his blood and his family's blood. He says that Dominic is training to be a wrestler, but he must set the right example as a man and as a champion.
Samoa Joe interrupts before Rey can finish. Joe says that Rey is lying because he isn't relinquishing the title because he's injured he's doing it because Joe never lost it. The two start to argue but Rey tells him that this isn't a moment.
Mysterio says that he's won a lot of championships and that he will finish what he's saying. He relinquishes the title to Joe but says he will be back. Rey lays it in the ring and is about to walk out when Joe puts the Coquina Clutch on Mysterio. Joe takes the US Championship and walks to the back.
Braun Strowman vs Bobby Lashley - Arm Wrestling Contest
Strowman gets ready, but Lashley knocks the table down. When they finally start, their hands slip. After chalking up, and a back and forth, Strowman wins.
After it's over, Lashley throws the chalk in Strowman's eyes and hits Braun with a Running Power Slam.
24/7 Segment
Carmella is backstage looking for R-Truth. Drake Maverick, EC3 and a referee stalk Carmella saying she will lead them to Truth.
Nikki Cross (with Alexa Bliss) vs Peyton Royce (with Billie Kaye)
Nikki Cross wins via pinfall after a swinging neckbreaker
The finish was set up when after Alexa got coffee delivered to her ringside, Peyton Royce kicks it out of her hands. Bliss slips on the spilled coffee, and while Royce and Kaye were laughing at Alexa, Nikki got the upperhand.
After the match, Alexa gets in the ring and dropkicks Billie Kaye.
Seth Rollins Promo
Seth says that he knew he would have a bullseye on his back but that's not what's happening with Brock Lesnar.
Lesnar's music hits, interrupting Seth. Brock doesn't come out. Rollins says Brock used to be one of the most feared men on Earth but if there's anything left of that man, he needs to come out.
Baron Corbin comes out instead and says that he will take Rollins' Universal Championship on Friday. Rollins says he has no chance, but Baron says that he retired Kurt Angle and he'll do the same to Seth.
Rollins hits Baron with the mic and the two start to brawl. Lesnar's music hits again, which allows Corbin to hit Seth with the End of Days. Brock finally comes out with a chair.
Lesnar hits Seth with a low blow and then starts to hit Rollins with chair shots and a German Suplex. Paul Heyman asks if Lesnar wants to cash-in now, but Lesnar says no. Brock continues to beat down Seth, even hitting an F-5 on the outside of the ring. Lesnar continues to beat down Seth while ignoring Heyman's pleas to cash-in.
Lesnar tells Heyman he will cash-in on Friday.
Seth is stretchered out of the ring and into an ambulance. Becky Lynch goes with him as they head to a local medical facility.
Triple H and Randy Orton Promo
Triple H comes out to chants of NXT. Triple H says he's here to talk about Randy Orton whose music hits.
Triple H says that people are expecting them to get into it to hype up their match. He says there's nothing we haven't said before that the fans haven't already heard, but he will go to Jeddah to kick Randy's ass.
Randy says he is not Batista. Orton says he's the legend killer and would gladly beat him on Friday and put another notch on his belt.
Triple H says in 20 years that they've done together and to each other. He says that they went to put pressure on him to make him a diamond and that he's one of the best ever. Triple H says that a lot of people tried to put him down, and they are gone and he's still there. And Randy isn't the one.
Randy asks Triple H to promise him one thing, to retrieve his balls from Stephanie's purse. Triple H says that's a good idea, because they are so big and it's hard to carry them around. But Randy wouldn't know anything about it because he never had any.
Firefly Fun House
Baron Corbin Interview
Corbin says Lesnar did him a favor and Seth doesn't stand a chance on Friday
Ricochet vs Cesaro
Ricochet wins via pinfall after a roll up with a bridge
After the match, Cesaro attacks Ricochet. He goes and gets a table, but R-Truth is revealed to be hiding under the ring. Carmella comes out and Ricochet hits Cesaro. The locker room comes out and Cedric Alexander takes everyone out. Drake Maverick confronts R-Truth in the ring when Carmella superkicks him and they run away.
The Undertaker Promo
He says he doesn't want the smiling, family man Goldberg. He wants the iconic, monstrous Goldberg. If he comes with anything less this match will be his last.