WWE Monday Night RAW Live Results: Brock Lesnar Returns and Kurt Angle's WrestleMania Opponent Revealed
Last week's Monday Night RAW advanced a ton of storylines as the WWE Universe gets closer to WrestleMania 35. With just three weeks left until the WWE's biggest show of the year, the March 18 episode of Monday Night RAW should be a memorable one.
Brock Lesnar will return to Monday Night RAW for the first time in months to build towards his Universal Championship match with Seth Rollins. After Rollins told Lesnar's advocate, Paul Heyman, that The Beast has trouble with athletic wrestlers how will Brock respond? And will Seth regret his words?
Speaking of Rollins, The Architect is set to go one-on-one with Drew McIntyre after the Scottish Psychopath laid out both Roman Reigns and Dean Ambrose last week. Rollins looks to repay Drew for his transgressions, but with Lesnar in the building it'll be interesting to see where Seth's focus will be.
Kurt Angle announced his upcoming final match last week and the question of who he will take on at WrestleMania 35 has the WWE Universe speculating. Angle is scheduled to announce his WrestleMania opponent tonight, but will it be any of the men he alluded to?
After an impassioned promo, Dana Brooke is set to get in the ring with RAW Women's Champion, Ronda Rousey. Brooke showed heart, but will it be enough to take out the "Baddest woman on the planet"?
Beth Phoenix is a woman on a mission, as she continues to make life hard for Tamina and Nia Jax. After being taken out during the Fastlane post-match beatdown, Beth and her longtime friend Natalya got revenge by taking it to Tamina and Nia Jax last week. It looks like the "Divas of Doom" are ready to reunite before WrestleMania.
Bobby Lashley shocked the WWE Universe by re-capturing his Intercontinental Championship against Finn Balor last week - thanks to Lio Rush. Now, Finn is set to take on Lashley and Rush in a tag team match but Balor's partner has yet to be determined.
Here's everything that happened on the March 18 episode of Monday Night RAW.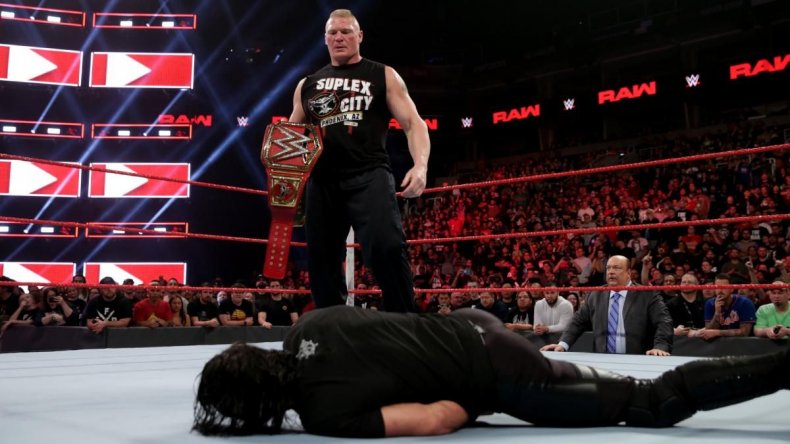 WWE MONDAY NIGHT RAW RESULTS
Opening Segment
Brock Lesnar and Paul Heyman come out to a chorus of boos and "burn it down" chants. Heyman says that what Seth Rollins said last week caused Lesnar to come to RAW. He says that Seth is wrong when he said that Lesnar has a problem with smaller guys.
Heyman lists Lesnar's recent conquests including AJ Styles, Daniel Bryan, and Finn Balor. Heyman says that Seth is a fool to want to say something to Lesnar in the same night as his fight with Drew McIntyre. Heyman puts over Drew McIntyre and asks Seth what is he thinking? This causes Drew to come out.
McIntyre says that it's refreshing to finally get the respect he's earned in the WWE. McIntyre says that once he's done with Seth, Rollins won't even make WrestleMania. Seth comes down the ramp and hits Drew with a few chair shots. Rollins then looks at Brock in the ring and gets in with a chair. Lesnar steps out of the ring and laughs. Rollins eggs him to get in the ring, but Heyman convinces Lesnar to not go in there and to wait for WrestleMania. Heyman and Lesnar walk up the ramp and leave.
Finn Balor/Braun Strowman vs Bobby Lashley/Lio Rush
Before the match, Finn says the luck of the Irish wasn't with him when he lost to Lashley last week. But he says he doesn't plan on being a "former" champion for too long, however, Bobby and Lio interrupt Finn.
Lio says that Finn is upset because Bobby has his pot of gold around his waist. Finn says that he plans on getting his title back, but Lio will remember his partner. Braun Strowman comes out.
Before the finish, Bobby Lashley walked out on Lio because Braun Strowman was taking him and Lio out.
Strowman pins Lio Rush after a Running Power Slam
Backstage
Ronda Rousey coems in with her husband. Official John Cone tells Ronda that she's late and management has deemed it necessary for security to accompany him. Ronda uhuhs him and walks away.
Moment of Bliss with Elias
Alexa says that the only one who is worthy of hosting WrestleMania 35 is her.
Alexa reassures Elias that no one will interrupt his announcement. Elias announces he will be the musical acte at WrestleMania 35.
Elias says that last year serves as motivation for this year. He says that whoever dares to interrupt him at this year's 'Mania they will - and No Way Jose's music hits and interrupts him. Heavy Machinery is part of the conga line.
Alexa Bliss says she invited the conga line as a gag but they showed up too early. Elias gets in Otis' face but is jumped by No Way Jose who was disguised in the conga line.
Elias vs No Way Jose
Elias pins No Way Jose with a Drift Away
Kurt Angle Announcement
Angle confirms that Baron Corbin will be his WrestleMania 35 opponent. He then has a match with Chad Gable. Gable is in a singlet, similar to what he wore with American Alpha.
Kurt Angle vs Chad Gable
Angle wins via submission after an Ankle Lock
After the match, Corbin comes out to talk trash to Angle and say that the WWE Universe will only remember Angle's last match, which will be a loss to him.
Backstage
Corbin laughs at Kurt Angle with The Revival when Apollo Crews walks up to him. He asks for a match with him, and Corbin eventually gives him the match. Apollo says that's why no one likes Corbin, because he's difficult. Corbin asks if The Revival like him, and the RAW Tag Team Champions laugh and walk out.
Sasha Banks and Bayley Interview
They are asked why they haven't appeared on SmackDown Live despite the challenge the IIconics laid down. Bayley says they will go to SmackDown tomorrow and that they will accept any challenge from anyone.
They are interrupted by Natalya and Beth Phoenix. Beth says she respects Bayley and Sasha and that she was content in her new role as commentator. But what happened at Fastlane woke up the dragon and that maybe she and Natalya's dream can still come true. Beth says she is ready to step out of retirement, team up with Natalya and fight for the Women's Tag Team Championships at WrestleMania 35.
Bayley says that it would be a huge honor, but she asks if Beth would need more time to prep and that the competition now has evolved. Natalya says that this is where Beth won her first title, and that she's a hall of famer. Sasha says that Natalya is only riding Beth's coattails to get to WrestleMania. Natalya slaps Sasha and the two men get into a scrum. Beth pulls Sasha off of Natalya and Bayley gets in Phoenix's face. Beth pushes Bayley.
Natalya vs Sasha Banks
In the middle of the match, Nia Jax comes out to talk trash to Beth. But this was a distraction for Tamina to hit Superkicks on Beth, Bayley and Sasha, causing a disqualification.
Mojo Rawley Segment
Mojo is talking to his reflection and says that he has this untapped potential and he needs to figure it out. He repeats figure it out a few times.
Ricochet vs Jinder Mahal (with the Singh brothers)
Ricochet pins Jinder after a 630.
Ronda Rousey (c) vs Dana Brooke - RAW Women's Championship Match
Before the match, Dana is interviewed and is asked if she knows what she's doing. Dana says she can do it because it's the Road to WrestleMania and that's where dreams become reality.
Ronda wins via submission after an Arm Bar.
Ronda refuses to let go of Dana Brooke and pushes a referee when they try to get her off. She walks up to her husband at ringside and she destroys a member of security, even her husband gets involved and throws an elbow. The two leak through the crowd to the back.
Baron Corbin vs Apollo Crews
Crews pins Corbin after an Inside Cradle
Batista Interview
Batista is live from his home in Tampa. He's asked why he doesn't like Triple H.
Batista says he just doesn't and that since he left he wanted to fight him one more time. He's asked if it goes back to their days in Evolution. Batista says it goes back before then, and that all Triple H did was groom him to be his muscle. Triple H brings people in to make him look good, he did it all his career.
He's asked if he blames Triple H for him quitting in 2010. Batista says yea he does, and that Triple H was jealous and insecure. He says that Triple H felt that Batista wasn't big enough for the company. Batista says look what he's accomplished since he left WWE. He's become a movie star. He vows to end Triple H's career.
Braun Strowman Interview
Strowman is asked about his ordeals with the SNL guys. Alexa Bliss comes in and says that as the host of WrestleMania she wants to have everything go off without a hitch. She wants to broker peace between the three of them.
Strowman agrees to Alexa's terms, but if it doesn't work then they will get these hands.
Drew McIntyre vs Seth Rollins
Before the match, Drew rolls the tape on what he did to Roman Reigns last week. He says that RAW is his yard now. He calls out Joe, not Roman, and says he challenges him to a fight at WrestleMania 35. He begs Roman to not accept the challenge because what he will do to him at 'Mania will hurt him. He begs Roman to choose his family and not the WWE Universe who don't care about him.
Seth comes out and the two brawl on the ramp before the match begins.
Before the finish, Brock Lesnar and Paul Heyman comes out to distract Seth when he was about to hit the Stomp.
McIntyre pins Rollins after a Claymore Kick.