We're less than two weeks away from WrestleMania 35, and Monday Night RAW continues to build key feuds and matchups.
Drew McIntyre looks to continue his rampage against the former members of The Shield and assert himself as the top heel of RAW. After taking out Roman Reigns and Dean Ambrose two weeks ago, and Seth Rollins last week - thanks to a timely distraction from Brock Lesnar - McIntyre waits for "The Big Dog" to answer his WrestleMania challenge. Will Roman be able to go toe-to-toe with The Scottish Psychopath? We'll likely find out tonight.
The Women's Tag Team Championship scene is getting crowded now that three teams have staked claim to a title match. Nia Jax and Tamina continue to try and dominate the competition, while Natalya and Beth Phoenix want a shot at Sasha Banks and Bayley, not to mention The IIconics pinning the champs on SmackDown Live. With these three teams vying for a chance at the titles, who will become the number one contenders?
Kurt Angle is getting ready for his final match in the WWE at WrestleMania 35 by facing some of the brand's best and brightest. Angle already took down Apollo Crews and Chad Gable in consecutive weeks, but who the former Olympian take on tonight? With his match against AJ Styles set for tomorrow, Angle's list of prospective opponents can include just about anyone.
WWE confirmed the first-ever WrestleMania main event to feature women superstars will go down this April, so fans can expect the story of Ronda Rousey, Charlotte Flair and Becky Lynch to continue on RAW. Ronda's mean streak is getting longer each week, so what will "The Baddest Woman on the Planet" do next?
There's plenty expected to go down this Monday night. Here's everything that happened on the March 25 episode of Monday Night RAW.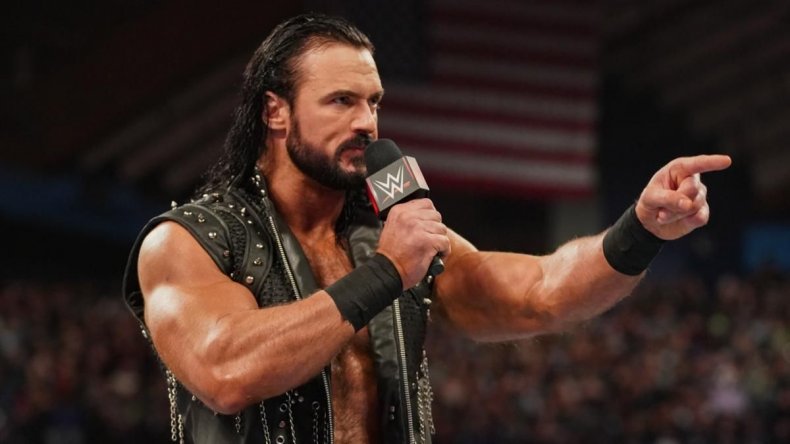 WWE MONDAY NIGHT RAW LIVE RESULTS
Opening Segment
Ronda Rousey comes out with the crowd chanting "we want Becky." Ronda reiterates the news from earlier that the women will main event WrestleMania for the first time. She says "you're welcome" and that she will tap out both Charlotte and Becky at the same time. She concludes by saying she doesn't know what a "Beat the Clock Challenge" is and wants to get this gimmick over with.
Ronda Rousey vs Sarah Logan - Beat the Clock Challenge
Before the match, Becky Lynch comes out and says that she saved Ronda's title run and that she's the best thing to happen to her.
Charlotte Flair is next to come out and says they are main eventing WrestleMania because of what she's done the last seven years. She was hand-picked for a reason.
Ronda wins via submission after an Arm Bar - time is 1:25
Charlotte Flair vs Ruby Riott - Beat the Clock Challenge
Charlotte puts Ruby in the Figure Eight but Ruby doesn't tap before time runs out.
Becky Lynch vs Liv Morgan - Beat the Clock Challenge
Before the match, Charlotte delivers a kick to Becky.
Lynch pins Morgan with a Jackknife cover with 7 seconds left.
Finn Balor vs Bobby Lashley and Jinder Mahal - Handicap Match
If Balor wins, he becomes number one contender for the Intercontinental Championship
Before the match, Rush says that Finn's Road to WrestleMania runs through them and that Balor should have quit. Rush announces that because of the tag team match against Balor and Braun Strowman last week, Lashley will team up with Jinder Mahal.
Balor wins via pinfall after hitting Jinder with a Coup de Grace.
After the match, Lashley takes out the Singh Brothers and Jinder Mahal.
Elias Promo
Elias is in Times Square hyping up his musical performance at WrestleMania 35. A guitarist on the street comes up and strums a few chords. Elias stops him and asks if he can sing, the man can sing well but Elias stops him again and tells him to leave.
Aleister Black and Ricochet vs The Revival
Ricochet pins Wilder after a 630
Drew McIntyre Promo
Drew says he doesn't care if the crowd likes him, but they will respect him. He says a week is a long time for an answer from Roman Reigns and replays what happened the last two weeks. He pleads with Roman to turn down the challenge because his family has gone through enough. Drew threatens to stay in the ring all night until he gets an answer.
Roman comes out and accepts Drew's challenge. He says these next words aren't from Roman, and tells Drew never to talk about his wife and kids before he punches him. Roman has the upperhand until Drew hits him with a lowblow. McIntyre uses the opportunity to hit Roman with the Claymore.
Backstage
McIntyre is walking backstage and runs into Dean Ambrose. Ambrose challenges McIntyre to a Last Man Standing match. Drew says he doesn't know how Ambrose is standing after their match two weeks ago, but Dean won't be after tonight.
Sasha Banks (with Bayley) vs Natalya (with Beth Phoenix)
Banks wins via disqualification after Nia Jax and Tamina interfere.
Beth Phoenix clears the ring and hits Tamina with the Glam Slam. Beth and Natalya stare at Bayley and Sasha.
Kurt Angle Interview
Angle says that he's been honored to face off against Apollo Crews and Chad Gable. And he will be ready for Baron Corbin at WrestleMania.
Corbin comes in and says that Angle's retirement match will be ruined by him. Kurt says "screw you" and walks away.
Backstage
Bayley and Sasha Banks are stopped by Charlie Caruso. Sasha says that if they all want to come for their titles, they will face them all at WrestleMania.
Moment of Bliss
Alexa takes credit for the women main eventing WrestleMania because she's hosting. She shows clips of the interactions between Braun Strowman and Colin Jost. Strowman is Alexa's guest.
Alexa asks what will happen if Michael Che and Colin get those hands. Braun Strowman says it's the thought that counts. Alexa brings on Michael and Colin via satellite. They try to talk it out with Braun but Colin makes it worse. Braun says that they will be squared if Colin enters the Andre the Giant Battle Royal. Colin agrees if Michael also enters and Alexa makes it official.
Baron Corbin vs Apollo Crews
Corbin pins Apollo after an End of Days
After the match, Corbin hits Apollo with another End of Days
Seth Rollins Promo
Seth says that Brock and him are not cut from the same cloth. And that there is only one road out of WrestleMania, and that's is with one of them leaving the champion. Seth wants to be a champion and inspire people, and Brock doesn't inspire anyone. He realizes that his match with Lesnar means so much to the WWE Universe and he plans to burn it down.
Paul Heyman interrupts Seth and tells him he wants Rollins to take it personally when Lesnar wins. Heyman walks up the ramp, but Rollins runs after him and tells the Advocate that he isn't asking for thoughts and prayers, he's going to WrestleMania to answer them.
Kurt Angle vs Samoa Joe
Angle wins via pinfall after a reverse rollup
Triple H Promo
He congratulates the three women for main eventing WrestleMania.
He says that if he can't defeat Batista who is completely delusional, then he doesn't deserve to get in the ring again. Triple H will put his career on the line at WrestleMania 35.
Dean Ambrose vs Drew McIntyre - Last Man Standing Match
McIntyre wins after a Claymore