WWE Monday Night RAW Live Results: Who Will Brock Lesnar Cash-In On?
A little over a week since the Money in the Bank pay-per-view and Brock Lesnar is set to name who he will cash-in on tonight.
The top story of the May 27 episode of Monday Night RAW is who the Beast Incarnate will choose to face. He can take on the Universal Champion, Seth Rollins - in a rematch from WrestleMania 35 - or Kofi Kingston for the WWE Championship.
It seems that Lesnar will choose to face off against Rollins - presumably at the Super Showdown in Saudi Arabia - but tonight the WWE Universe will learn the fate of the MITB briefcase.
While Lesnar could challenge for the Universal Championship, WWE is setting up Rollins' next opponent in a fatal fourway match. Tonight, AJ Styles, The Miz, Braun Strowman and Bobby Lashley will fight for a shot at the Universal Championship at Super Showdown.
Becky Lynch will also find out who her next opponent for her RAW Women's Champion will be. Lacey Evans still wants another shot at Lynch, but will another challenger appear?
In other title news, Rey Mysterio suffered a separated shoulder in his match with Samoa Joe at Money in the Bank so the fate of the US Championship is in the air. WWE fans will learn about the fate of the US Championship tonight. Samoa Joe wants Rey to give the title back to him because his shoulder was up when the referee counted three, but it's usually never that easy so it'll be interesting to see where it goes.
A lot is expected to go down on tonight's episode of RAW. Here's an up-to-the-minute update on what happened on Monday Night RAW.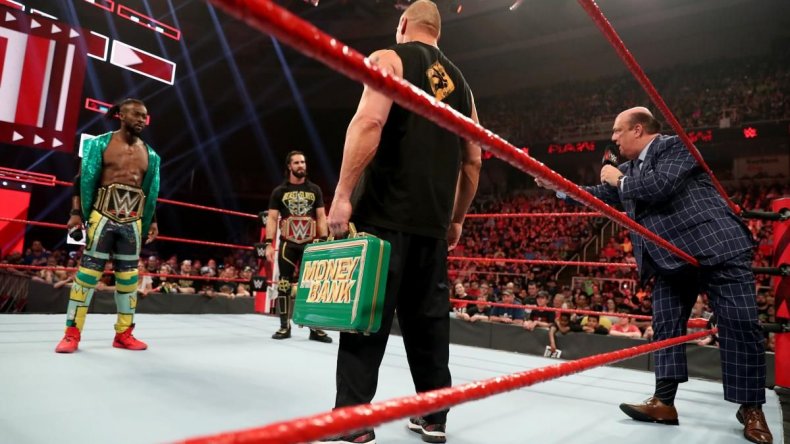 MONDAY NIGHT RAW LIVE RESULTS
Memorial Day Tribute
Opening Segment
Brock Lesnar is backstage with Paul Heyman as The Beast Incarnate picks up the MITB briefcase and walks out of frame.
Kofi Kingston comes out to the ring - with a limp - first. After a recap package showing Dolph Ziggler's return, Kofi gets on the mic and says that Dolph Ziggler isn't why he's out there. He's out there for Mr. Money in the Bank and that Heyman said that tonight will be when he chooses his opponent. Kingston says that he's not just a fighting champion, but he wants to be remembered as one of the best champions and he can do that by beating Brock Lesnar. He calls out Lesnar, but Seth Rollins comes out instead.
Rollins says he came out because he likes what Kofi said and he can't wait around. He wants Brock to tell them who he plans to face.
Lesnar and Heyman come out. Lesnar has turned the MITB briefcase into something that looks like a boombox. A dance song also plays over his entrance theme. Lesnar gets in the ring and starts dancing. Seth Rollins gets annoyed and gets out of the ring. Heyman gets on the mic and says since Rollins left, they won't announce who Lesnar will cash-in on and walk out.
Dolph Ziggler attacks Kofi Kingston from behind and hits the Zig Zag on the ramp. Ziggler gets a chair, but Xavier Woods saves Kofi. After Kofi is walked to the back, Xavier and Dolph fight on the outside, and in the crowd before getting to the ring. Ziggler is about to do the same thing to Xavier what he did to Kofi, closing the chair on his leg, when Kingston runs out from the back with a chair.
Ziggler gets on the mic and says that Kofi has been wasting his time thinking about Brock Lesnar when he should be worrying about him. Dolph asks Kofi to do one thing, and that's to celebrate unlike he's ever done in the days leading to Super Showdown. He says that when he sees the WWE Championship, it reminds him that it should have been him. Kofi has had two friends watching his back and says that he defended Kingston when people called him a B-plus player. He says at WrestleMania, it should have been him but at Super Showdown it will be.
Backstage
At catering, there's a Memorial Day block party thrown by The Usos. They say that everyone is invited but The Revival.
Shane McMahon Interview
Shane is asked why he's in action tonight. Shane says that since he has a match with Roman at Super Showdown, he needs some reps. He walks with Drew McIntyre to gorilla.
Shane McMahon (with Drew McIntyre) vs Lance Anoa'i
Shane says that Roman never learned respect and that Reigns' family and the McMahons have had a great relationship. Shane says that he will face off against a member of the Samoan family.
Lance Anoa'i comes out and is a cousin of Roman Reigns.
Before the bell, McIntyre pulls Lance out of the ring and throws him against the corner post and steps. Shane tells Drew to chill and says he will talk with him later - but this is all tongue in cheek
Lance gets some surprise offense in but submits to a triangle.
After the bell, Shane and Drew beat down Lance.
Roman Reigns comes down and takes out Drew and then hits Shane with a Superman Punch but before he can hit the Spear, McIntyre pulls McMahon out of the ring.
Backstage, Shane and Drew run to the parking lot
Brock Lesnar and Paul Heyman Promo
Heyman and Lesnar comes out with a referee. Heyman says that it's time to inform a champion. Paul is stalling when Seth Rollins interrupts and comes out.
Rollins says that Brock is a joke and that he'll do the same thing he did to Lesnar at WrestleMania right now. He calls Lesnar a coward and a shell of what he used to be. Seth says that the MITB briefcase is his chance to prove him wrong.
Heyman starts to read the MITB contract when Lesnar stops him. Brock is surprised that he has a year to cash-in and slaps Heyman with the paper. Lesnar gets on the mic and laughs. He says he has a whole year to decide and tells Seth "screw you" before walking out.
24/7 Segment
While Seth is in the ring, Carmella and R-Truth run from the crowd chased by WWE superstars. R-Truth is almost pinned by Eric Young when he escapes and runs to the back.
AJ Styles Interview
It's announced that Styles is injured and will be replaced with Baron Corbin tonight. AJ says that he heard a pop in his lower back during his match with Seth Rollins. He's about to announce how long he's going to be out when Baron Corbin comes out and punches him in the face.
Becky Lynch and Nikki Cross vs The IIconics
Lynch pins Billie Kaye
After the match, Lacey Evans comes out and walks back to the back.
Usos Party
Everyone is having a good time when Tamina walks up to Naomi, but the two laugh and have a hug. That's when The Revival show up and are eating food when The Usos want to kick them out, but Naomi makes the two teams form a truce and just have fun at the party.
Ricochet vs Cesaro
Ricochet wins via pinfall
Samoa Joe Promo
Joe comes out and says that he learned that Rey Mysterio is going to come out next week to vacate the US Championship and that he'll be ready to take back his title.
Usos Party
The Revival and Usos are face off in Cornhole
The Miz vs Braun Strowman vs Bobby Lashley vs Baron Corbin - Universal Championship Number One Contender Match
Corbin wins via pinfall after an End of Days
Baron Corbin will face Seth Rollins for the Universal Champion at Super Showdown
Bobby Lashley and Braun Strowman took themselves out of the match when they fought into the crowd.
Backstage
The Usos and Revival continue their Cornhole game when the Revival cheat and they are about to fight when R-Truth comes through.
Kalisto rolls up R-Truth but he kicks out and runs away
Firefly Fun House
Sami Zayn Electric Chair Segment
Sami takes questions from the audience.
Someone asks why he hasn't won the Universal Championship since he's been back. Sami says that the crowd needs to do better, they could have even asked him about AEW, which gets the crowd chanting.
Seth Rollins comes out, which leads to a match.
Sami Zayn vs Seth Rollins
Rollins wins via pinfall
Sami was working Rollins' knee throughout the match.