WWE Monday Night RAW Live Results: Last Show Before Survivor Series
It's the final WWE Monday Night RAW before the Survivor Series pay-per-view and the main show is looking to get its representatives set for this Sunday's show.
While the Men's Survivor Series team is almost set (there are two spots remaining), not one woman on the RAW side has been selected for their big match against SmackDown. Team Captain, Alexa Bliss will select her five RAW superstars to compete this Sunday but who would they be?
WWE.com is also promoting an appearance by Commissioner Stephanie McMahon who will talk about her brother's "win" in the World Cup at the Crown Jewel pay-per-view. What will Steph say to Shane about his actions and taking the title of "best in the world" away from Monday Night RAW?
Universal Champion, Brock Lesnar is also scheduled to appear tonight before his match against WWE Champion AJ Styles. The two will clash for the second time after last year's Survivor Series bout that saw Lesnar put down Styles in a very entertaining match.
There's a lot expected to go down on the Nov. 12 episode of RAW so here's everything that happened.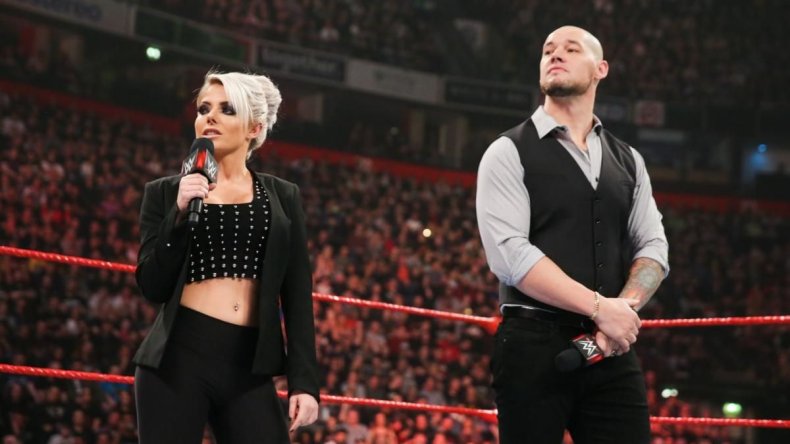 WWE MONDAY NIGHT RAW LIVE RESULTS
Opening Segment
Show starts with a Battle Royal to Determine Captain of the RAW Tag Team between B-Team, Lucha House Party, Ascension, Slater and Rhyno, Revival, Roode/Gable.
Braun Strowman comes out and decimates all the teams. He gets a steel chair and sits in the middle of the ring. He says he won't leave until Baron Corbin comes out.
Stephanie McMahon comes out and says that Braun has every right to be upset but he can't hold RAW hostage. She goes on about Shane and what he did at Crown Jewel, but Strowman says he doesn't give a damn about Shane or representing Stephanie.
Stephanie gives Braun her word that if he leads RAW to victory at Survivor Series he can have whatever he wants. Strowman says he wants another Universal title shot where he gets to pick the stipulations and he wants Corbin.
Stephanie says that he can have them, but he can't touch Corbin until after Survivor Series to prove that he can be a team player. Ronda Rousey Interrupts Stephanie.
Ronda swipes the mic from Stephanie and says that she doesn't need the pep talk. She's been waiting for a challenge like Becky but she doesn't want to wait to tear someone's arm and comes after Stephanie. Before that happens, Baron Corbin comes out to say that he's here to motivate the RAW talent.
Corbin says that they can't be overconfident and he puts his hand on Ronda's shoulder, who promptly judo flips him and leaves. Corbin and Strowman get into a staredown but Stephanie gets in between them and tells Baron to get out of the ring. Strowman promises that he will neuter Stephanie's lap dog.
Ember Moon vs Tamina (with Nia Jax)
Tamina wins via pinfall after a Splash
After the match, Nia Jax beats down Ember
Seth Rollins Interview
Corey Graves introduces Seth as he comes to the ring. Graves asks Seth where his head at. Rollins says that he will be focused when Sunday comes but he's thinking of only Dean Ambrose. Seth says that Dean isn't stupid but he's just not man enough
Dean shows up on the titantron sitting on a car next to a flaming barrel. He says he doesn't owe Seth or the WWE Universe an explanation. He says that he used to think the Shield made him strong but they made him weak. He throws his Shield vest into the fire and walks away.
Drew McIntyre and Dolph Ziggler Promo
McIntyre says that during his match with Kurt Angle, he started to see the will to fight fade and that he was even crying. He says he's never been more disgusted in his life so he was happy to destroy Angle. He then says that RAW is his show now and that he won't allow any more nostalgia acts. Finn Balor interrupts him.
Balor says that he couldn't sit in the back and listen to Drew and says that he crossed the line.
McIntyre says that he could have done worse to Angle but that Finn came down for what Drew did to him. McIntyre says that Finn is exactly what's wrong with RAW. Balor tells Drew to shut up and challenges him to a match.
Drew grants him his match but not with him, but with Dolph Ziggler. McIntyre delivers a headbutt to Balor when he's distracted with Ziggler.
Finn Balor vs Dolph Ziggler (with Drew McIntyre)
Balor wins via pinfall after a reverse roll up
Backstage
Stephanie is walking with Baron Corbin backstage when they run into Finn Balor
Stephanie saw what Balor did and puts him on the RAW Men's Survivor Series
Ronda Rousey Promo
Ronda responds to Becky's comments when Nia Jax and Tamina surround her to wish her good luck.
Riott Squad Promo
Ruby Riott addresses what she did last week. She says she had a week to think about her actions and she loved every second of it. She says that Jim Neidhart wore those sunglasses because he was ashamed to look at his own daughter.
Natalya jumps Ruby from behind but the Riott Squad take her down, and even do a Hart Attack on Natalya.
Tag Team Battle Royal (Slater/Rhyno, Lucha House Party, Ascension, Roode/Gable, Revival, B-Team)
Slater/Rhyno eliminated first, then Revival, then Lucha House Party, then B-Team, and lastly Ascension
Gable and Roode are the Team Captains
Brock Lesnar Promo
Paul Heyman congratulates Braun Strowman for being almost a monster after getting hit with five F-5s.
Heyman congratulates the SD roster for not being the WWE Championship, who will be getting a beating on Sunday. And finally, he congratulates AJ Styles.
Jinder Mahal interrupts Heyman and tells them not to underestimate AJ Styles. He offers his services, and Brock invites Jinder into the ring. Brock then destroys Jinder and the Singh Brothers.
Bobby Lashley vs Elias - Final spot on the RAW Men's Survivor Series Team
Lio Rush does his thing before the match and is interrupted by Elias who is on the phone with Child Protective Services. Lashley calls Elias out and to come to the ring.
Lashley wins via countout after Lio Rush grabbed Elias' leg from under the ring to prevent him from getting back in the ring.
After the match, Elias takes out Lashley and Lio Rush.
Alexa Bliss Announcement
Bliss announces Mickie James, Nia Jax, Tamina, Natalya as members of RAW Women's Survivor Series team.
The final spot will be earned in a match between Sasha Banks and Bayley.
Sasha Banks vs Bayley
Tamina, Nia and Mickie James beat down both Banks and Bayley causing a disqualification.
Alexa Bliss comes into the ring and announces Ruby Riott as the fifth member of the team.
Backstage
Becky Lynch is seen having Ronda Rousey in a Dis-Arm-Her and she comes out to confront the RAW Women's roster.
The SmackDown women's roster attack the other women from behind (including Charlotte).
Ronda comes out but Becky knocks her out with a chair as SmackDown stands tall.
Stephanie yells at Corbin for letting this happen.